Uncategorized
Teamsters Rock Vegas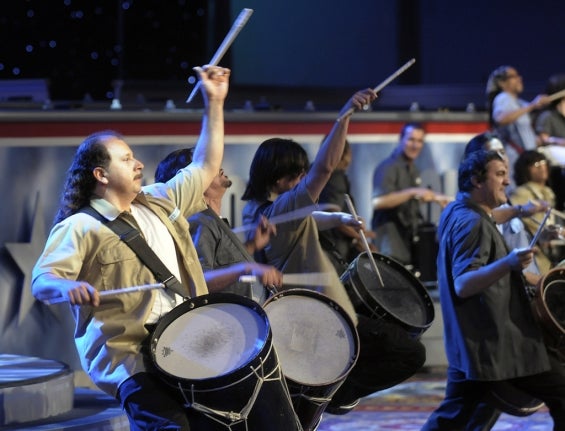 Thousands of Teamsters were greeted this morning by a rock 'em, sock 'em, opening ceremony at the Paris Hotel in Las Vegas. As they filed into the enormous ballroom, they were greeted by an ear-splitting drum tattoo, a throng of protesters waving "Stop the War on Workers signs, the raucous sound of "We Won't Get Fooled Again," and yes, a dozen Harleys roaring through the enormous hall.
"We will stand up for the American dream," boomed the announcer, dubbed the Voice of God. "We will stand up against this war on workers."
For the first time in five years, Teamsters, their families and their guests are gathering today for the 28th International Brotherhood of Teamsters convention. Day One of the event brought exciting news: more than 3,000 pilots at Republic Airways had just voted to join or remain as Teamsters at the newly merged airline.
The announcement of the organizing victory came just a few hours after Teamsters General President Jim Hoffa had introduced the day's theme: The War on Workers.
"This is how we fight back – we organize," Hoffa said.
General-Secretary Treasurer Tom Keegel — aptly introduced as "a Teamster's Teamster" — said the war on workers is going full blast.
"There's no way they're going to bust us or take us down because it ain't gonna happen," Keegel said, bringing down the house.
Teamsters quickly dispatched committee business – appointments, reports and resolutions.
And then the first resolution: Vision, Solidarity, Action. Teamsters resolved to fight the war on workers
Some of the central actors in the War on Workers spoke. A retired Teamster brother, Dave Hansen, sent a video message because he was campaigning for his state Senate seat in Wisconsin. "Once a Teamster, always a Teamster," he said. "This is truly about the middle class."
A key Indiana player in the successful fight against a right to work bill to destroy unions in that state spoke. Assembly Minority Leader Patrick Bauer spent five weeks negotiating with Republican lawmakers as Democratic Assembly members fled to Illinois and Teamsters provided cover by protesting every day at the Statehouse in Indianapolis.
"This is a war on workers," said Bauer. "This is our civil war. This is a fight we have to win, or else the middle class is gone."
Bauer thanked the Teamsters for organizing the protests in Indianapolis. "We are so proud," he said. "These are the people who organized 30,000 people in Indianapolis.
Greg Floyd, principal officer of Teamsters Local 237 in New York, gave a stemwinder of a speech, exposing corporate America's attempt to rewrite history. "We will not sit down, we will not shut up, we will stand together we will fight for the rights of our members," he said.
Charlie Andrew, director of Local 407's PAC in Cleveland, rocked the room with his speech about the fight against SB 5, the new law that strips collective bargaining rights from government workers. Andrew brought the audience to its feet when he announced unions and their allies had collected 700,000 signatures to repeal the bill.
"We're gonna kill that bill!" he said. "Tell your members, to tell their family, friends, neighbors, to get out the vote. If it isn't repealed, those right-wing nuts will smell blood in the water!"
"The public understands that unions are the only shot the middle class has."
« Previous
Next »