We Have to Fight for Working People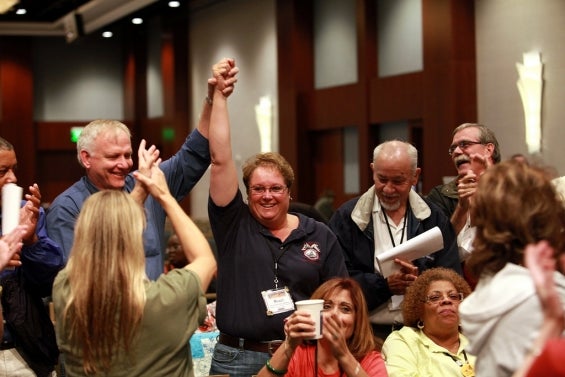 Note: This is a first-person account of Diane Ersbo, a member of Teamsters Local 638 in Minneapolis. She is attending the Teamsters Women's Conference in San Francisco.
There are not enough words for me to describe the feeling of being here in San Francisco with all my Teamster sisters.
We had a great start to the conference. We heard from Sue Mauren, the director of the conference. She is great. Vice President Rome Aloise talked about women leading the way in his Joint Council, and how when a Teamster woman gets involved, we win.
Our new General Secretary-Treasurer Ken Hall really calls it like it is. He told us that we have to do everything we can this election year to fight for working people.
This year is more important than any other voting year. We have everything at stake and we need to know who we are voting for. It's time we organize our neighbors, our friends, our cousins and everyone we know. This isn't just about this election; it's about the shoulders we stand on. It's about the life we were given because of the work done by our parents' generation. We cannot lose all the gains our union has made in building the middle class. I have had a good life and I want to pass that on to my son.
There is a war on workers like never before, and that was the topic of the conference today. We know how to build Teamster power and we need every single Teamster in the Teamsters Union to do that now. You're being called out on the battlefield to stand up for justice and for workers' rights, so grab your boots, sisters and brothers, and let's go! Make sure you organize, organize, organize and get yourself to the polls to vote. Get educated. Make a difference.
I love everything that we learn at this conference and I can't wait for what tomorrow brings!
« Previous
Next »