Women's Conference Kicks Off in San Francisco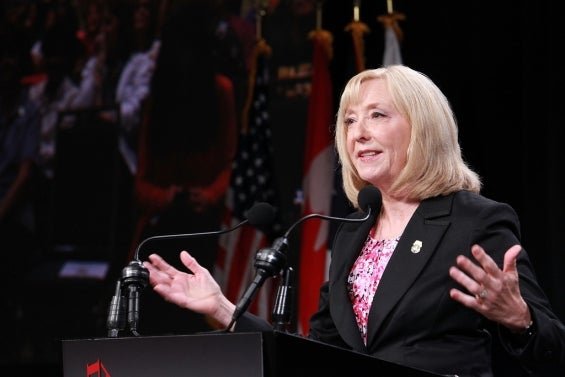 The 2012 Teamsters Women's Conference kicked off in downtown San Francisco on Thursday, bringing together more than 800 Teamsters from across the United States, Canada and Puerto Rico. View more photos.
"The coldest winter I ever saw was the summer in San Francisco," Mark Twain once joked. Despite a chill in the air outdoors, inside the Hilton Union Square, Teamster women brought their warmth, energy and excitement to the 12th annual conference themed, "Teamster Women: Building Power by the Bay."
Sue Mauren, Director of the Women's Conference, welcomed the participants to the three-day event, which features an impressive lineup of speakers, workshops and networking opportunities. The conference also informs and educates Teamsters on how they can fight against the war on workers by mobilizing and exercising their right to vote.
"This is such a critical time for union members, both in the United States and Canada. We have experienced unrelenting attacks on workers by corporate-backed politicians. Public employees are being wrongfully blamed for our economy, not the CEOs or Wall Street who caused the mess," Mauren said. "For the 835 Teamsters in this room, our message is, 'We are Teamsters and when we are under attack, we get loud, we get proud, we get organized and we fight back!'"
"We are fortunate to have a lot of female leadership in the Bay Area and three female principal officers in our Joint Council," said Rome Aloise, International Vice President, President of Joint Council 7 and Secretary-Treasurer of Local 853 in San Francisco. "We are excited to welcome you to our great town."
The crowd cheered when Aloise said, "Our union needs to celebrate the fact that we have strong, independent, articulate women members and leaders."
Aloise called on the Teamster women to get involved, noting that Proposition 32, on the ballot this fall, would take away the ability of unions to participate in the political process on a statewide level in California. Such legislation, if it were to pass in California, could spread to other states.
Teamsters General Secretary-Treasurer Ken Hall addressed the crowd about politics, stressing the urgency of this election year for working people.
"I cannot tell you how important this election is. In Wisconsin, Indiana, Ohio and all over the country, there is an attack on workers. We need your support to make sure we elect Barack Obama as president. We're all in this together and we all need to work together," said Hall, a 36-year Teamster, in his first address to the Women's Conference as the union's General Secretary-Treasurer.
Sen. Barbara Boxer (D-Calif.) called the upcoming presidential election "a stark choice between two visions for America."
"If we don't win this election, the middle class of this country is going to slowly disappear and the middle class is what built this country. We cannot let that happen," Boxer said.
"Teamster women should lead the way to energize the vote. Teamsters stand against sexist, racist, anti-worker legislation when politicians try to pass it, and right-to-work (for less) will be the law of the land if Romney is successful," said International Vice President George Miranda, who hosted last year's Teamsters Women's Conference in New York.
The 2012 Teamsters Women's Conference continues on Friday with a number of speakers, including Teamsters General President Jim Hoffa and California Lieutenant Governor Gavin Newsom.
Follow up-to-the-minute coverage of the Teamsters Women's Conference on www.teamster.org, "Teamsters" on Facebook and @Teamsters on Twitter.
« Previous
Next »