Teamsters General Executive Board Joins the TNBC Conference on T-Shirt Day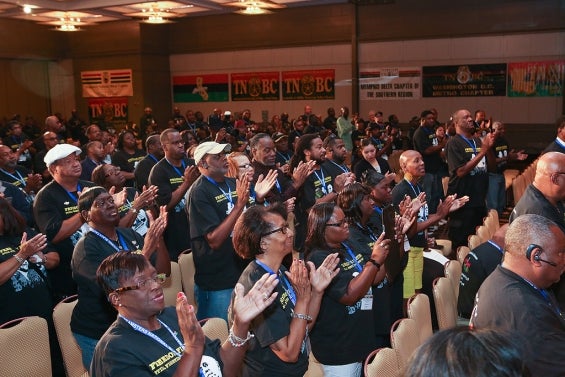 At the TNBC Conference on Friday, the day started with greetings from members of the Teamsters General Executive Board, including General Secretary-Treasurer Ken Hall. See more photos from this event.
Everyone wore black T-shirts featuring Dr. Martin Luther King Jr. and President Barack Obama's face. Printed in yellow on the shirts was this year's TNBC Conference theme "Freedom Fighters Still Fighting the Good Fight." Each General Executive Board member addressed the audience with great pride.
TNBC Chairman Al Mixon did an awesome job introducing Teamsters General Secretary-Treasurer Ken Hall.
After an introduction by TNBC Chairman Al Mixon, Hall, who holds great respect for the TNBC, spoke about the group's past and recent accomplishments. "I want you all to know I consider it an honor to be able to address this group, because you all have done a great job." Hall said. "I think it's incredibly appropriate that this meeting is taking place here in Atlanta.
"This year will mark the 50th anniversary of the March on Washington, when Dr. King gave his great 'I Have A Dream' speech. That event was the largest, most effective social event to date in history," Hall said. "One thing that I am incredibly proud of is that Teamsters have always been there. We were there then and we're still here.
"The fight for fair wages and decent standard living continues 50 years later. The war on workers continues. Between the Koch brothers and ALEC, we can't afford to give up the fight. Within the past three years, the war on workers has increased more than we've ever seen," Hall said. "We have to be the ones who take this fight on. Corporate America doesn't give a damn about what happens to working people.
"All of these issues are our issues. We must be aware of them as well as educate others about them. Not having knowledge of the problems we face will affect us all," Hall said. "They may win a few battles. But in the end we'll win the war. We must stand united."
"We face a lot of issues, whether it's immigration that we're constantly fighting or Obamacare, which is going into effect soon, it will affect a lot of us in this room," said George Miranda, International Vice President and President of Joint Council 16 in New York. "With your guidance and your help, we're able to resolve a lot of these issues for the working men and women in this country,"
John Coli, International Vice President and President of Joint Council 25 in Chicago, expressed how proud he was of the TNBC. "This is one of my favorite events of the Teamsters. You know how to have fun, but you also know how to get the job done," Coli said. "Without you guys, the fabric of our International would not be what it is. These conferences are really the backbone of everything we do. So keep up the good work."
Though the weather was cold and rainy, there was plenty of sunshine and warmth in the convention.
"Due to the inclement weather, we were unable to march to the King Center today, so we march in our hearts," Mixon said.
Mixon provided the details on the anti-worker laws that are in place and are in need of change. He explained in depth how the Koch brothers are providing secret money to Congress and the American Legislative Exchange Council (ALEC).
"Once we get it in our minds that this is what we do and who we are, servants to our members, we'll get better and greater every day," said Antonio Christian, Executive Director of the TNBC.
"We have to fight because we're in the fight of our lives," said Harvey Jackson, Vice Chairman of the TNBC.
"Someone has to pay for these changes to take place. We are the future and we must fight for the next generation," Mixon said. "The Freedom Fighters before us fought, and many of them lost their lives. But that fight put us in the positions we hold today. We must not forget how we got here."
Al Mixon asked the audience, "WHO ARE WE?"
"TEAMSTERS!" shouted the audience in response.
« Previous
Next »