Election Should Be About Letting All Eligible Voters Vote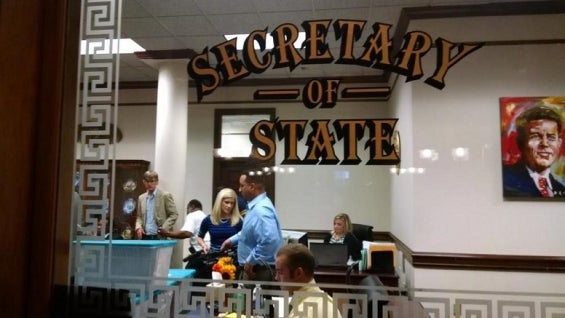 Editor's note: This is the first of five Teamster In Depth blog postings set to run every Tuesday leading up to the Nov. 4 election that will examine issues of importance not only to Teamsters, but all workers. It is because of these matters that it is imperative for hardworking Americans to educate themselves and vote for pro-worker candidates this fall.
How do you know that Election Day is right around the corner? Because anti-worker forces in key swing states are trying to tamp down on who can and cannot vote.
Critical actions in the last month in states such as Georgia and Wisconsin are making it clear that the corporate elite and their friends in office will stop at nothing to suppress the vote by making it harder for the young and old, minorities, the poor and disabled to have their voice heard. So much for the well-established principle of one person, one vote.
The most glaring example of politics at work currently is going on in the Peach State, where Georgia's secretary of state (a Republican) is trying to throw out tens of thousands of new minority voter registrations. Not so coincidently, there just happens to be competitive U.S. Senate and governor races on the ballot in the state this year.
Secretary of State Brian Kemp alleges that some 51 out of 85,000 registrations submitted are invalid. But that isn't stopping him and his office from trying to smear the entire effort of the New Georgia Project, which engaged in the voter drive. It's become like a witch hunt. And it has got to stop.
"We are supposed to be a nation of one person and one vote. But how can that be when citizens trying to exercise their right to vote are being disenfranchised?" Teamsters General President James P. Hoffa commented recently. "The state of Georgia is engaging in voter suppression, plain and simple. No matter one's political affiliation, that is not right and cannot be tolerated."
Unfortunately, Georgia is far from the only place where such practices are occurring. In fact, a federal appeals court on Friday, by an evenly-split vote, allowed a new Wisconsin law to take effect that imposes strict new requirements on those going to the polls. While the ruling says that judges "in the coming days may file opinions explaining their votes," it will be of little solace to those who will not be allowed to cast their vote in this year's election and have a chance to weigh in on whether or not to re-elect Tea Party favorite Gov. Scott Walker.
Voter advocates explain the ruling's cost clearly, noting changing the rules at this late date "is a recipe for chaos, voter confusion, and disenfranchisement. The court could have avoided this pandemonium and given Wisconsin voters a chance to cast their ballot free of obstruction." They said they are looking into what further options they may have.
And just last night, the U.S. Supreme Court by a 5-4 vote decided to delay early voting in Ohio. It would reduce from 35 to 28 the number of days voters could cast an early ballot. Taken together, it is hard not to see a trend in all these efforts.
Now there are actually some conservatives who are in favor of dropping these fall pretenses to allow all eligible citizens to vote. But for now, that's all just talk. So voters have to look at the harsh reality of the situation and make a decision. A quick look will tell you who are in favor of such laws.
Here's a hint – it's the same people who cozy up to corporations and help push through the big business agenda.
« Previous
Next »