Teamster Power On Display At Women's Conference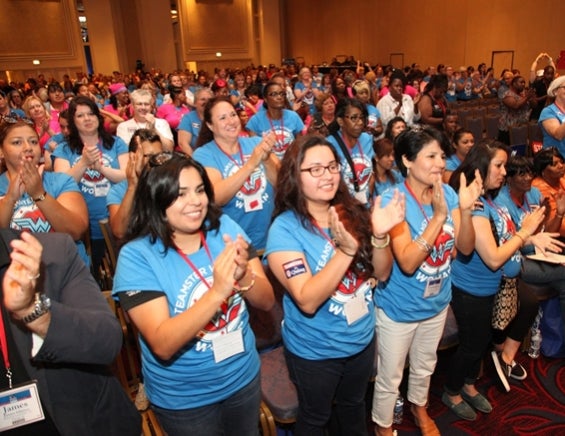 The Teamsters Women's Conference continued Saturday with stories of Teamster passion, power and pride. The conference wrapped up its final day in Chicago with memorable lessons and empowerment for the more than 1,000 Teamsters in attendance. View more photos from this event.
The message for the final day of the conference: Every Teamster can make a tangible difference in the lives of others.
Tracey Thompson, Secretary-Treasurer of Teamsters Local 117 in Seattle, talked about winning fights to achieve a $15 minimum wage and paid sick days in Seattle.
"We have a moral obligation to lift standards for all workers," Thompson said. "Look for opportunities to build coalitions and focus your efforts on shared values with other unions and organizations, because we all want the same thing."
Christy Bailey, Director of the Teamsters Field and Political Action Department, urged Teamster women to harness their power to help defeat anti-worker politicians in key races this November.
"Register our fellow Teamsters. Vote early or absentee. Stand with your brothers and sisters in states with important races," Bailey urged the crowd.
Member Voices
Teamster members spoke on stage about the differences they've made through their collective efforts. In doing so, they provided inspiration to workers facing their own battles.
Amy Rodriguez, a member of Teamsters Local 19 in Humble, Texas, told the story of how joining the Teamsters at the army base where she works changed her life and the lives of her co-workers.
"Before we joined the union, management changed our titles to 'general clerks' and we lost $3 an hour in pay and lost benefits," Rodriguez said. "I called my friend who was in the union and she gave me the number for Teamsters Local 19."
Rodriguez and her co-workers successfully voted to join the Teamsters, protecting their standards and subsequently winning the 3,000 hours in back pay that they were owed.
"Our fight shows how unions can address our issues at the bargaining table and how beneficial it is for us to have a collective bargaining agreement and a union. It protects us, especially when private contractors change hands," Rodriguez said.
Becky Strzechowski, Director of the Teamsters Women's Conference, presented the annual Teamsters Women's Activist Award to Vicki Yates, a member of Teamsters Local 700 in Chicago, for her service to her community and her union. Yates is a shop steward, leader and active volunteer, in addition to her work as a motor vehicle driver for Cook County Hospitals System. She was joined on stage by her two daughters in accepting the award.
Women's Conference participants supported the local Chicago community through a school supply drive conducted by the International Teamsters Women's Caucus. They collected school supplies and $1,088 for kindergarten through second grade students attending Medgar Evers Elementary School in Chicago.
Stacy Moody-Gilbert, the first female general chairwoman of the BMWED Burlington System Division—a rail sister, spoke about what her union means to her. She summed up the week's events to the agreement and applause of her Teamster sisters and brothers in the audience.
"I'm proud to belong to an organization that embraces each and every one of us," Moody-Gilbert said. "Thank you for the encouragement to push forward and determination to continue fighting for what we believe in. This conference has changed many lives and you are to thank for that. See you at next year's conference in Boston!"
Read more about the 2014 Teamsters Women's Conference on www.teamster.org; "Teamsters" on Facebook; and @Teamsters on Twitter, #teamsterwomen.
« Previous
Next »