Teamsters, PSI Sound Alarm For Public Workers About Trade Deals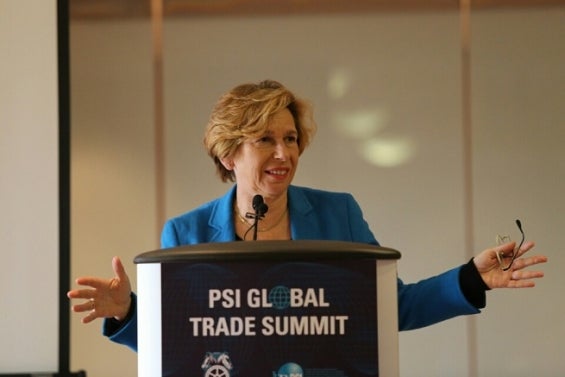 Three proposed trade deals could lead to millions of public sector workers losing their jobs worldwide if large corporations are allowed to impose their agenda, officials with the Teamsters and Public Services International (PSI) said today.
Speaking at the historic PSI Global Trade Summit hosted by International Brotherhood of Teamsters at its Washington headquarters, Teamsters General President James P. Hoffa and leaders of global union federation PSI denounced efforts to privatize government employees. They said deals like the pending Trans-Pacific Partnership (TPP), Trans-Atlantic Trade and Investment Partnership (TTIP) and Trade In Services Agreement (TISA) jeopardize the livelihoods of workers across the globe.
"There is greed worldwide, and it is run by these multinational corporations," Hoffa said. "We've got to stop these trade agreements until we make them fair."
Union leaders are concerned that the current incarnation of trade deals go much farther than in the past. They lock in trade liberalization, promote privatization and restrict a government's right to regulate. They also enshrine the rights of corporations in ways only loosely related to trade.
The summit — which continues tomorrow when attendees will head to Capitol Hill to meet with lawmakers — is examining privatization, the proposed investor rights causes, threats to public services in health and social services, education, water and other sectors. Impacts on governmental accountability and transparency are also being discussed.
Rosa Pavanelli, PSI's general secretary, said the consequences of such deals are dire. "We are facing a challenge, we are facing a threat that could undermine our trade unions, our workers," she said. "And what is at stake is democracy."
Dave Prentis, PSI's president, said there is a need to educate the public so rank-and-file workers better understand the challenges they could face under the TPP, TTIP or TISA. "Our aim is a completely new debate about whether these agreements are helping workers," he said.
A new PSI report details some of the potential pitfalls that could come from TISA. It makes it clear that the private sector is lobbying to "eliminate policy space for governments at all levels" so it can free itself from zoning regulations and restrictions on alcohol and tobacco sales put in place by local officials. The will of the people would be replaced by the will of big business to further fatten their wallets.
Some companies are already making inroads to do so, and it would only get worse under these new trade deals. Randi Weingarten, president of the American Federation of Teachers, said corporate giants cannot be allowed to overtake entire sectors of the economy.
"Commercial trade rules shouldn't restrain governments from coming up with solutions for education or health care," she said. "What happens when a local school district wants to have a vibrant, publicly-paid workforce?"
President Hoffa said governments should be able to continue to keep making decisions for themselves without companies intervening. But they need to stand up and take a hard line against these trade deals to do so.
"We want to keep our standards in our own countries. We want to influence our politicians," he said. "But these trade deals want to take that out of our hands. That's what we are up against."
« Previous
Next »