Teamsters Rally In Chicago To Support Gov. Quinn, Stand With Workers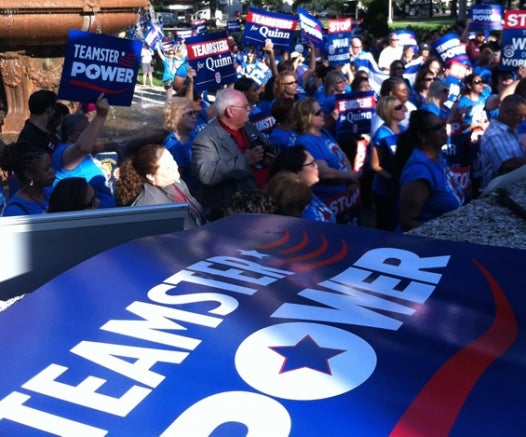 (CHICAGO) – Hundreds of Teamsters attending the union's 14th annual Teamster Women's Conference here this week rallied Friday in Grant Park to support the re-election of Gov. Pat Quinn and to stand up for workers.
"We are proud to be union," said Teamsters International Vice President Becky Strzechowski, Director of the Teamsters Women's Conference, President of Teamsters Local 700 and Joint Council 25 Trustee. "We stand up for workers rights and we will use the power of our vote this November."
Teamsters International Vice President John T. Coli announced to the cheering crowd that the state of Illinois, the city of Chicago and Cook County all proclaimed Friday as Teamsters Women's Day. Coli, President of Joint Council 25 and Secretary-Treasurer of Teamsters Local 727, also thanked Quinn, a former Teamsters Local 786 member, for his long record of supporting workers. The governor told the crowd he is fighting for legislation to raise the minimum wage and that he signed legislation last week to stop discrimination against pregnant women in the workplace. Also attending the rally were U.S. Rep. Jan Schakowsky, D-Ill., and Illinois Comptroller Judy Baar Topinka, both longtime supporters of the Teamsters Union.
Teamsters General President Jim Hoffa said that corporate-backed candidates waging war on workers should be worried about November's election. "They may have more money but they can't outwork us," Hoffa said. "We have the boots on the ground and those boots are going to go walking to the polls."
Teamsters General Secretary-Treasurer Ken Hall praised the Teamster women attending this week's conference for their energy and enthusiasm. "It is time that we put all of this energy together and make sure we elect people in November who care about working people," he said.
Founded in 1903, the International Brotherhood of Teamsters represents more than 1.4 million hardworking men and women in the United States, Canada and Puerto Rico. Visit www.teamster.org for more information. Follow us on Twitter @Teamsters and on Facebook at www.Facebook.com/Teamsters
« Previous
Next »