Teamsters Head to the Hill to Warn Congress about Central States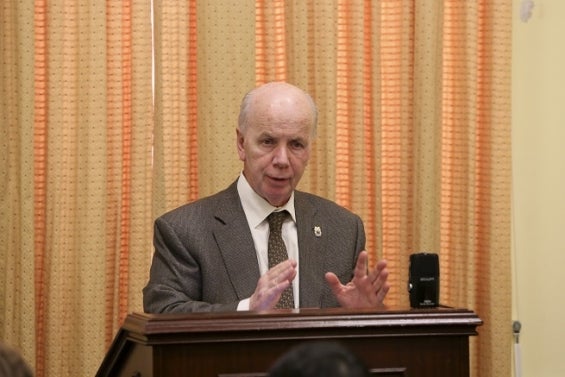 (WASHINGTON) – Teamster representatives briefed a standing room only crowd of Capitol Hill staffers today on a dire proposal by the Central States, Southeast and Southwest Areas pension plan that would devastate tens of thousands of retirees and workers across the Midwest.
Officials noted the pension fund is totally unrealistic in its projections and that even if it were to meet them, Central States itself says there is only a 50 percent chance the fund would remain solvent long term. The proposed cuts to the Central States pension plan are a non-starter that won't help retirees.
"The pension fund's plan won't ensure the health of Central States, yet will devastate tens of thousands of retirees and workers who were promised and depend on their pensions," Teamsters General President James P. Hoffa said. "Everyday Americans deserve a secure retirement. Federal officials need to act on behalf of workers and retirees."
John Murphy, IBT International Vice President-East and Secretary-Treasurer of Local 122, said if the Department of Treasury looks closely at Central States' numbers, it can't allow the proposal to move forward. He also said lawmakers were unfamiliar with the language of the Multiemployer Pension Reform Act (MPRA) included in an omnibus appropriations bill in late 2014.
Noting the importance of a secure retirement for everyday Americans, Murphy said the federal government must step in and take charge on the issue. "This is not a union issue, this is not a Republican issue, this is not a Democratic issue," he said. "It's a fairness issue."
Some lawmakers are getting the message. A bipartisan collection of 84 House members, for instance, signed onto a letter sent to the Treasury Department yesterday asking it to reject Central States application. And 25 senators, both Republicans and Democrats, did the same in a separate letter. But more must speak out to stop this attack on everyday Americans.
Founded in 1903, the International Brotherhood of Teamsters represents 1.4 million hardworking men and women throughout the United States, Canada and Puerto Rico. Visit www.teamster.org for more information. Follow us on Twitter @Teamsters and "like" us on Facebook at www.facebook.com/teamsters.
-30-
« Previous
Next »