Uncategorized
Teamsters to Keep Up Fight Against RTW in W.Va.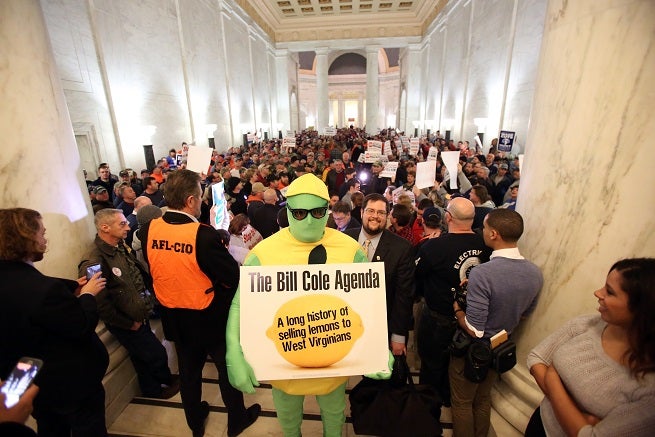 CHARLESTON, W.Va. – The West Virginia Senate this morning passed an amended version of so-called right-to-work (RTW) legislation, just hours after lawmakers in the House of Delegates gave a narrower-than-expected thumbs up to the bill after contentious debate.
The measure awaits a veto by Gov. Earl Ray Tomblin (D). "I remain committed to growing West Virginia's economy, but I do not believe right-to-work legislation is the best way to do that," he said. "I will veto the legislation passed today, which received bipartisan opposition but only partisan support."
Teamsters General Secretary -Treasurer Ken Hall, who also services as President of Local 175 in Charleston, made clear that the union will continue with fighting against the measure. That means keeping up with the fight even if lawmakers succeed in overriding the governor's planned veto.
"The working people of West Virginia deserve better from our politicians, and we won't sit back as outside interests try to strip us of our bargaining rights, drive down our wages and weaken job protections," Hall said. "Come November, we will not forget who turned their backs on working families by supporting the anti-worker agenda pushed by big business."
There is still much uncertainty surrounding the push for RTW in this state. During debate in the House Thursday, Delegate Kenneth Hicks (D) questioned a recent study – "The Economic Impact of Right to Work Policy in West Virginia" – written by John Deskins and two other professors at the West Virginia University (WVU) College of Business and Economics that outlines supporters' case for backing the measure.
The report, commissioned by the Legislature's Republican leadership, was relied on almost entirely by RTW proponents pushing their agenda.
WVU's College of Business and Economics has been on the receiving end of millions of dollars from The Koch Foundation. Meanwhile, Americans for Prosperity — a Koch-related organization — has spent millions of dollars on TV ads and direct mail pushing a propaganda campaign for their anti-worker agenda in West Virginia.
"It's not hard to follow the money," Hall said.
Paul Nyden, a long-time West Virginia labor reporter who is blogging for the Teamsters, contributed to this report.
« Previous
Next »