Uncategorized
Women Use White House Conference to Educate Colleagues on Union Advantage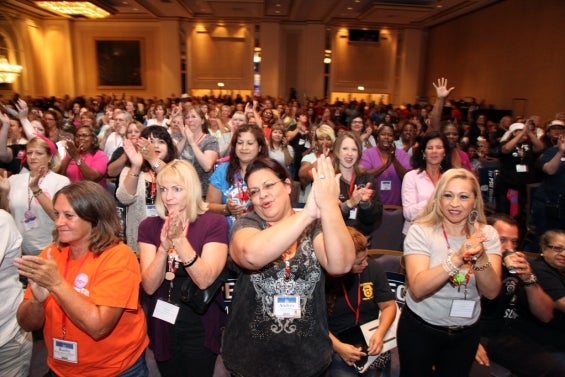 Dozens of working women used the White House's United State of Women Summit conference last week to educate their colleagues on the advantage and benefits of unionization for woman workers.
In general sessions at the 5,000-woman, one-day conference in D.C. and in breakouts on economics, equal pay, work-life balance and other issues, union women made the point the labor movement benefits those who join – and other female workers, too.
"In 2016, women are rising to the top in every field and industry, and breaking down boundaries that held former generations back," AFL-CIO Secretary-Treasurer Liz Shuler said.
"There is no denying progress has been made, but being a working woman still comes with enormous challenges. Our paychecks remain unequal and many of us lack a single day of paid leave. Work schedules are equal parts unpredictable and inflexible, and we too often face discrimination on the job."
Organizing for and joining unions is a big part of that, Shuler and the others said. "When unions are strong, women are strong," she stated.
Shuler, Seattle UFCW Local 21 member Ariana Davis, Service Employees President Mary Kay Henry and others "explained to the well-intentioned progressive women what it means to be in a union," Coalition of Labor Union Women Executive Director Carol Rosenblatt said.
"It was an inspiring and overwhelming experience" as the 5,000 women discussed not just progress women have made "but what still needs to be done" to achieve equality, added Rosenblatt, one of at least two dozen CLUW members at the all-day conference.
Davis stressed equal pay for equal work. Federal data show the median wage for a working union woman in the U.S. is 92 cents for every dollar in a median working man's wage, compared to 80 cents on the dollar in the medians of all working women and men.
And the median weekly wage for a working union woman was $928 last year, more than that of a non-union working man ($869) or woman ($697). The union man's median was $1,017. The median is the point where half of that group is above that figure and half below.
"Equal pay, fair schedules, paid leave – the bottom line is that if we stand together and negotiate together, we win together," Davis said.
Press Associates, Inc., contributed to this report.
« Previous
Next »