Teamsters National Black Caucus Celebrate 8th Annual Women's Day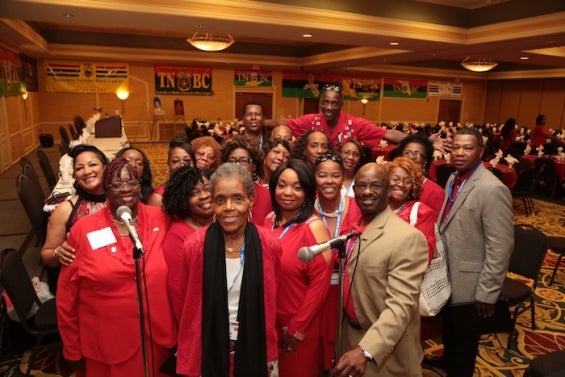 Teamster brothers and sisters gathered in red attire to celebrate the 8th annual women's day at the 41st Conference of the Teamsters National Black Caucus (TNBC).
Women's day is celebrated to show appreciation to all women for their hard work and dedication to their union and communities.
TNBC Vice Chair Ferline Buie reminded everyone of how important it is for women to gather each year.
"It gives women the opportunity to come together and learn about each other and learn how to respect each other, so you can take it back to your local union," Buie said.
"Today we honor very brave, educated and smart women; not only here within the TNBC and Teamsters but across the country," said Safeyyah Edwards, Vice President of the Cleveland Chapter.
During the session a tribute was made to Lisa Mack, a former international organizer. Judge Pinkey S. Carr, who was raised in a union household, greeted the crowd with a phenomenal speech.
"Unions are necessary checks and balances for the workforce," Carr said.
The keynote speaker was Rep. Marcia L. Fudge of Ohio's 11th Congressional District. She spoke with passion about labor unions, young people and voting.
"It's the union which raised awareness to fight discrimination, unfair wages, unreasonable work schedules and lack of benefits. Unions help give all Americans a shot at the American dream," Rep. Fudge said. "We need to do something to teach young people a work ethic. We have to teach them that it's OK to work with your hands. Not every child will go to college, and that's OK."
In talking about the presidential election and other races, Rep. Fudge said, "If we vote, we win…Women and people of color are going to win this election."
General Secretary-Treasurer Ken Hall gave a financial update on the strike fund and current status of the union's treasury. He also shared the news of an injunction that halted right to work in West Virginia.
Hall encouraged everyone to get out and vote in November, encouraging attendees to vote out who are not willing to help working families.
Attendees recognized and celebrated the life of Clara Day with a luncheon and a dynamic sermon from Rev. Tonya Fields, founder of New Freedom Ministries, located in Cleveland.
« Previous
Next »