Uncategorized
Tonight: Teamsters General Candidates Forum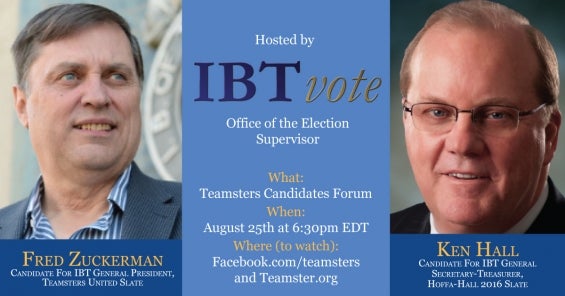 The general president candidates forum will be streamed, tonight, August 25th at 6:30pm EDT at facebook.com/teamsters and at teamster.org. Members will be able to submit a question to potentially be asked at the forum. To submit a question to be asked please submit them to this email address: candidatesforum@ibtvote.org or text them to 202-270-8026.
When: August 25, 2016, 6:30 pm (EDT)
Where: National Press Club
529 14th Street, NW, 13th Floor
Washington, D.C. 20045
Who: Fred Zuckerman, candidate for IBT General President on the Teamsters United Slate and Ken Hall, candidate for IBT General Secretary-Treasurer on the Hoffa-Hall 2016 Slate
(Jim Hoffa, candidate for IBT General President on the Hoffa-Hall 2016 Slate has designated Mr. Hall to appear as his representative at the Candidates Forum. 2016 Election Rules, Article VII, Section 6(d))
Watch: Watch LIVE at https://facebook.com/teamsters or https://teamster.org. The internet audience will be able to submit questions that may be posed to the candidates during the Forum.
Watch the Forum later, or read the transcript, at www.ibtvote.org. Check www.ibtvote.org for updates about the General President Candidates Forum
This is an official notice prepared and approved by Richard W. Mark, Election Supervisor for the International Brotherhood of Teamsters. It must remain posted on this bulletin board through August 31, 2016 and must not be defaced or covered up.
« Previous
Next »