Uncategorized
Teamsters Take Action at Annual Women's Conference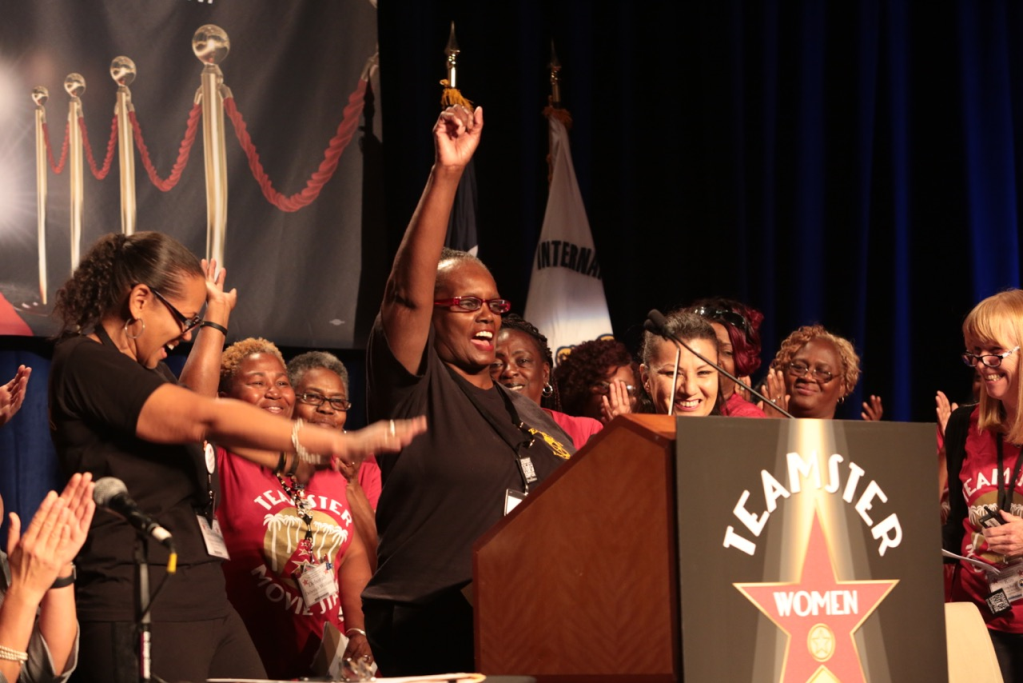 The Teamsters Women's Conference continued on its second day Friday with an address from Teamsters General-Secretary Treasurer Ken Hall, as more than 1,300 Teamster women gathered in Hollywood.
"It's great to be in a room full of people who know how to get the job done, and that's Teamster women," Hall said.
Hall reported on the union's strong financial outlook, which enables it to fight for the rights of workers, and he discussed the importance of voting in the U.S. presidential election.
"It's past time that we have a woman who is president of the United States of America," Hall said to loud applause. "We want to help her accomplish in her presidency what the Teamsters accomplished many years ago and that's equal pay for equal work."
California Assemblywoman Lorena Gonzalez echoed that sentiment.
"We need to support other women, and there's one woman we have got to support this year," Gonzalez said.
Gonzalez, a former labor organizer and Teamster, urged Teamster women to get involved.
"Women need to be at the table. We need your voice—women's voice in the workplace, in the union and in politics," Gonzalez said.
Jacqueline Bisset, an award-winning actress, spoke about the movie industry and challenges for women.
"I've had a 50-year career, and want to thank so many Teamsters for looking out for me. You smooth out the process of making films," Bisset said.
Taking Action
Whether it's working on the set of films or operating a cement truck, Teamster women are organized and organizing other workers.
Kim Keller, Deputy Director of the Teamsters Organizing Department, took the stage with over a dozen Teamster women organizers.
These organizers are building strength and Teamster membership in the school bus industry, at FedEx Freight, XPO, US Foods, casinos, the waste and recycling industry, the public sector and more.
They're confronting exploitation and taking action.
Teamster women took action by taking to the streets at lunchtime today, as they marched down Hollywood Boulevard to the front of the TCL Chinese Theatre.
They took part in a rally to call on the University of California to deliver a fair contract for Local 2010 members. There are more than 14,000 Teamsters who work as critical support staff with the university.
Speakers at the rally included Teamsters General President Jim Hoffa, General Secretary-Treasurer Ken Hall, Local 2010 Secretary-Treasurer Jason Rabinowitz, Local 2010 President Catherine Cobb, University of California workers Ruth Lopez and Lou Ilagan, L.A. Federation of Labor Executive Secretary-Treasurer Rusty Hicks, and documentary director and activist Kamala Lopez. Read more about the rally here.
The strong presence of Teamster women in the city this week led to a proclamation that Friday, Sept. 23, 2016, be declared "Teamsters Women's Day" by the city of Los Angeles.
The 2016 Teamsters Women's Conference will conclude Saturday with more dynamic speakers and dozens of educational workshops.
Follow up-to-the-minute coverage of the 2016 Teamsters Women's Conference on Twitter and Instagram @Teamsters, #teamsterwomen, and on Facebook at www.facebook.com/teamsters.
« Previous
Next »