Global Unions Stand with Teamsters, Condemn XPO's CEO Incentive Plan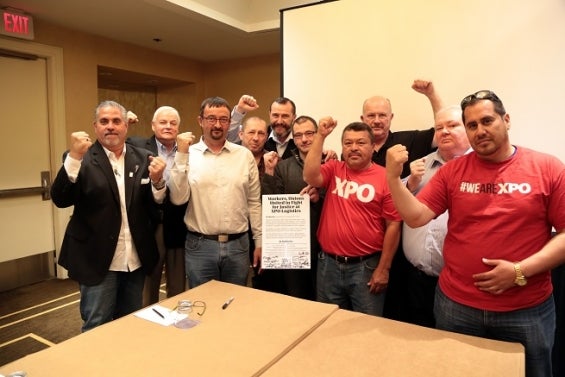 (BRUSSELS, Belgium) – Forty-five leaders of 15 labor unions in Europe that represent workers at XPO Logistics workers in nine countries agreed to condemn a plan this week that could give XPO CEO Bradley Jacobs a windfall stock award worth $110 million at current stock price levels. The support came during the global union federation ITF (International Transport Workers' Federation) week-long conference here.
"We condemn this plan that could lavish Jacobs and other executives at XPO with massive stock awards that would be on the backs of workers in the United States and Europe," Teamsters General President Jim Hoffa said. "We appreciate the support of our brothers and sisters in Europe. XPO needs to invest in the workers that are making the company successful, not just its CEO."
"Our union and other unions in Europe that represent XPO employees agree that this plan could harm the workers while enriching Bradley Jacobs," said Frank Moreels, President of BTB Belgium and vice-chair of ITF's Road Transport Section.
In a letter sent to XPO Lead Independent Director Michael Jesselson on Dec. 1, Teamsters General Secretary-Treasurer Ken Hall noted that the plan as proposed could allow the board to award Jacobs compensation that is 160 times his base salary.

"Under no conceivable scenario is a potential payout of 2.5 million shares to CEO Jacobs, the company's largest shareholder, justifiable," Hall said. "The board has lost sight of one of its prime responsibilities — establishing sound executive pay practices that incentivize performance and protect the interests of shareholders."
While employees are working hard to make the business successful, the out-of-touch XPO Board is coming up with plans that could line Jacobs' pockets with millions. In the U.S., XPO workers receive lousy health care coverage that just got even more expensive and have no retirement security, while Jacobs could be in line to receive a $110 million stock award.
Founded in 1903, the International Brotherhood of Teamsters represents 1.4 million hardworking men and women throughout the United States, Canada and Puerto Rico. Visit www.teamster.org for more information. Follow us on Twitter @teamsters and "like" us on Facebook at www.facebook.com/teamsters.
« Previous
Next »