Hundreds of Teamster Leaders Gather in Southern California to Prepare to Fight for Their Right to Organize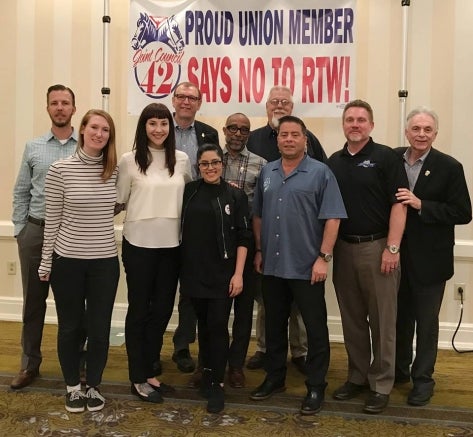 Pomona, CA – This week, hundreds of Teamster leaders from across Southern California, Arizona, Nevada, Utah and Hawaii joined Joint Council President Randy Cammack and International Brotherhood of Teamsters General Secretary-Treasurer Ken Hall to kick-off their resistance to threatened federal legislation that would impact their right to organize and protect their members and all workers.

So called "right to work" legislation has recently been introduced in Congress. This legislative scheme, though recently defeated in New Hampshire and New Mexico, has been enacted in 28 states around the country. "Right to work" or "RTW" seeks to hamstring union organizing and representation.

Randy Cammack, President of Teamsters Joint Council 42 that represents nearly a quarter of a million active and retired Teamsters, said "our country was made great because of American workers, these are the workers we gather in support of today, whether they're Teamsters or not, we are here to protect their rights."

The Teamsters, originally called the Team Drivers International when formed in 1899, represent more than 1.3 million members from various sectors across the United States. Historically, the Teamsters were key to the labor movement as a sympathy strike from the Teamsters could shut down the movement of goods and services throughout a particular region, thereby amplifying the effect of a strike.

"The Teamsters have a strong history of standing up for workers, and we are coming together once again to protect the rights of every American. We will not stand idly by while the profiteers run roughshod over the rights of workers. We know what this legislation is all about: lower wages and less safe workplaces. Together we will build a movement to send these profiteers packing" said Cammack.

The Economic Policy Institute has published a report analyzing the effect of RTW showing that states that enact RTW have lower wages and more work place casualties.
« Previous
Next »