Teamsters & Allies Protest Cummins at Annual Shareholders Meeting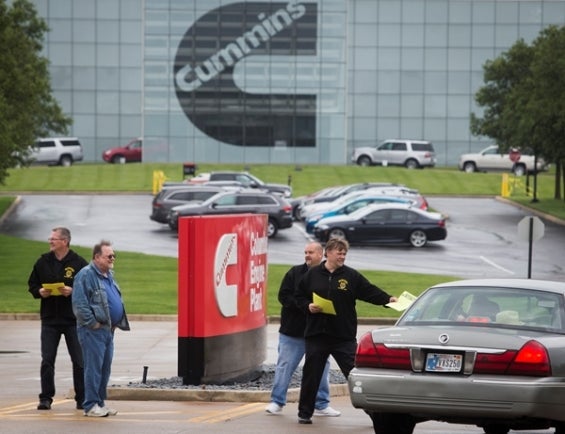 (COLUMBUS, Ind.) – A delegation of Teamsters from West Virginia drove to Cummins Inc.'s [NYSE: CMI] shareholders meeting in Columbus today and demanded an end to Cummins' high-deductible health plans that force families to pay $6,000 in annual deductibles before the plans even start covering workers and their families. They were joined by members of Teamsters Local 135.
Teamsters mechanics and parts workers service the on- and off-the-road diesel engines that power trucks, school buses, construction and industrial projects, and keep the emergency lights on in hospitals and other essential services across America. Cummins diesel engines are also found in Dodge RAM and Nissan TITAN pickup trucks.
Cummins' founder J. Irwin Miller said, "You can't have a healthy company without a healthy community." Yet, in West Virginia, Cummins wants its workers, represented by Teamsters Local 175, to go from a $700 annual family medical deductible in their union health plan to a $6,000 annual deductible under Cummins' plan. Under Cummins' company plan, the workers and their families would also lose access to their union primary health clinic in West Virginia.
The American Academy of Pediatrics says high-deductible plans are "particularly inappropriate for children" – and an increasing number of studies show that people under high medical deductible plans delay care, get sicker and their conditions become more acute — resulting in higher total health expenditures than if they were in traditional plans.
"Every American family deserves real health care, and Cummins' attack on affordable union coverage in West Virginia and elsewhere is unacceptable," said Ken Hall, Teamsters General Secretary-Treasurer and President of Teamsters Local 175.
"Cummins' $6,000-upfront medical deductible is unaffordable and unsustainable. It hurts the families of Cummins' workers. We've seen that Cummins employees across America give the Cummins health plan terrible reviews and call it the Cummins' 'No-Surance' plan," said Mike Matlick, a Cummins mechanic from the West Virginia Fairmont shop and Teamster 175 member.
"I've brought the testimonials of our families to share with those attending the shareholders meeting. If Cummins is still an ethical company, it will listen to us and reconsider," Matlick continued.
Holding signs that read: "Cummins – Too High a Price to Pay for Healthcare," Teamsters handbilled Cummins workers at Engine Plant 1 today, demanding that: (1) Cummins decrease its annual deductibles to below $1,000; (2) that the company's contributions to the health savings accounts match the deductibles; (3) that the company not take away union health care plans where its employees have them; and (4) that the company extend to all its 30,000+ U.S. employees and dependents the same free primary care services it currently makes available only to those working in Columbus where its headquarters is located.
The Teamsters union is also seeking greater disclosure by Cummins to its shareholders regarding its health care costs and the actual performance of its health plans. The union has been collecting complaints and testimonials from Cummins employees, union and non-union, across the country through a number of channels – including a Facebook page: https://www.facebook.com/CumminsAwfulTruth/ and a complaint contact address: [email protected]
Founded in 1903, the International Brotherhood of Teamsters represents 1.4 million hardworking men and women throughout the United States, Canada and Puerto Rico. For more information, please visit www.Teamster.org.
« Previous
Next »