Teamsters, ITF Delegation Hold Meetings to Discuss Strategic Relationships for Global Campaigns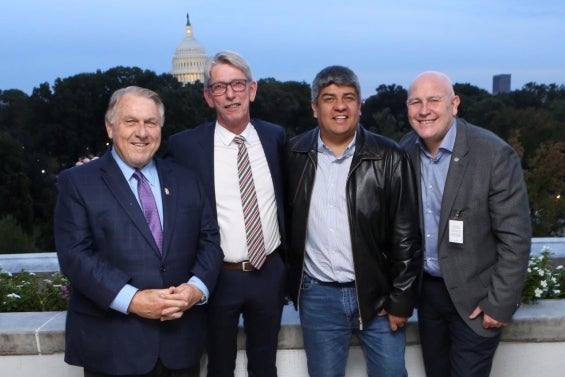 (WASHINGTON) – A delegation led by the International Transport Workers Federation (ITF) met with representatives from the Teamsters Union this week to participate in three days of meetings and training sessions. The primary goal of the program was to help further the collective effort to build a more strategic relationship between unions on an international level to improve strategies when dealing with global corporations.
The meetings, which were held at the Teamsters Union headquarters in Washington, provided the union representatives an opportunity to share their experiences with global corporations in areas of representation and contract negotiations. The ITF-led delegation to the USA included representatives from Denmark's 3F union, Sweden's SEKO, the Norwegian Transport Workers' Union, Finland's AKT, and the Nordic Transport Workers' Federation, as well as the Camioneros union from Argentina.
"This was a tremendous opportunity for our international unions to discuss the strategies and interactions we have had with global corporations that employ our members," said Teamsters General President Jim Hoffa. "The strategic relationships that were formed here this week are a critical step toward ensuring workers at these shared employers will be held accountable for their actions around the globe. ITF General-Secretary Steve Cotton has done an outstanding job launching this initiative and we stand in solidarity with our brothers and sisters to raise standards at these companies."
Topics covered during the program included strategic campaigns, organizing and political action, all with a focus on building international relationships that will augment and support the unions' efforts in their home countries.
"This week comes at a critical juncture for ITF and our affiliates," Cotton said. "There has never been a more important time to ensure that our transport unions across the globe are working together and forcing strategic alliances to protect the rights of works against multinationals. It's an honor to be here with Teamsters President Hoffa and our Nordic and Argentina leaders and to develop strategies to strengthen transport workers' rights across the globe."
« Previous
Next »