Opioid Epidemic's Other Battleground: Teamsters vs. McKesson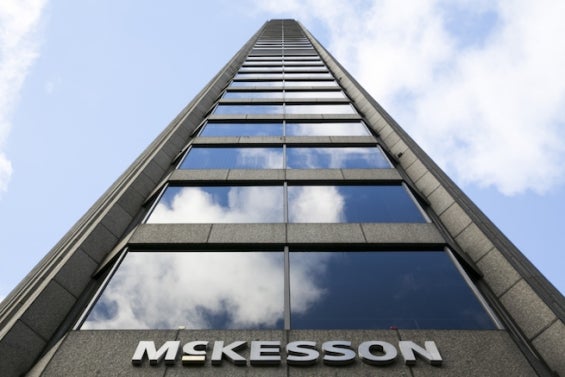 By Ron Leuty
San Francisco Business Times
June 18, 2018
As Travis Bornstein stepped to the microphone at the International Brotherhood of Teamsters' annual convention, the details of his son's death 18 months earlier remained bitterly fresh.
He could see the vacant lot in Akron, Ohio — one of the battleground states in America's opioid addiction crisis — where his overdosing son's body was dumped by a companion. The longtime president of a Teamsters local, Bornstein recalled his son's growing need to shoot heroin, an addiction he said was launched by painkilling opioid drugs prescribed for broken arms and surgically repaired elbows over Tyler's athletics-filled 23 years.
Bornstein's speech at the June 2016 convention represented a reckoning for the Teamsters, said General Secretary Ken Hall, the union's second-in-command. Dozens of union members would come forward, Hall said, and speak about their own families' struggles with addiction set in motion by opioids.
"They've got family members dying from the flooding of the market of these opioids," Hall said. "It's happening in the Teamster family — that made it an issue."
It also put McKesson Corp. in the crosshairs of the 1.4 million-member union, creating a new front in the war on opioids. Instead of fighting the epidemic via the health care system, the courts or legislatures, the Teamsters are taking it to McKesson's annual shareholder meeting and corporate boardroom.
And in many ways, the union is winning. McKesson reduced the pay of Chairman, President and CEO John Hammergren, the company said Friday, and is strengthening board oversight of management, largely in response to a Teamsters-led campaign against the San Francisco-based wholesale medical products distributor (NYSE: MCK).
McKesson, whose skyscraper headquarters sits roughly eight blocks from San Francisco's drug-infested Tenderloin neighborhood, has been painted as one of the corporate bad actors behind an opioid crisis that kills 115 Americans a day.
Facing dozens of lawsuits from state and local governments tasked with paying for medical care and emergency responses to overdose calls, McKesson has undertaken a number of initiatives to stem the crisis. That includes a $100 million contribution in March to a foundation it formed to focus on education, policy issues and increasing access to overdose reversal treatments.
The company also says it is expediting development of a national prescription safety-alert system for pharmacists and prescribing doctors to flag abuse or misuse. It also is committed to halting sales next year to customers that cannot accept prescriptions electronically and is trying to fast-track distribution of new, non-opioid medications.
But a common theme by the company is that it is wrong for critics to single it out in a long supply chain that begins with doctors prescribing opioids and pharmacies dispensing the drugs, branded with names such as Vicodin, OxyContin and Percocet.
The Teamsters, for one, aren't buying it, and its campaign against McKesson and two other big drug distributors is bearing fruit.
At the urging of the union, which has met with leaders of McKesson, AmerisourceBergen Corp. (NYSE: ABC) and Cardinal Health Inc. (NYSE: CAH), McKesson created an independent board committee to investigate directors' oversight of how Hammergren and his management team complied with legal and regulatory mandates relating to opioids distribution.
The board's three-member committee — Donald Knauss, the former head of Oakland-based Clorox Co. (NYSE: CLX); Tony Coles, the CEO who led the sale of South San Francisco's Onyx Pharmaceuticals to Amgen Services (NYSE: AMN) CEO Susan Salka — concluded in April that senior management and the board met their obligations under a 2008 settlement with the Drug Enforcement Agency over "suspicious" online pharmacy sales of opioids.
At the same time, the committee made recommendations to strengthen McKesson's framework for compliance and ongoing oversight.
Those are small but important wins for the union crusade that began at last summer's annual meeting of McKesson shareholders. There the union successfully spearheaded an advisory vote against McKesson's executive compensation plan, namely Hammergren's $20.1 million package of pay, stock options, grants and other awards. Its proposal to separate the positions of chairman and CEO also was approved by shareholders, though that won't take effect until after Hammergren steps down.
On Friday, McKesson said in a Securities and Exchange Commission filing that it had cut Hammergren's overall compensation for the fiscal year ended March 31 to $18.1 million, a 9.7 percent drop from the year before. His base salary has remain unchanged since May 2010.
On top of that, the board's compensation committee in May reduced by $4.7 million the potential maximum payout for management incentive plan awards for the current fiscal year and tied compensation plans to compliance risks related to opioid distribution.
It isn't an uncommon tactic by organizations, including religious groups and unions, to try to effect social change through corporate governance. Among the proposals McKesson shareholders will consider at their July 25 meeting in Irving, Texas, for example, will be one from an AFL-CIO investment fund that calls for use of GAAP financial metrics to determine executive compensation, and another cosponsored by a trust for retirees represented by the United Auto Workers for McKesson to disclose lobbying activities and spending.
The Teamsters' success last year was rare in the annals of stockholder activism, but the union is back for more.
Outlined Friday in McKesson's proxy statement for the shareholder meeting the union is asking stockholders to adopt a policy that would largely eliminate the company's "double-trigger" accelerated vesting of equity awards for senior management if there is a change in control of the company.
McKesson, which successfully fended off similar proposals in 2012 and from 2014 through 2016, has recommended that shareholders vote against the measure.
Thanks to a mere 110 shares of McKesson stock, the deep-pocketed Teamsters can bring forward such proposals to the annual meeting. The union, which represents an undisclosed number of McKesson workers, has about $100 billion in assets in various capital markets.
The Teamsters also asked shareholders of AmerisourceBergen and Cardinal Health at their most-recent annual meetings to fill their board chairman positions with independent directors. Both proposals were defeated.
Meanwhile, the union has portrayed McKesson's $100 million foundation-launching gift as disingenuous.
"That's like saying that someone murdered 100 people but was willing to pay for the price of a sign that said, 'Beware, in this area you may be shot,'" the Teamsters' Hall said. "It's just ridiculous."
The union's goals are simple, Hall said: stop people from dying from opioid-related overdoses and, secondly, relieve the financial pressure on insurance plans that cover overprescribed drugs. Only then, will there be fewer deaths like that of Tyler Bornstein. That comes, Hall said, with change in McKesson's corner office.
"We are not going to stop until we see change," Hall said.
"We're seeing these companies change the makeup of their boards, but this can't be just about window dressing," he said. "They have to knock this BS off."
« Previous
Next »