Teamsters Help Deliver Solar Disaster Unit to Dominica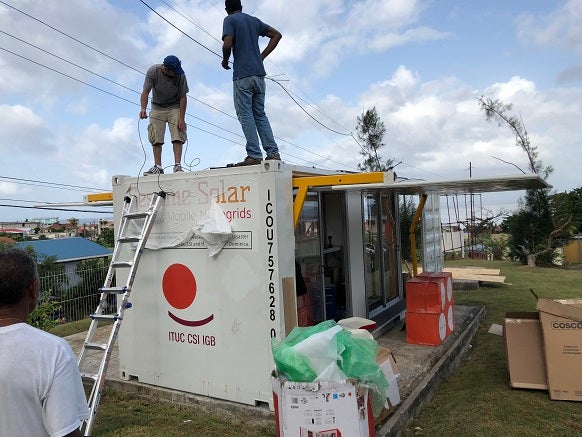 The Teamsters joined with DHL Global Forwarding to help transport a solar-powered disaster recovery office this week to the Caribbean island nation of Dominica, which was devastated by Hurricane Maria last fall and is still trying to get on its feet as the 2018 hurricane season officially begins today.
Union leadership worked with DHL to coordinate transport of the unit, manufactured by Sesame Solar. It was brought from the company's Michigan plant to Dominica, where it was installed today at Princess Margaret Hospital, the island's largest medical facility. The successful delivery of the disaster recovery office was part of a collaborative effort between Sesame Solar, the International Trade Union Confederation (ITUC), SimpliPhi Power and OutBack Power, as well as the Teamsters and DHL.
"We are extremely grateful for the solidarity of the U.S. energy companies Sesame Solar, SimpliPhi Power and OutBack power, in providing this cutting-edge renewable energy installation to the people of hurricane-devastated Dominica, along with all those who donated medical and other supplies and the transportation," ITUC General Secretary Sharan Burrow said.
The hospital will use the disaster recovery office in partnership with the ITUC to provide emergency response efforts during disasters and as a command center. During other times, the unit will provide power generation services to the hospital and the Ministry of Health, and provide a labor employment office for the Waterside Alliance and Workers Union to help rebuild Dominica's Infrastructure.
Because the unit is easily transported and can be set up in less than 15 minutes, it can also be moved to other island locations if circumstances require it, officials said.
To maximize the containerized unit during its transport to Dominica, it was filled with humanitarian aid that will be distributed, such as medical supplies provided by Direct Relief and school supplies and toiletries funded by Sesame Solar, the Kind Organization and Stone Edge Farm.
The Teamsters involvement in this endeavor is just the latest example of the union lending a hand to those affected by hurricanes last year. Scores of Teamsters headed to Puerto Rico last October for two weeks to help transport goods across the U.S. island. They even filled in for the city of San Juan's Public Works Department so they could get a day off after many days straight on the job without a break.
« Previous
Next »