Believe, Dream and Achieve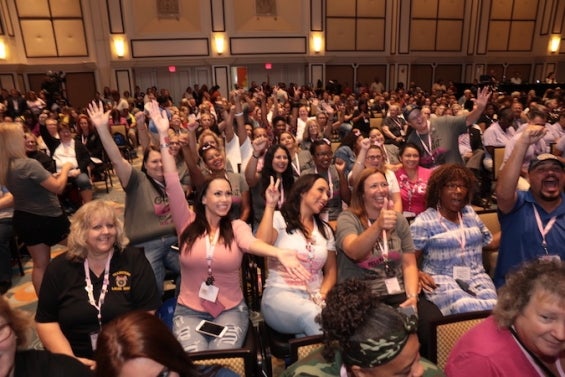 The 2018 Teamsters Women's Conference kicked off Sunday, Sept. 16 in Orlando, Fla. and just steps away from the happiest place on earth, Disney World. So this year's theme, "Dream, Believe and Achieve," seemed more than perfectly fitting for the more 1,300 Teamster women from across North America that packed the room, united in solidarity of sisterhood. View more photos from the event, here.
The three-day annual conference is filled with opportunities to learn through various educational workshops, panels and social activities. But most importantly the conference gives the opportunity to hear inspirational stories from their fellow sisters of success, triumph, and taking action against sexual harassment and gender discrimination.
Local 700 President and Director of the Women's Conference, Becky Strzechowski, welcomed the Teamster women with a message of empowerment.
"I'm looking forward to these next three days of dream, believe and achieve, together. And when I say together, I mean really together. This conference means so much to us all. And we may have our differences, but we when come here we are unified. We share the same similarity. We all want our union to be strong and the best it can be," she said.
Strzechowski then gave a shoutout to General President Jim Hoffa and General Secretary-Treasurer Ken Hall, along with Joint Council 75, Local 385 and all the locals within Joint Council 75 for all their help in planning this year's conference, before presenting Jim Shurling, President of Joint Council 75, with a plaque.
"It was the women of our Joint Council that I reached out to and who I knew could achieve and get it done. And who did," Shurling said .
Hoffa also welcomed the Teamster women, expressing his appreciation and commending the enthusiasm and energy.
"I'm excited about what we're doing because we are doing so many good things here," Hoffa said. "This is the year of the woman!"
The opening session highlighted women whose efforts and continuous activism led to real change, like Ceia Collins, recipient of the 2018 Barbara Liddy Teamster Woman Activist Award. For over 20 years, Collins has continuously fought for women's equality in the workforce and for the rights of workers.
"It has always been the members who have moved me and motivated me, and who made me the Teamster woman I am today. And I just want to thank you all for your support throughout my years as a Teamster member," Collins said.
In light of the anti-worker fight and the Supreme Court's Janus decision, Hall applauded the fantastic and hardworking women working and fighting every day to make this union and this nation a better place.
"The one thing that I know about Teamster women, there is very, very little that can get in your way when you want to do something. You are motivated, and you know how to make things happen. And that is what a union needs, to make things happen," Hall said.
Hall then introduced two of those women: special-education teacher and President of AFT Local 6542, Lynneia Atkinson; and English teacher, member and Vice President AFT Local 6542, Jaime Bowden.
After the Janus decision, these two women not only mobilized the teachers' strike in West Virginia for better wages and an equal opportunity to all kids no matter their background, they succeeded and inspired teachers from across the nation to follow in their steps and fight for their rights as well.
"The West Virginia strike wasn't a planned strike, and it certainly wasn't done before. None of us who walked out of our classrooms, out of the cafeteria or off the buses, knew what to expect or what we wanted. Other than to be heard," Bowden said.
"Teachers and service personnel did not know what we were doing would attract global attention or start a movement far beyond the mountains of West Virginia. We just knew we had enough. Enough disrespect, enough lack of support, enough of the attacks on public education. We saw our mentors retire, our resources diminish, and more children are coming to school hungry without enough care and support to meet their needs. We worked out in a red, right-to-work state because this is personal, West Virginia culture is personal," Bowden said.
"When we started, we planned for a two-day walk out. We were out of the classroom for nine days. Nine school days," Atkinson said. "Our union is definitely stronger because we recognize our strengths and our weaknesses…and the people should not fear the government, the government should fear the people."
The Teamster women then gave a warm welcome to Diana Holland of the International Transport Workers' Federation in the U.K. Holland gave an inspirational and empowering speech about women fighting for equality and the power of unions coming together as one no matter what country you live in and the powerful impact you can have as one.
"These are difficult and divisive times. You, like us, are facing the relentless race to the bottom. It's undermining everything we fought for and everything we've achieved. And it's threatening it. Existing workers are getting impossible choices. Accept reduced terms, conditions and pay or lose your job. And younger workers are just offered worse ones. And in times like these, we can feel so isolated, so powerless in the face of these huge global forces but let's not forget we got our own huge global forces. When we organize together, we are so much stronger. So when we in the U.K. heard the shocking circumstances of the XPO Memphis warehouse and the tragic death of Linda Neal, we were deeply affected," Holland said.
The opening session concluding with three brave women of XPO Logistics, Tasha Murrell, Lakeisha Nelson and Tierra Ellis, who are exposing the horror inside XPO's warehouses in Memphis, Tenn. after witnessing the tragic death of their friend and co-worker Linda Neal last October, after management denied medical her medical attention and refused to call 911 after Neal passed out and hit her head. The three women shared their personal stories of discrimination, sexual harassment and even miscarrying a child while working on the warehouse floor.
"We are here today to shine a light on a dark, dark place called XPO Logistics. And I am here today to say to the women here and to the women across the world: Demand your respect, demand your dignity," said former XPO worker Murrell, who quit the company in March 2018 and is now continuing her fight for justice as a proud Teamster organizer at Local 667.
Nelson asked the audience for a moment of silence after speaking on witnessing the death of her friend and co-worker Linda Neal. Ellis shared her horrific story of her supervisor forcing himself on her and then retaliated after she made a formal complaint to human resources.
"They labeled me as a complainer, and my supervisor told me to keep my mouth shut," Ellis said. "But Teamsters are who made me feel comfortable to come out and talk about my story, to keep telling my story."
As the emotional yet powerful and inspiring opening session came to an end, the Teamster women were eager and motivated to meet one another and learn from each other over the next two days of diverse workshops and social gatherings.
« Previous
Next »