Freeman Succeeds Tedeschi as GCC President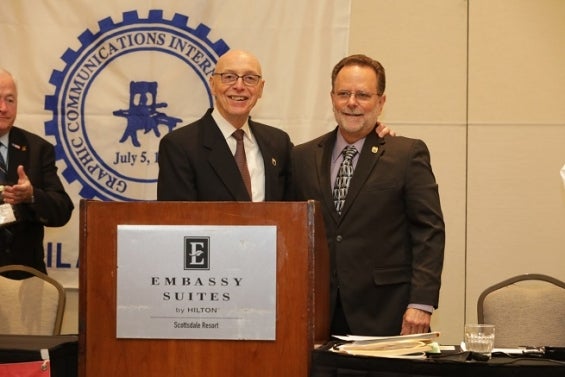 SCOTTSDALE, Ariz. — George Tedeschi, president of the IBT's Graphic Communications Conference, retired June 2 after 60 years of union service and was succeeded by Kurt Freeman, a highly regarded labor veteran who became secretary-treasurer/vice president of the GCC/IBT in 2017.
Tedeschi, 79, played a central role in the 2005 merger of the former Graphic Communications International Union with the Teamsters, a move he called "one of the most important accomplishments of my career."
IBT General President James Hoffa hailed Tedeschi's contributions to organized labor and role in bringing the GCIU into the Teamsters fold.
"George Tedeschi has given his all to the workers in his beloved printing and publishing industry," Hoffa said. "The merger of our two great unions is in large part due to George's leadership. He is a friend and true trade unionist."
Also honoring Tedeschi was IBT General Secretary-Treasurer Ken Hall, who traveled to Scottsdale for the occasion.
"That George has given 60 years of service is incredible to me," Hall said. "I'm just so proud of him – that's why I'm here." The GCIU-Teamster alliance that Tedeschi helped engineer had been advantageous for both organizations, Hall said. "I am very proud that you became part of our organization."
Tedeschi, who will continue as an IBT international vice president-at large, made his retirement official at a meeting here of the North American Newspaper Conference, the GCC/IBT division representing craft workers and journalist in the publishing industry.
Known for his passionate commitment to individual union members and their families, Tedeschi told delegates: "I was able to be successful because of all of you. Without you, I would be nothing."
Earlier, Tedeschi administered the oath of office to Freeman, who led Philadelphia local 14-M and the GCC/IBT's District Council 9 before assuming responsibilities as the international union's second in command two years ago.
Tedeschi hailed Freeman, 61, as an experienced labor professional who had the knowledge and foresight to guide a print industry union in a time of profound technological change.
"Kurt is clearly a leader with an eye toward the future," Tedeschi said. "He is highly skilled in negotiating, organizing and has wide experience in pension issues. He's out there protecting working people every day."
In his first speech as GCC/IBT president, Freeman said he intended to continue in Tedeschi's tradition of constituent service and serve members with "energy, integrity and determination."
He stressed the need to use digital age communications and social media to reach potential new members and stay connected to those already in union ranks.
Freeman urged support for pension reform and measures like the pending Butch Lewis Act that would protect "struggling" multi-employer retirement programs.
In the political realm, Freeman said union members cannot be fooled by the false promises of anti-labor forces in Washington who masquerade as friends of working people but "prove themselves anything but."
Freeman said that, like Tedeschi, he would place top emphasis on service to the rank-and-file.
"From where I stand," he said, "we must be laser focused on what is best for working class families."
« Previous
Next »