Bakery & Laundry Teamsters Stand Tall for Workers in Denver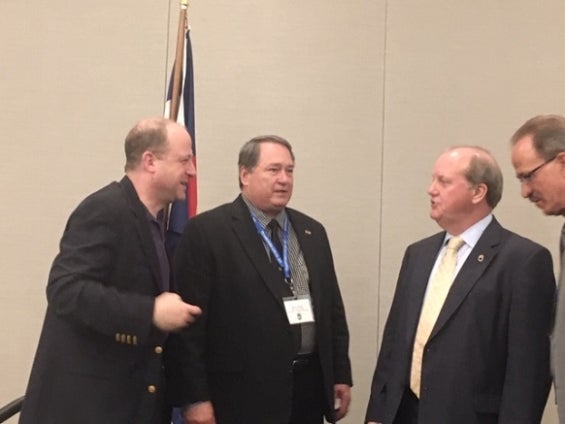 More than 100 Teamsters from across North America came to Denver this week for the 79th annual Bakery & Laundry Conference, sharing ideas and strategy on how to empower their membership in the face of employer challenges.
Attendees heard from union and political leaders about the need for members to stay strong and involved in the process, even as companies increasingly try to clamp down on wages and benefits they offer to their workers.
Teamsters General Secretary-Treasurer Ken Hall said the Teamsters will not back away from a challenge when it comes to getting good contracts for members.
"We have more money at the IBT than any time in our history. That's a good thing," he said, noting the union's strike fund is currently at $230 million. "We should use the resources of the union to protect every single job. We can take on any fight they have for us."
Hall congratulated Bakery & Laundry Teamsters for the state of their division, saying they are successful because they are "thinking outside the box." But he added there is a need for union members across the board to get more involved in the process.
Steve Vairma, International Vice President At-Large and President of Joint Council 3, pushed for unity in action. "We can't afford to take on these giant companies individually."
Several Colorado elected officials stopped by to hail the job Teamsters and the union movement have made is securing good-paying jobs. "We owe a debt of gratitude for organized labor," Colorado Gov. Jared Polis (D) said. "We know American workers face real challenges in the 21st Century. We are focused in this state on working on it."
Rep. Joe Neguse (D) said lawmakers across party lines need to be reminded about the importance unions' play. "Keep the pressure up, not just on the Senate, but the House," he said. "Labor needs to keep our feet to the fire."
Pensions were highlighted as a key issue members need to remain focused on. Conference Director and Chairman David Dudas urged attendees to reach out to their elected officials to push for reform.
"It is desperately needed for multiemployer pensions," he said. "We need more legislators involved."
« Previous
Next »