Candidates Want Teamster Support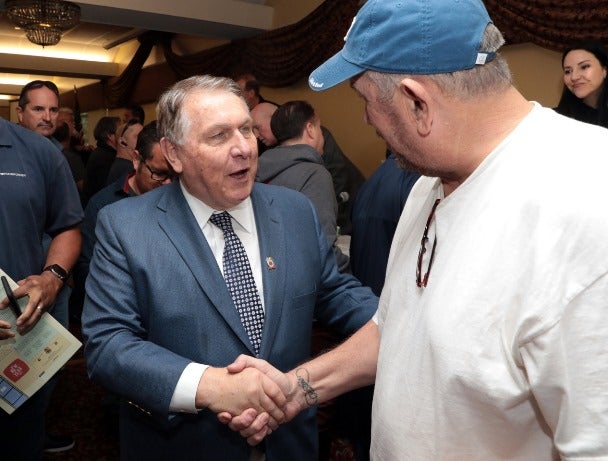 As the 2020 primary season heats up, presidential candidates in the massive Democratic field are vying for critical support from labor unions, particularly the Teamsters. Don't dismiss this as typical election posturing.
Those of us who have watched the labor movement's ebbs and flows over the last few decades know things have changed. Democrats' actual support for labor unions has fluctuated wildly in recent decades. The failure to focus on economic insecurity and the industrial heartland in 2016 allowed anti-union Republicans to make gains among union voters.
This shift is not arbitrary but tied to a resurgence in union support. Across the country, unions have stayed vigilant on the core issues that impact working people.
We've helped turn income inequality—which is at a level last seen in the years just before the Great Depression—into a mainstream issue.
Perhaps as a result of each union's individual work, the labor movement has demonstrated enormous solidarity in recent months. In April, tens of thousands of Stop & Shop employees represented by the United Food and Commercial Workers went on strike over stalled contract negotiations in supermarkets in Massachusetts, Rhode Island and Connecticut. The strikers were met with public support from 2020 Democratic presidential hopefuls. But maybe even more importantly, other unions played a critical role in the strike.
For instance, Teamsters who serve as warehouse workers and truck drivers for Stop & Shop honored the picket line and, by doing so, stopped the store from restocking.
Their unity demonstrated the strength and success that labor has when workers stand together, and resulted in a new contract that includes wage increases, a fully funded pension plan and protected time-and-a-half on Sundays.
Union leaders like me are thankful to hear from presidential candidates and glad there is a focus on reaching working people in the upcoming election. But we know that the candidates' interest is the result of our diligence and commitment to workers.
While we continue to adapt and grow in these changing times, we'll keep doing what we do best: fighting for working people. Because, at our core, we remain steadfast in our belief that a rising tide should lift all boats, and we will keep working to make sure it does.
« Previous
Next »