Teamsters National Black Caucus 44th Annual Educational Conference Convenes in Louisville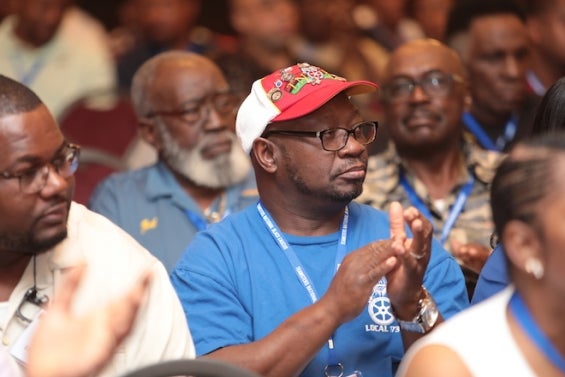 Today the 44th Annual Teamsters National Black Caucus Conference began in Louisville, Kentucky. This year's theme was straightforward: "A New Time, A New Vision." Stay tuned for more updates, here.
Mac Moore, President of the TNBC Louisville Chapter welcomedmore than 400 members, guests and delegates to the city.
"Make sure you get to the educational classes, take advantage of each class; make sure you take it back to your place of work and educate even more people." Moore said.
Newly elected Vice Chair, Eric Tate, Secretary-Treasurer of Local 848, introduced the current TNBC Executive Board and national officers.
Tate's energy motivated the crowd to get up and dance to celebrate another year of gathering together to educate each other and bring awareness to the needs of the black Teamster member.
New Chairman James 'Curb' Curbeam took the stage chanting, "Who are we?" with a response from the audience, "Teamsters!"
"This is very humbling to me, 20 years ago I was introduced to the Teamsters National Black Caucus in New Orleans, and today I stand here as the caucus chairman," Curbeam said.
Curbeam explained his desire to be a Teamster and why it's so important to him; expressing gratitude and respect for his mentor who guided him along the way when he first became a member at 24 years old.
Curbeam highlighted what it means to be a Teamster and addressed the political landscape the union is faced with today, encouraging all to continue to stand strong and be ready for the fight.
"We are the most powerful trade union in this world, with some rich history that we stand in the face of adversity," he said. "We're all soldiers of this army. Strong, dedicated men and women who have our backs; anytime, anywhere. An injury to one is an injury to all."
General President James P. Hoffa addressed the attendees and shared how proud he was of Curbeam and the union's Organizing Department. Hoffa spoke on the trainings that are being provided to locals and Joint Councils for more organizing strategies.
He also gave an update on the pension bill being passed in the House, getting rid of the Cadillac tax and the recent presidential debates.
"They won't get our vote unless they are talking about what we're talking about," Hoffa said.
General Secretary-Treasurer Ken Hall gave an update on the union's financial status, right-to-work battles and what the union is doing to fight the opioid crisis.
Two important panels were held on the important topics: Black Electoral Empowerment, facilitated by Demnlus Johnson featuring Raoul Cunningham, John Comer and Jeannette Barnes; andCriminal Justice Reform facilitated by Ramon Williams featuring Prof. Keeanga-Yamahtta Taylor and John Comer.
Workshops were held on "Building Power in the Public Sector," Teamsters Vote 2020: Empowering Our Members, Driving the Agenda and more.
Union staff from the Legislative and Political Action departments reported on the activity already under way for the 2020 presidential election, from a national survey to membership strategies.
« Previous
Next »