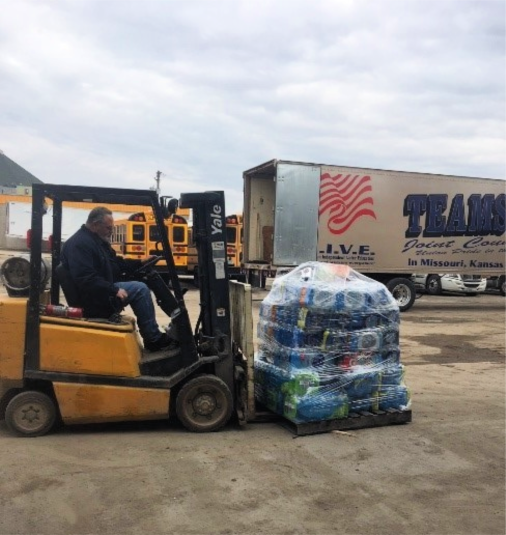 Local 554 UPS Driver Mike O'Hearn and his family were at their house in Columbus, Neb. Weathering a torrential storm when the phone rang.
"You should get out of there right now."
"Why?"
"Your house is going to be underwater within the next 24 hours."
O'Hearn looked outside, saw more than two feet of water in his driveway, and called 911. A few of hours later, the O'Hearns were on the roof of their house, waiting to board a Blackhawk helicopter as flood waters demolished their surroundings.
There was one problem: the rescue crew said no dogs, but Mike's wife Patty wasn't leaving without the furriest family member. Mike grabbed the Shih Tzu, put the dog in a duffel bag, and handed the bag to his wife. Mike's son Sean watched as she ascended on a rope ladder jerking frantically toward the sky, all while 60-mile-per-hour winds gusted all around them.
"Good thing Mom went first," he said. "She never would've gone if she saw one of us do that."
Immediate Needs
The flooding that rampaged throughout the Great Plains communities abutting the Missouri River began last March. Just as they had been in every region slapped by the cruel hand of Mother Nature in recent memory, the Teamsters were among the first on the ground when disaster subsided. Joint Council 56 along with Locals 554, 120 and others worked with Teamsters throughout the country to direct supplies and personnel where they were needed.
"Immediate needs were identified and a strategic relief effort was under way," said Danny Avelyn, Local 554 Secretary-Treasurer. "This effort saw thousands of volunteers from far and near who were eager to help. The collective spirit of those selfless volunteers made all the difference in helping to ease the ravages and aftermath of the flooding."
"New friendships have developed," said Scott Utech, Local 554 business agent. "The experience has left many with a better appreciation of what we otherwise take for granted in our daily lives."
Disaster relief can be challenging in rural areas in part because of the distances separating distressed communities, making the role that the Teamsters play in coordinating deliveries all the more critical.
Local 554 Trustee Gary Neeman said that the union delivered around 750 pounds of supplies in a four-week period, and noted that collaboration with partner organizations was essential to success.
"Watertown, S.D. was in the jurisdiction of the Salvation Army," Neeman said. "They had supplies but not enough transportation, so they asked Joint Council 56 to bring our truck up there. I said, 'You have to understand that we're Teamsters. People helping people—this is what we do. You tell us where we have to take this stuff, we're going to be there.'"
Neeman said that one of the most heart-wrenching moments of the disaster relief mission came in Freemont, Neb. when he was delivering supplies to an elderly woman and her grandchildren. As he loaded the goods into her car, the woman's granddaughter looked at her and said, "Does this mean we get to eat tonight?"
"My heart went in my throat," Neeman said. "I gave her the money I had and said 'I don't care where you go tonight, just go get something to eat. If you want to spend all of this money on chicken nuggets, go spend it on chicken nuggets, but I don't want you three to go hungry tonight."
Rebuilding Lives
Dan Shultz is a Local 554 member from Pacific Junction, Iowa who works as a service technician for General Electric. He was in Minnesota at the time of the flooding, and he got phone calls from neighbors volunteering to move as much of his things as they could.
When everyone had to be evacuated, he watched his house become submerged from a home security camera. In the spirit of Teamster resilience, Shultz didn't miss a day of work in the week immediately following the flood, but he said that the experience is difficult to explain if you haven't been through it.
"You're at work right now, just imagine if anything and everything you left at home this morning you no longer have," Shultz said. "The only possessions you have is what you have on you. Photos, mementos, everything is gone. Still, I've gotten food, cleaning supplies, financial assistance; everyone has been here for me."
O'Hearn also must rebuild extensively to get back to his life before the flood. Being in a rural community, he and neighbors rely on wells for clean water, and the flood may have contaminated their water supply with harmful bacteria. If his well is contaminated, he'll have to dig another, an undertaking that would likely be expensive and time consuming—and in addition to the renovations on his home.
O'Hearn claims he became a dues-paying Teamster after he was wrongfully terminated and Local 554 got him his job back, and that the union has always been there for him. In spite of his challenges, he said he's an optimist and that he appreciates the response from his union brothers and sisters.
"This is the way we do it," O'Hearn said. "Your neighbors needs help, you help them out. The union is no different."
For more information or to donate, visit https://teamster.org/benefits/disaster-relief.
« Previous
Next »