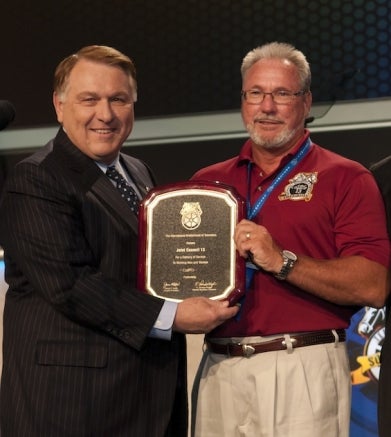 Teamsters are mourning the loss of Marvin Kropp, a leader who has been an important part of the union for decades. He passed away on Dec. 23, 2019.
Kropp served as President of the Missouri/Kansas/Nebraska Conference of Teamsters, President of Joint Council 13 and Secretary-Treasurer of Local 618 in St. Louis. He also served as a Trustee on the Central States Pension and Health and Welfare Fund.
"Brother Kropp was a strong and effective Teamster leader," said Jim Hoffa, General President. "As a tenacious fighter for workers, his dedicated service and exemplary leadership will be missed."
Born in 1960, Kropp was a third-generation Teamster who joined the union in 1978 while working at E.I.S. Brake Parts. He was elected Shop Steward in 1979 and appointed Business Agent in 1984. He held every elected position at Local 618 and was elected Secretary-Treasurer in 2009.
He leaves behind his wife, Terri, his son and daughter-in-law Derek and Sabrina, and two grandchildren, Dane and Liv.
« Previous
Next »