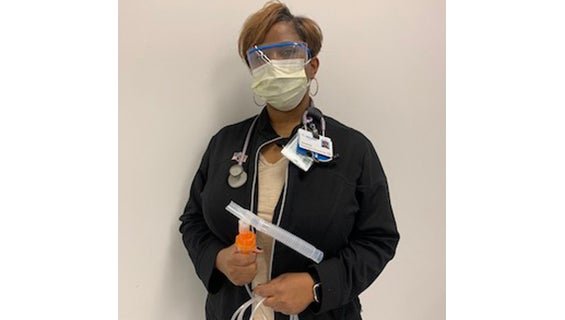 Kim Campbell is a Teamster on the front lines of the COVID-19 pandemic. As
an emergency room respiratory therapist, her own health is on the line every second she's at work.
"It has been
rough and stressful," said Campbell,
a Local 332 Teamster in Michigan. "I
am the emergency
room respiratory therapist, so whenever they call me, it's always because of respiratory distress like a cough or shortness of breath. So yes, my week has been rough."
As the mother of an immunocompromised daughter, she can't afford to let her guard down.
"With my daughter, I have to take precautions because she's in chemotherapy. I wear a mask when I'm in the room with her," she said. "It's hard because I've had to distance myself from my daughter. I don't want to expose her to anything because she's so compromised so we can't be around each other much. I see her for maybe two minutes in the morning when I open the door and tell her I love her."
In mid-March, the first week of major nationwide shutdowns, Campbell and her co-workers were told not to wear face masks because they were too limited and needed to be conserved.
"I let them know that was unacceptable. I got on the phone with my union and they also said it was unacceptable. Now we have protective gear," Campbell said.
"Now more than ever it's important for people on the front lines to have representation," said Jim Hoffa, Teamsters General President. "Teamsters are working hard every day to make sure America keeps rolling. We always have—from world wars to September 11 to Hurricane Katrina, Teamsters stand strong."
Boots on the Ground
The Teamsters Union is working closely with local unions, employers and lawmakers to ensure safe working conditions and continuous employment for members during the COVID-19 pandemic. Every Division and Conference within the union is actively engaged on behalf of their members.
"While millions of Americans have transitioned into telework to avoid exposure, most Teamsters haven't had that option. Their boots have been needed on the ground each and every day," Hoffa said. "The public is starting to realize how many everyday heroes they took for granted before. I salute all the brave Teamster brothers and sisters who have had to work through these difficult times."
Since the union's founding in 1903, members have sacrificed themselves on countless occasions and have shown bravery in helping others during tragic circumstances. This is what brave Teamsters continue doing, every day, during this unprecedented crisis.
"Teamsters are performing a critical duty just by doing their jobs," said Ernie Soehl, Freight Division Director.
"I would like to salute the work of the hundreds of union representatives, stewards and officers of Teamster local unions who have been working nonstop to continue representation," said Ken Hall, General Secretary-Treasurer. "I'm proud to see how Teamsters across the board have gone over and beyond the call of duty during this crisis."
Waste Workers
The pandemic has made many people more appreciative of workers they had taken for granted before, like waste workers. These frontline workers are constantly at risk but whose jobs are essential.
"In this industry, there's always been a focus on safety and dealing with issues of hygiene. We are the guys who make sure the communities are up to standard. So that's nothing new," said Jerome Westpoint, a Local 728 Teamster at Republic Services in Atlanta. "But we have never faced a pandemic, so in that sense, this is something new. You can't prepare for these types of things, but you have to be ready. In our line of business, we are trained to be ready."
Westpoint said that while there have been big changes in his job since the pandemic hit, safety is still a priority. The union understands that, too.
Early on in the national emergency, Chuck Stiles, Director of the Teamsters Solid Waste and Recycling Division, contacted waste employers and outlined a list of recommendations at each company so that Teamsters are protected on the job and able to safely meet the needs of the communities they serve.
"People need to understand that there are real people servicing your waste and we need to come back home the same way we left. Everybody needs to do their part and take the necessary steps and be responsible. Everyone is accountable for their own hygiene right now, so be respectful of our health and safety too. Don't just dump your trash on the curb. We are all in this together," Westpoint said. "We have our concerns just like everyone else who is out working right now, but we also know this situation is like nothing we have ever seen before."
The rest of the nation can learn a lesson from union members, Westpoint said.
"We know we have to work together as a unified group. Check in on co-workers, help each other out. We need to be more unified than ever before," he said. "We have to work as a community now more than ever. We need to be there for each other, and we need to be good to each other. This is our hour to be unified."
Caring Side
When mass closures started worldwide, countless Americans had at the top of their to-do list a trip to Costco. Stores nationwide were packed beginning in early March, including the Teamster location in Beltsville, Md.
"It's really busy right now," said Edgar Orellana, a Local 570 Teamster at the Beltsville Costco. "But we're staying safe and have implemented six-foot rules and have been very vocal on explaining the importance of it. Each shopping cart is sanitized by staff. We're very organized about getting people into the stores, getting them what they need. Here, you don't see panic, you see organization."
Orellana said a surprising aspect of the coronavirus is he has seen the caring side of a lot of people, including himself.
"I look out for my family as much as I can. I help my mother and my sisters, and I think about how our Costco members and their families are in our warehouses looking out for their own families. I hear stories from people purchasing for elderly family or neighbors who can't make it out," he said. "People have been good about saying, 'Thank you so much for what you're doing.'
"I'm grateful that we're here to help people in a time of real need. I'm fortunate to be working for Costco. It's like helping my family," Orellana said.
Teamsters Deliver
As more people are staying at home and heeding advice to self-quarantine, and more businesses are closing their doors to the public, UPS Teamsters have dealt with the results.
"Things have changed pretty drastically, and there are changes daily now. We're seeing scaled back commercial deliveries but residential deliveries are picking up. We're seeing more people at home at times they usually wouldn't be. In some ways it's just craziness," said Dale Pink, a UPS Teamster with Local 355 in Baltimore.
There are safety measures in place from the moment he gets to work, Pink said. He and co-workers no longer communicate face to face, and for the time being customers don't need to sign for packages.
"I see a lot of businesses closing down every day. That's a big change for us," said Nick Hart, another UPS Teamster with Local 355. "It's a ghost town downtown right now, but in some ways, it's business as usual."
Hart said he is more mindful now of keeping his distance from customers, sanitizing his hands whenever he takes his gloves off, washing his uniform after each wear.
"I am very cautious about social distancing with my customers," Pink said. "I carry disinfectant wipes and hand sanitizer on my truck. I'm washing my hands way more often. At the end of the day I wipe down the steering wheel and seat and door handles and anything else I might have touched.
"I'm encouraged by the fact that the Teamsters and UPS have come together and have a plan in place if any UPS worker comes down with the coronavirus. There was serious dialogue and resolution to ease concerns that a lot of us had about how the company was going to handle this," Pink said.
Zoo Workers
The pandemic has given the public a new appreciation for people in many lines of work—including some they had never considered before.
While Chicago's Brookfield Zoo has been closed, the animals still have to be fed and the grounds have to be kept. That's where Carrie Sapienza and her co-workers come in.
"There are a lot of zoo employees that are able to work from home right now. That's not the case for us," said Sapienza, a senior groundskeeper at the Brookfield Zoo and member of Local 727.
"Working through this has been odd in a lot of different ways. It's hectic. Things change so drastically and so quickly that it's hard to keep up," she said. "It's good to see our union figuring out how to maintain our status and keep people safe."
Sapienza has been working at the zoo since 1992 and became senior groundskeeper and a steward
in 2003.
"It used to be just the primate department that would have to wear PPE masks and safety glasses because the primates can spit or throw feces," she said. "Now we all have to be that aware."
Double-Duty for Stewards
As a steward, Sapienza is also helping co-workers who fear being laid off or have safety concerns.
"It doesn't matter if we're talking about the coronavirus or a lock infraction. I'm a steward so I've got to be there for the members. That's what being a Teamster is," she said.
"It has been a madhouse here," said Kim Cox, a registered nurse in a surgical intensive care unit in Michigan. She's also a Local 332 Teamster and chief steward for her bargaining unit.
On top of her usual duties—which have been hectic lately—her steward duties have also grown.
"It's a 24-hour job being chief steward. I get calls at 3 a.m. because that's when some people are working. I'm always going to answer that call. Right now more than ever, the staff here needs to know that someone is listening to them and cares about them and is trying to help them," Cox said.
« Previous
Next »