COVID-19 News Updates – May 20, 2020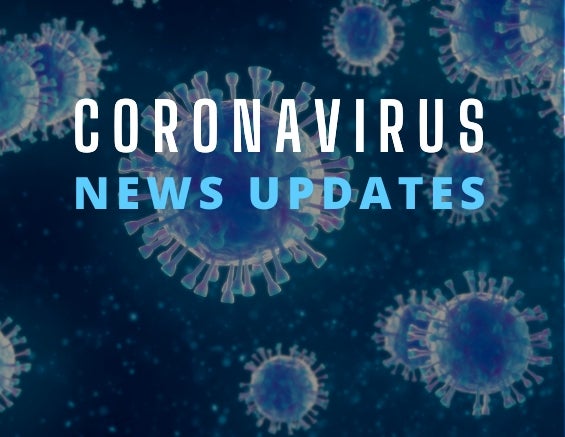 Guidelines for Opening Up America Again
President Trump has unveiled Guidelines for Opening Up America Again, a three-phased approach based on the advice of public health experts. These steps will help state and local officials when reopening their economies, getting people back to work, and continuing to protect American lives. Please click here for more information: Guidelines for Opening Up America Again
White House COVID-19 Updates
Federal Agencies Share Principles for Offering Responsible Small-Dollar Loans (HERE)
The Federal Reserve Board, the Federal Deposit Insurance Corporation, the National Credit Union Administration, and the Office of the Comptroller of the Currency recognize the important role that responsibly offered small-dollar loans can play in helping customers meet their ongoing needs for credit from temporary cash-flow imbalances, unexpected expenses, or income shortfalls, including during periods of economic stress, natural disasters, or other extraordinary circumstances such as the public health emergency created by COVID-19.
HHS Provides $225 Million for COVID-19 Testing in Rural Communities (HERE)
Today, the U.S. Department of Health and Human Services (HHS) through the Health Resources and Services Administration (HRSA) provided $225 million to Rural Health Clinics (RHCs) for COVID-19 testing. These investments will support over 4,500 RHCs across the country to support COVID-19 testing efforts and expand access to testing in rural communities.
Providers Must Act by June 3, 2020 to Receive Additional Relief Fund General Distribution Payment (HERE)
Today, the U.S. Department of Health and Human Services (HHS) is reminding eligible providers that they have until June 3, 2020, to accept the Terms and Conditions and submit their revenue information to support receiving an additional payment from the Provider Relief Fund $50 billion General Distribution.
Considerations for Institutes of Higher Education (HERE)
As some institutes of higher education (IHE) open in the United States, the Centers for Disease Control and Prevention (CDC) offers the following considerations for ways in which IHEs can help protect students and employees (e.g., faculty, staff, and administrators) and slow the spread of the Coronavirus Disease 2019 (COVID-19).
Considerations for Youth Sports (HERE)
As some communities in the United States begin to start youth sports activities again, the Centers for Disease Control and Prevention (CDC) offers the following considerations for ways in which youth sports organizations can protect players, families, and communities and slow the spread of the Coronavirus Disease 2019 (COVID-19).
Guidance on the Essential Critical Infrastructure Workforce (HERE)
COVID-19 Pandemic Operational Guidance for the 2020 Hurricane Season (HERE)
As a result of the COVID-19 pandemic, the Nation is facing unprecedented challenges as we respond to additional disasters, anticipate emergent incidents, and prepare for the 2020 hurricane season. Although the operating environment has changed, the Federal Emergency Management Agency's (FEMA) mission of helping people before, during, and after disasters remains the same.
Air Travel Consumer Report: March 2020 and 1st Quarter 2020 Numbers (HERE)
The U.S. Department of Transportation today released its May 2020 Air Travel Consumer Report (ATCR) on reporting marketing and operating air carrier data compiled for the month of March 2020. The full consumer report and other aviation consumer matters of interest to the public can be found at http://www.transportation.gov/airconsumer.
USDA Approves Program to Feed Kids in Kentucky, Tennessee, and DC (HERE)
U.S. Secretary of Agriculture Sonny Perdue today announced Kentucky, Tennessee, and the District of Columbia have been approved to operate Pandemic Electronic Benefit Transfer (EBT), a new program authorized by the Families First Coronavirus Response Act (FFCRA), signed by President Trump, which provides assistance to families of children eligible for free or reduced-price meals dealing with school closures.
SNAP Online Purchasing to Cover 90% of Households (HERE)
U.S. Secretary of Agriculture Sonny Perdue today announced that households in 13 new states – Connecticut, Georgia, Illinois, Indiana, Maryland, Massachusetts, Michigan, New Jersey, Ohio, Oklahoma, Pennsylvania, Tennessee, and Virginia – will soon be able to purchase food online with their Supplemental Nutrition Assistance Program (SNAP) benefits.
USDA, FDA Strengthen U.S. Food Supply Chain Protections during COVID-19 Pandemic (HERE)
As a next step in carrying out Executive Order 13917, the USDA and FDA today announced a Memorandum of Understanding (MOU) (PDF, 137 KB) to help prevent interruptions at FDA-regulated food facilities, including fruit and vegetable processing.

FDA Daily Roundup – May 19, 2020 (HERE)
Remarks by Commerce Secretary Wilbur L. Ross at the 5th American Workforce Policy Advisory Board Meeting (HERE)
As we look toward the safe reopening of our economy, we must not lose sight of the fact that the implacable and deeply embedded American culture of hard work, entrepreneurship, risk-taking, and innovation remains strongly intact. The ingrained spirit of American optimism, and our repeated ability to rise to any challenge, provides our nation with a firm foundation for a rapid rebound.
U.S. Department of Labor Announces Final Rule to Expand Access to Bonuses for American Workers (HERE)
The U.S. Department of Labor's Wage and Hour Division (WHD) today announced a final rule that allows employers to offer bonuses or other incentive-based pay to employees whose hours vary from week to week.
U.S. Department of Labor Releases Quotes from Written Testimony from Postponed OSHA Hearing (HERE)
"OSHA's efforts to address COVID-19 have been its top priority since February. Our world changed with the arrival and spread of the coronavirus. Although the pandemic has changed the way OSHA completes its mission, it has never faltered in its commitment to ensure employers provide a workplace free of hazards. OSHA quickly pivoted to focus intensely on giving employers and workers the guidance they need to work safely in this rapidly changing situation; where appropriate, OSHA has also enforced safety and health requirements."
Delivering on American Commitments in the COVID-19 Response with Additional Foreign Assistance (HERE)
Months into fighting the COVID-19 pandemic at home and abroad, the United States is continuing to lead the global charge against the pandemic, building on decades of leadership in life-saving health and humanitarian assistance. Through the generosity of the American people, our foreign assistance is saving lives and helping to mitigate economic devastation around the world.
Update: The United States Continues to Lead the Global Response to COVID-19 (HERE)
The American people have given more than $10 billion that will benefit the global COVID-19 response, and we continue to ensure that the substantial U.S. funding and scientific efforts on this front remain a central and coordinated part of the worldwide effort against COVID-19.
Providing Services to English Learners during the Covid-19 Outbreak (HERE)
This fact sheet outlines States' responsibilities to English learners (ELs) and their parents during the extended school closures and, in some cases, the move to remote learning due to the national emergency caused by the novel Coronavirus disease 2019 (COVID-19).
Frequently Asked Questions about the Governor's Emergency Education Relief Fund (GEER Fund) (HERE)
Second Lady Karen Pence Highlights the Importance of Getting Outside for Mental Health Park Increases Recreational Access (HERE)
Park officials were joined by Second Lady Karen Pence and Deputy Secretary of the Interior Katherine MacGregor at Clingmans Dome to talk about the mental health benefits of being outdoors and announced the next phase in the park's plan to restore public access to more roads and picnic areas.
Dover AFB to Serve as Key Hub in COVID-19 Fight (HERE)
Given its strategic location, assets and capabilities, Dover Air Force Base in Delaware will serve as the East Coast hub for Transport Isolation System decontamination in the United States.
Army Depot Shifts Gears to Assist Local Health Care System (HERE)
Letterkenny Army Depot's upholstery shop in Chambersburg, Pennsylvania, recently switched gears from its military mission to produce personal protective equipment for a local health care system.
Changing of Health Protection Condition Levels During COVID-19 (HERE)
Effective today, Secretary Esper updated guidance to commanders on changing local Force Health Protection Condition (HPCON) levels to allow bases to begin planning to return to normal operations in the COVID environment.
For the most up-to-date information, please see the below fact sheets and the CDC's website: www.coronavirus.gov.
« Previous
Next »