COVID-19 News Updates – May 26, 2020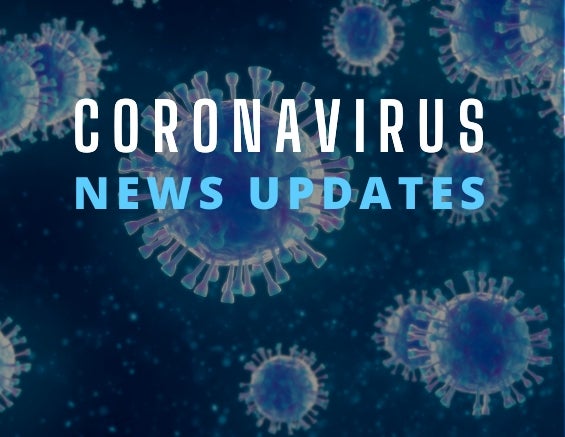 Guidelines for Opening Up America Again
President Trump has unveiled Guidelines for Opening Up America Again, a three-phased approach based on the advice of public health experts. These steps will help state and local officials when reopening their economies, getting people back to work, and continuing to protect American lives. Please click here for more information: Guidelines for Opening Up America Again
Guidance for Cleaning and Disinfecting Public Spaces, Workplaces, Businesses, Schools and Homes (HERE)
CDC Activities and Initiatives Supporting the COVID-19 Response and the President's Plan for Opening America Up Again (HERE)
White House COVID-19 Updates
President Trump Delivers Remarks on Protecting Seniors with Diabetes (VIDEO)
President Donald J. Trump is Reducing the Cost of Insulin and Improving Healthcare for our Nation's Seniors (HERE)
On-the-Record Press Call on the President's Action to Protect Seniors with Diabetes (HERE)
United States Strategic Approach to the People's Republic of China (HERE)
President, Amendment to Proclamation by the President of May 24, 2020 (HERE)
Remarks by President Trump at a Memorial Day Ceremony | Baltimore, MD (HERE)
Proclamation on Suspension of Entry as Immigrants and Nonimmigrants of Certain Additional Persons Who Pose a Risk of Transmitting Novel Coronavirus (HERE)
President Trump and the First Lady Participate in a Memorial Day Ceremony at Fort McHenry (VIDEO)
President Trump and Vice President Pence Participate in a Wreath Laying Ceremony (VIDEO)
Message from Acting Secretary Wolf: Three Key Actions (VIDEO)
Message from Secretary Carson: America's Economic Renaissance (VIDEO)
Message from Secretary Carson: This Too Will Pass (VIDEO)
Message from Scott Turner: Executive Director of the White House Opportunity and Revitalization Council (VIDEO)
1600 Daily: President Trump Honors our Fallen Heroes (HERE)
Weekly Update: DHS Response to COVID-19 (HERE)
For months, the Department of Homeland Security (DHS) has taken on the challenges presented by COVID-19. Thanks to our workforce's efforts across its components DHS has facilitated a speedy, whole-of-government response to mitigate the spread of COVID-19. As the nation prepares to reopen the economy the Department and its components continue to ensure a safe, secure, and prosperous Homeland for the American people.
FEMA Coordinates PPE Shipments to Nursing Homes (HERE)
J4 Vice Director of Logistics Rear Admiral John P. Polowczyk explains the federal government's mission to bring personal protective equipment to nursing homes across the country in response to COVID-19.
Acting Secretary Wolf Signs Exemption Allowing Entry of Certain Foreign Professional Athletes into the US (HERE)
In support of the Trump Administration's reopening of the economy, Acting Secretary of Homeland Security Chad F. Wolf signed an order that exempts certain foreign professional athletes who compete in professional sporting events organized by certain leagues, including their essential staff and their dependents, from proclamations barring their entry into the U.S.
Purchasing Resources and Support for State and Local Governments (HERE)
The U.S. General Services Administration (GSA) is working hand-in-hand with both the U.S. Department of Health and Human Services (HHS) and the Federal Emergency Management Agency (FEMA) to support Federal, state, and local communities. This link is an outline of programs available to state and local partners that are eligible for direct access to GSA sources.
Too Important to Fail: Minority-Owned Businesses Navigating COVID-19 and Beyond (HERE)
On Wednesday, May 27, the Federal Reserve Bank of New York will host a virtual forum on the COVID-19 pandemic's impact on small businesses and how community stakeholders and capital providers can support these firms.
HHS Announces 45-Day Compliance Deadline Extension for Providers (HERE)
The U.S. Department of Health and Human Services (HHS) is announcing a 45 day deadline extension for providers who are receiving payments from the Provider Relief Fund to accept the Terms and Conditions for Provider Relief Fund payments.
Trump Administration Announces Changes to Medicare Advantage and Part D to Provide Better Coverage and Increase Access for Medicare Beneficiaries (HERE)
The Centers for Medicare & Medicaid Services today finalized requirements that will increase access to telehealth for seniors in Medicare Advantage (MA) plans, expand the types of supplemental benefits available for beneficiaries with an MA plan who have chronic diseases, provide support for more MA options for beneficiaries in rural communities, and expand access to MA for patients with End Stage Renal Disease (ESRD).
FDA Daily Roundup – May 26, 2020 (HERE)
The U.S. Food and Drug Administration continues to take action in its ongoing response effort to the COVID-19 pandemic.
USDA Approves Program to Feed Kids in Washington (HERE)
U.S. Secretary of Agriculture Sonny Perdue today announced Washington has been approved to operate Pandemic Electronic Benefit Transfer (EBT), a new program authorized by the Families First Coronavirus Response Act (FFCRA), signed by President Trump, which provides assistance to families of children eligible for free or reduced-price meals dealing with school closures.
Department of Justice Files Statement of Interest Challenging the Legality of Illinois Governor's Sweeping COVID-19 Orders (HERE)
The Department of Justice today filed a statement of interest in an Illinois federal court in support of a lawsuit filed by Illinois state representative Darren Bailey challenging certain actions of Governor J.B. Pritzker in response to the COVID-19 pandemic.
Hollywood Film Producer Charged with $1.7 Million COVID-Relief Fraud (HERE)
A California man has been charged with allegedly filing bank loan applications fraudulently seeking more than $1.7 million dollars in forgivable Paycheck Protection Program (PPP) loans guaranteed by the Small Business Administration (SBA) under the Coronavirus Aid, Relief, and Economic Security (CARES) Act.
Software Engineer Charged in Washington with COVID-Relief Fraud (HERE)
A software engineer was charged in a complaint unsealed today for allegedly filing fraudulent bank loan applications seeking more than $1 million in forgivable loans guaranteed by the Small Business Administration (SBA) under the Coronavirus Aid, Relief, and Economic Security (CARES) Act.
DOD Officials Unveil COVID-Related Personnel, Move Guidance (HERE)
Defense Department officials outlined a conditions-based approach to relaxing the stop-movement order that has been in effect since early March due to the coronavirus pandemic.
Pentagon Reservation Plan for Resilience and Aligning with National Guidelines for Opening Up America Again (HERE)
DoD will also continue to safeguard U.S. national interests and those of our allies and partners throughout this crisis. The mission continues as DoD develops a phased plan for the workforce to return to Pentagon Reservation office spaces. Protection of our workforce, including military, government civilians, contractors, and partner personnel is our number one priority as we prepare to return to normal operations.
For the most up-to-date information, please see the below fact sheets and the CDC's website: www.coronavirus.gov.
« Previous
Next »