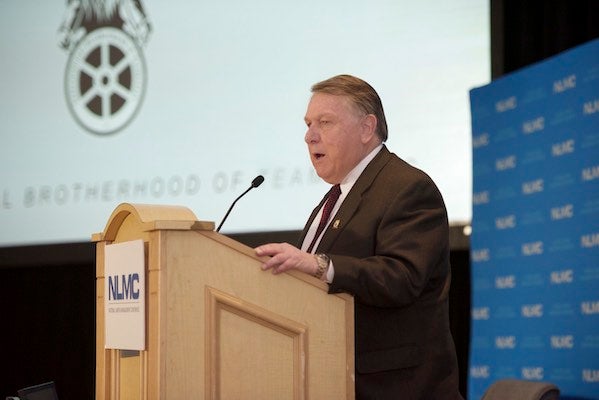 The future of work is being shaped in the present, as companies work on developing automation in industries from trucking to warehousing. The Teamsters are making sure worker voices are heard, and working to protect jobs and preserve good working conditions.
Teamsters around the country are vocal on the future of work, with several Teamster leaders representing workers by providing critical guidance to leaders in their states.
In New Jersey, Teamsters International Vice President Fred Potter was recently appointed by Gov. Phil Murphy to the state's Future of Work Task Force.
The select group of 25 leaders in economics, labor and industry, is tasked with planning and policy recommendations to prepare for the future of work. The group will look at how to support and protect workers and prepare for advancements in automation and robotics.
"While many new technologies will have positive impacts on workers' daily lives, the risk of worker displacement and job loss should not be overlooked. Unions and workers should have a prominent place in policy discussions related to automation," said Potter, who is also President of Local 469 in Hazlet, N.J.
"I'm ready to go to work to represent Teamster members and the workers of our state in these important discussions on how the future of work will be shaped in New Jersey. It must be an economy that works for everyone, and that includes workers," Potter said.
Misclassification
Potter noted that California recently took a major step by passing AB5, legislation that will expand employment protections to thousands of workers who are currently misclassified by their employers as independent contractors.
He testified before the New Jersey Senate Labor Committee recently in support of S4204, a bill that would end misclassification of workers in New Jersey. New Jersey Teamsters also supported an historic legislative package, passed in the legislature and signed by the governor in January, which will help protect workers from misclassification.
The week the bill was introduced, New Jersey's Department of Labor and Workforce Development said Uber misclassified its drivers as independent contractors and owes $650 million in unpaid employment taxes and fines.
"The Teamsters Union has supported workers in their fight against misclassification for years because it's an illegal practice that hurts working people and communities," Potter said.
'Prepared for the Future'
In California, Joint Council 7 Political Director Doug Bloch was appointed to the state's Future of Work Commission by Gov. Gavin Newsom.
There are 21 members of the commission who are leaders in business, technology and labor. They will make recommendations to help California leaders plan for the jobs of the future, while ensuring workers and their families are part of that success.
"The California Teamsters have led the nation by championing laws that preserve good jobs and challenging the efforts of corporations to avoid responsibility for their workers," Bloch said. "Whether it's cracking down on worker misclassification through AB5, protecting workers who are hired through temp agencies, or securing jobs in new technology sectors, we are fighting for the future of workers."
In Oregon, Mark MacPherson, representative with Joint Council 37, was appointed to the Artificial Intelligence (AI) Taskforce created by Gov. Kate Brown in order to prepare for the jobs of the future. MacPherson is one of 12 members of the taskforce and he is representing the interests of workers and advocating that any newly created jobs be good jobs.
"We have concrete goals and we will have a final report that will go to the state's Workforce and Talent Development Board, with guidelines having a work force that is prepared for the future," MacPherson said.
Nearby in Washington, Brenda Wiest, Local 117 Vice President and Legislative Director, actively participated in state meetings about automation, and as a result, was appointed by the legislature to the executive committee for the Autonomous Vehicle Work Group. She also co-chairs the Workforce Subcommittee of this group.
"There's a nexus between various areas on the automation topic. There's trucking and freight and the impact of AV on humans, as well as the passenger transport side. We also represent law enforcement and public safety workers, and the folks who work on roads and on the infrastructure side. Autonomous technology can have an impact on many different jobs, so it's important that workers' voices are heard," Wiest said.
Protecting Workers
In an interview in the November 2019 issue of Car and Driver magazine, Teamsters General President Jim Hoffa noted companies developing autonomous trucking technology have a clear profit motive, while there are concerns for public safety as this technology is being tested.
"They want to get rid of the human element. And that's what's wrong, and that's why we have unions, to protect workers. We want the future to include workers. We want to make sure that workers have a better life," Hoffa said.
Technology can create efficiencies and improve lives, but it can also increase income inequality and displace workers. Teamsters are speaking up to ensure that the future is not dictated to workers, but shaped in large part by them.
If your local is engaged on automation and future of work issues, let us know at [email protected]
Spin Workers Join Local 665
Workers for the e-scooter company Spin have joined Local 665 via card-check recognition. They're the first e-scooter workers to organize in San Francisco.
There are about 60 workers who are now Teamsters, including shift leads, maintenance specialists, operations specialists, neighborhood ambassadors, deployers and collectors. Spin, owned by Ford Motor Company, has plans to grow by hiring more Teamster employees this year.
"We're excited to represent the first-ever group of union scooter workers at Spin," said Tony Delorio, President of Local 665.
"I am excited that we are now Teamsters. I look forward to getting a good contract and raising the overall working conditions here at Spin. Teamsters Local 665 has gained our trust and has delivered on everything they promised so far," said Shamar Bell, a Spin employee.
A Model for the Industry
In October 2019, the 11 members of San Francisco's Board of Supervisors passed a resolution calling on the city's Municipal Transportation Agency (SFMTA) to consider compliance with AB5 in its issuance of permits to companies.
AB5 is a law passed by the California Legislature which will expand employee status to thousands of workers by making it harder for companies to misclassify them as independent contractors.
"San Francisco's Board of Supervisors clearly told companies that if they want to do business in the city, they need to create good jobs, not temp or 'gig' jobs. Among the companies vying to operate in the city, Spin stepped up, and as a result, Spin's workers are direct employees and able to organize with the Teamsters," said Doug Bloch, Political Director with Joint Council 7 in California.
"This is an industry that was based on independent contractors with little to no workplace protections and now they're becoming employees and workers are organizing. It's a model for the tech industry moving forward," Bloch said.
Hoffa: Wage Inequality Top Issue for Working Americans
General President Speaks at National Labor Management Conference
Teamsters General President Jim Hoffa denounced the growing wage gap between the 1 percenters and the working men and women in America during his keynote speech at the 2020 National Labor Management Conference (NLMC).
Since 1978, the NLMC has been a forum for the critical issues of the moment affecting both labor and management. Featuring speakers from all aspects of the labor movement, the conference brings together labor leaders from across the country. Hoffa gave the keynote speech for the 43rd installment of the event.
"What are the big problems facing people today in America?" Hoffa asked of the hundreds of attendees. "Inequality. Inequality has plagued the working class for decades and must be stopped."
Hoffa presented a detailed presentation on wage inequality, sharing his insight into how the labor movement can take on the critical issue through activism and pushing for change through government reform.
"CEO compensation has grown 940 percent since 1978 while typical worker compensation has risen only 12 percent during that time," Hoffa said. "This must stop and all of us in this room must be part of the solution."
Solutions
Hoffa ran through a number of initiatives that could offer a path to closing the gap including taxes on billionaires, financial transactions and capital gains while promoting the investment and empowerment of workers through training, a minimum wage increase, investment in infrastructure and the passage of pro-worker legislation like the Protecting the Right to Organize Act (PRO) (H.R.2474).
However, Hoffa ended his speech with one clear message—returning power to the middle class starts with one simple step.
"If you want equal pay on the job, join a union! You want retirement security, join a union! You want strong health care, join a union! You want a voice on the job, join a union!" Hoffa said. "And if you want to end inequality in America, join
a union!"
Protecting Rideshare Drivers
Local 117 has achieved a significant victory, leading the way in helping to pass a new law that will institute a first-ever grievance procedure for Seattle's more than 30,000 Uber and Lyft drivers.
This groundbreaking legislation establishes first-in-the-nation legal protections and representation for drivers who seek to contest unwarranted deactivations in termination proceedings. The law also establishes a Driver Resolution Center to provide a wide range of support services to drivers.
"This is a historic step forward in our fight for fair pay and labor protections for Uber and Lyft drivers," said John Scearcy, Secretary-Treasurer of Local 117. "Now drivers will have the right to protect their jobs with representation through a fair and impartial process."
Minimum Standards
Under the new law, the city will commission an independent study with driver input to determine minimum pay standards for drivers that align with Seattle's minimum wage and accounts for expenses and benefits.
The study will be used to set a compensation floor that will hold Uber and Lyft to the same minimum pay standards as other large employers in Seattle—$16.39 per hour starting in 2020, after expenses.
Since it is a pay floor, drivers will have the ability to earn above the city's established minimum wage.
"I support my family with this job," says Sukchain Banwait, a longtime Uber and Lyft driver. "We pay for the car, we pay for the gas, we pay for the maintenance, and we pay for the depreciation. We work long hours, and we deserve to get paid fairly."
In 2015, Local 117 spearheaded efforts to pass a law granting collective bargaining rights for Uber and Lyft drivers. Since then, the ride-hail giants have tied up that legislation in the courts with litigation intended to strip away those rights from drivers.
In helping to pass the new law, Local 117 worked to build a coalition of over 60 housing, transit, labor, environmental, health and social justice organizations.
« Previous
Next »