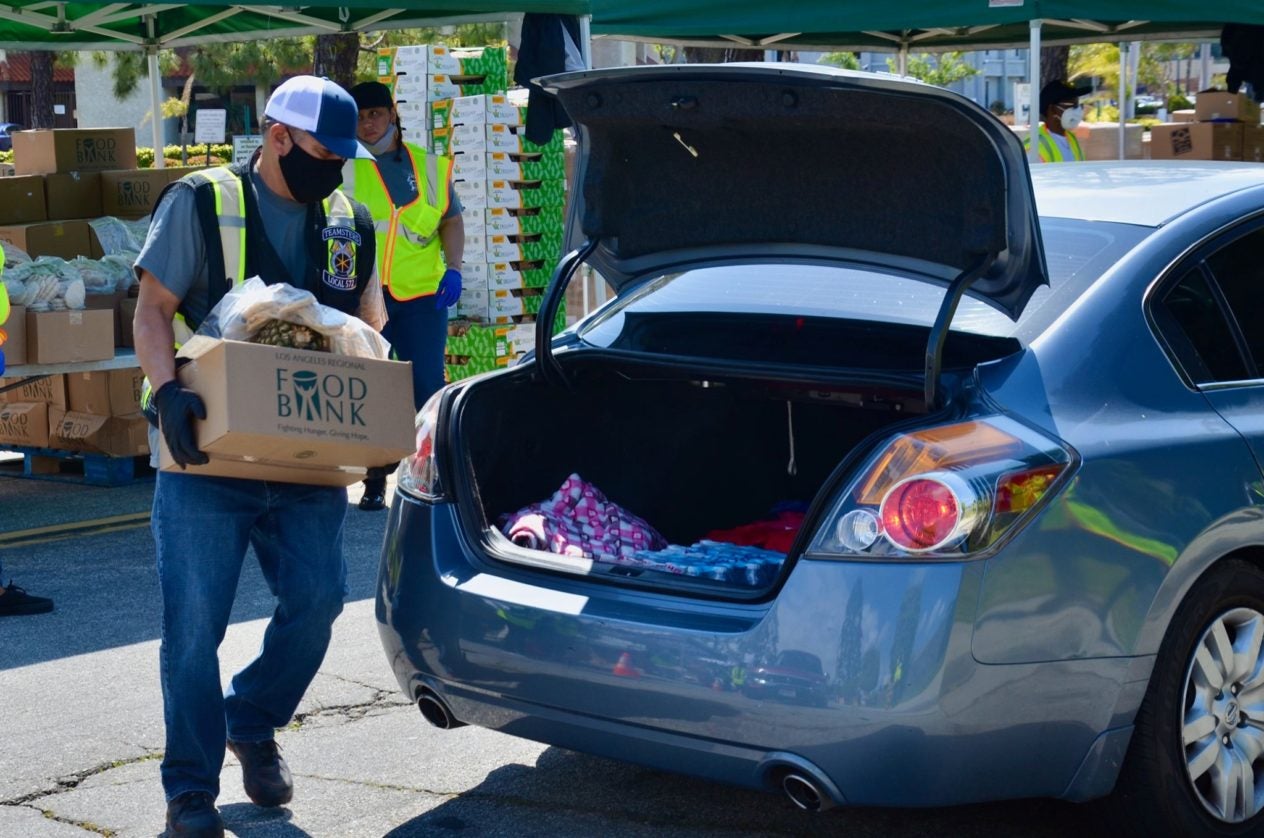 Many employers haven't been doing enough to make sure their essential workers are as protected on the job as they should be. And that's where the leadership of unions like Local 171 in Salem, Va. have stepped in.
Noting a lack of personal protective equipment, hand sanitizer and cleaning solution for its worksites, Local 171 President Todd Robertson and Secretary-Treasurer Jim Pappas, with the help of other staff, their families, shop stewards and workplace safety committees, have made sure members have the materials they need to stay safe on the job.
Members of Robertson's and Pappas' families have been sewing face masks so that all of the local's 1,200 members can have at least one. After picking up a 55-gallon drum of cleaner and a 55-gallon drum of hand sanitizer to distribute to members who needed it, the local also provided gloves for their essential members.
"There have been so many stories about locals, Joint Councils and individual rank-and-file Teamsters stepping up and making sure their co-workers and communities are safe right now. I'm proud of how, during every national crisis, our union and our members have been front and center making a difference," said Jim Hoffa, Teamsters General President. "Local 117's leadership is just one example of thousands showing what it means to be a Teamster."
When the Teamsters see a need—whether it's because of bad employers or government policies that don't consider working families—they step in.
Food and PPE Drives
The pandemic has resulted in millions of lost jobs in the U.S., and countless more worldwide. As Teamster affiliates are adjusting to the situation and preparing for a difficult economic recovery, many of them have stepped up to help feed their communities.
Ever since job losses started piling up nationwide, Teamsters have been hosting food banks for vulnerable members of their community.
Members from Local 572 in Carson, Calif. served more than 2,300 families during a community food distribution from the local union parking lot on April 18.
The union partnered with the LA County Federation of Labor, Labor Community Services and the Los Angeles Regional Food Bank for the three-hour drive-through event. Throughout the food drive, Teamsters ensured social distancing was in place.
"There are a lot of families in need right now," said Rick Middleton, Secretary-Treasurer of Local 572 and International Vice President. "Our members have stepped up to help and are making a difference in our community. Our members have been volunteering at food banks across the region and were instrumental in making this one a success."
The Teamsters Port Division has also been busy hosting charitable drives. Since many port truck drivers are illegally classified as independent contractors, they don't have employer protections, and many are not members of a union.
Cargo at ports is down because of the coronavirus. Drivers that used to get two or three loads a day are now only getting three or four a week.
The Port Division and a local food bank came together to help drivers in the San Pedro area of California. They not only provided food but personal protective equipment.
Convention Centers to Hospitals
As the demand for more medical facilities has grown during the fight against the COVID-19 pandemic, convention centers have been enlisted to serve as temporary treatment centers for patients being treated or recovering from the virus.
Convention and trade show Teamsters have been brought on in Boston, New York City, Chicago and Detroit to help with construction and ongoing support of these temporary facilities.
While the work is just a drop in the bucket for the thousands of members out of work due to the nationwide cancellation of trade shows and closure of convention centers and casinos, it is critical work that must be done.
"Our members are playing an invaluable role in the construction and support of these medical facilities, but our industry is still reeling from the impact of COVID-19," said Tommy Blitsch, Director of the Teamsters Convention, Trade Show and Casino Division. "Whatever work that our members can do to help support treatment and containment of COVID-19 only brings us closer as a union to getting all our convention, trade show and casino Teamsters back on the job."
In Boston, more than 100 Local 25 members at the Boston Convention and Exhibition Center helped with the set-up and construction of a 1,000-bed field hospital in April for patients with COVID-19 that can't be accommodated in local medical facilities. The field hospital also housed the homeless with COVID-19 but do not require hospitalization.
"Local 25 Convention Center Teamsters worked extremely hard to get this job done," said Sean M. O'Brien, International Vice President and Local 25 President. "We built a 1,000-bed hospital in five days. That's Teamster strong. Hats off to the men and women in the Local 25 Trade Show Division."
New York City's Javits Center is also serving as another field hospital that was set up in coordination with the National Guard, Teamsters Local 807 and the Carpenters Union. Teamsters have been working around the clock to offer logistical support, unloading, loading and staging supplies.
Joe Fisher, a 25-year member of Local 807 and shop steward for the unit at the Javits Center, said that the union has a long history of pitching in during times of crisis.
"Working on this project made me feel like I was contributing and helping the effort to curb the spread of the virus," Fisher said. "We have done similar work supporting relief efforts during 9-11 and Hurricane Sandy when we processed supplies for the first responders. This is something we are always ready to do in times of crisis. We are there to help in any way we can."
Chicago's McCormick Place Convention Center is also serving as a field hospital and members of Local 727 have been on the job since day one, processing and unloading critical medical supplies that are needed in the 2,250-room facility. Working in conjunction with the Army Corps of Engineers and the Illinois National Guard, the Teamsters are doing their best to help flatten the curve.
"We are doing our part to assist the companies and the Army Corps of Engineers to make sure they have what they need for the treatment center," said Bob Voss, chief steward for the McCormick Place convention and trade show Teamsters.
Illinois Governor J.B. Pritzker thanked Local 727 members working at McCormick Place for helping convert sections of the convention center floor into a COVID-19 alternate care facility in April.
"When I walked into this building and saw just how it was transformed in five days, I was flooded with an overwhelming sense of pride and patriotism," Gov. Pritzker said. "In one week's time, the heroes who came together to make this possible built us a facility larger than the largest hospital in Illinois."
Gov. Pritzker applauded the hard work of the United States Army Corps of Engineers (USACE), Illinois National Guard, Federal Emergency Management Agency (FEMA), and Chicago's labor unions that created 500 new hospital beds ready to treat COVID-19 patients experiencing mild symptoms. Gov. Pritzker also reached out to Joint Council 25 President Terrence J. Hancock to thank the thousands of Teamsters throughout Illinois for the essential work they are performing keeping the state operating during the COVID-19 pandemic.
"We're willing to help in any way, shape or form. We're working with McCormick Place to provide as many Teamsters necessary to get the job done. We're all in this together and ready to do our part," said Local 727 Business Agent Michael DeGard.
In addition to Boston, New York and Chicago, Local 299 in Detroit assisted in the setup and support of a 1,000-bed Army Corps of Engineers facility in Detroit's Cobo Center and Local 631 members helped build a temporary facility for the homeless impacted by COVID-19 in Las Vegas.
"I want to thank all the Teamsters who have worked tirelessly throughout this pandemic to help our community. Our members have been critical in so many aspects of essential work during this unprecedented time," said Kevin Moore, President of Local 299 and International Trustee.
"Across the country, Convention, Trade Show and Casino Division workers are doing what they can in this fight against the spread of COVID-19 despite the challenges they face both personally and professionally as a result of this pandemic," Blitsch said. "I am proud of our members and know that we will stand together through this crisis."
Donating and Moving Supplies
Many workers in the airline industry have been sidelined by the COVID-19 pandemic, but the members of Local 2750 have never been busier. As cargo pilots for Atlas Air Worldwide, they are some of the most essential workers in the global supply chain.
After the COVID-19 pandemic hit the U.S., the company agreed to supply them with personal protective equipment (PPE). The pilots, however, had another idea.
"Since mid-January we have been advocating and pushing the company to supply all flight crewmembers and ground personnel with PPE and other safety items," said Local 2750 Trustee Bob Kirchner. "We received N95 masks from the company, but together we decided to donate them to nurses, doctors and other frontline responders working in the hospitals throughout New York City. We all have a critical role to play when it comes to saving lives, and we know that if those of us at Local 2750 were in desperate need of something and they could help, they would do it in a heartbeat."
The crewmembers have been resupplied with masks made of cloth and other material.
The mask donation isn't the only thing Local 2750 pilots have been doing to help save lives during the pandemic. They have also been tapped by FEMA to expedite coronavirus relief supplies to areas of urgent need. To that end, the pilots delivered a cache of desperately needed supplies to JFK Airport on March 29 – over 12 million pieces of PPE, including 130,000 N-95 masks.
True to form as professionals who perform well under pressure, the shipment arrived three days ahead of schedule.
It's not just the hard-hit tri-state area that Local 2750 members are servicing. On April 2, Atlas Air operated a charter that carried 65 tons of PPE for medical teams in the San Francisco Bay Area.
"In the middle of the worst pandemic in over 100 years, pilots and other workers in the aviation industry on the frontlines of this crisis are saving lives by the thousands and it's made me even more proud to be a Teamster," said Capt. David Bourne, Director of the Teamsters Airline Division. "The airline Teamsters are some of the many essential service workers who are the hidden heroes behind the scenes of the COVID-19 response, and I'm honored to represent them."
Members of Local 769 who work at Amerijet as pilots have also been coordinating deliveries of pharmaceuticals and other desperately needed medical supplies during the response to the coronavirus outbreak, delivering as much as 20 tons in a single flight. Local 769 President Josh Zivalich said the dedicated professionalism of the Amerijet members embody what being a Teamster is all about.
"Our members at Amerijet are the everyday heroes emerging from the tragedy of this public health crisis," Zivalich said. "While millions of people are staying at home with their families, these workers are not just continuing to work, but putting in extra hours to save as many American lives as they possibly can. It is truly an honor to represent such an amazing group of men and women."
Miami International Airport is the number one airport not just for perishables like medicine, but for all air cargo in the United States, with over 150 cargo flights arriving every day. Some Local 769 members were part of a crew that coordinated a delivery of pharmaceuticals and medical supplies.
"As a brotherhood of pilots, we are proud of our actions as first responders, by placing our own health at risk to fly home the much-needed medicines and medical supplies from Europe," said Capt. Mike Meyer, one of the Local 769 Teamsters who helped coordinate and deliver the supplies.
Individual Heroism
Locals and Joint Councils aren't the only ones who have stepped in to fill a void when necessary. Countless individual Teamsters have volunteered for difficult jobs when others didn't want to do them.
In order to provide assistance in the different areas of the country that are experiencing higher rates of coronavirus infection and fatalities, those in the funeral service industry have been asked to volunteer in these regions and share their expertise.
When Service Corporation International, a funeral services company and Teamster employer, called upon its employees to volunteer in the New York area at a time when that was the country's coronavirus epicenter, longtime Local 727 funeral director Howard Switalla immediately answered the call.
Chicago-area funeral workers, over 350 of which are members of Local 727, continue to put the needs of grieving families ahead of their own. Switalla worked long shifts for weeks at great risk to himself. Teamsters across North America are doing the same.
Teamster Contributions
The stories of Teamster contributions are coming in from all corners of North America.
Local 988 in Houston has been getting care packages and PPE out to members at their worksites.
Empire Merchants Teamsters with Local 917 in Floral Park, N.Y. delivered hand sanitizer to local wine and spirits retailers.
School bus drivers with Local 777 in Lyons, Ill. have been delivering school lunches to children while classes were cancelled.
Joint Council 25 in Chicago delivered 150,000 KN 95 masks to the Illinois Emergency Management Agency. The masks were acquired and donated by Blue Cross Blue Shield of Illinois and delivered by the Teamsters Joint Council 25 Disaster Relief Team to Springfield on April 8 to replenish the state's dwindling supply.
Teamster essential workers at US Foods helped deliver more than $10 million in donated food and supplies to local food banks across the country.
"Once the scope of the pandemic was apparent, Teamsters have been working and volunteering nonstop and at every level of the union," Hoffa said. "This is not the first time the Teamsters Union has shown solidarity and compassion in the face of a crisis, nor will it be the last. However, I could not be more proud of the Teamsters Union, our dedicated members and hardworking affiliates."
« Previous
Next »