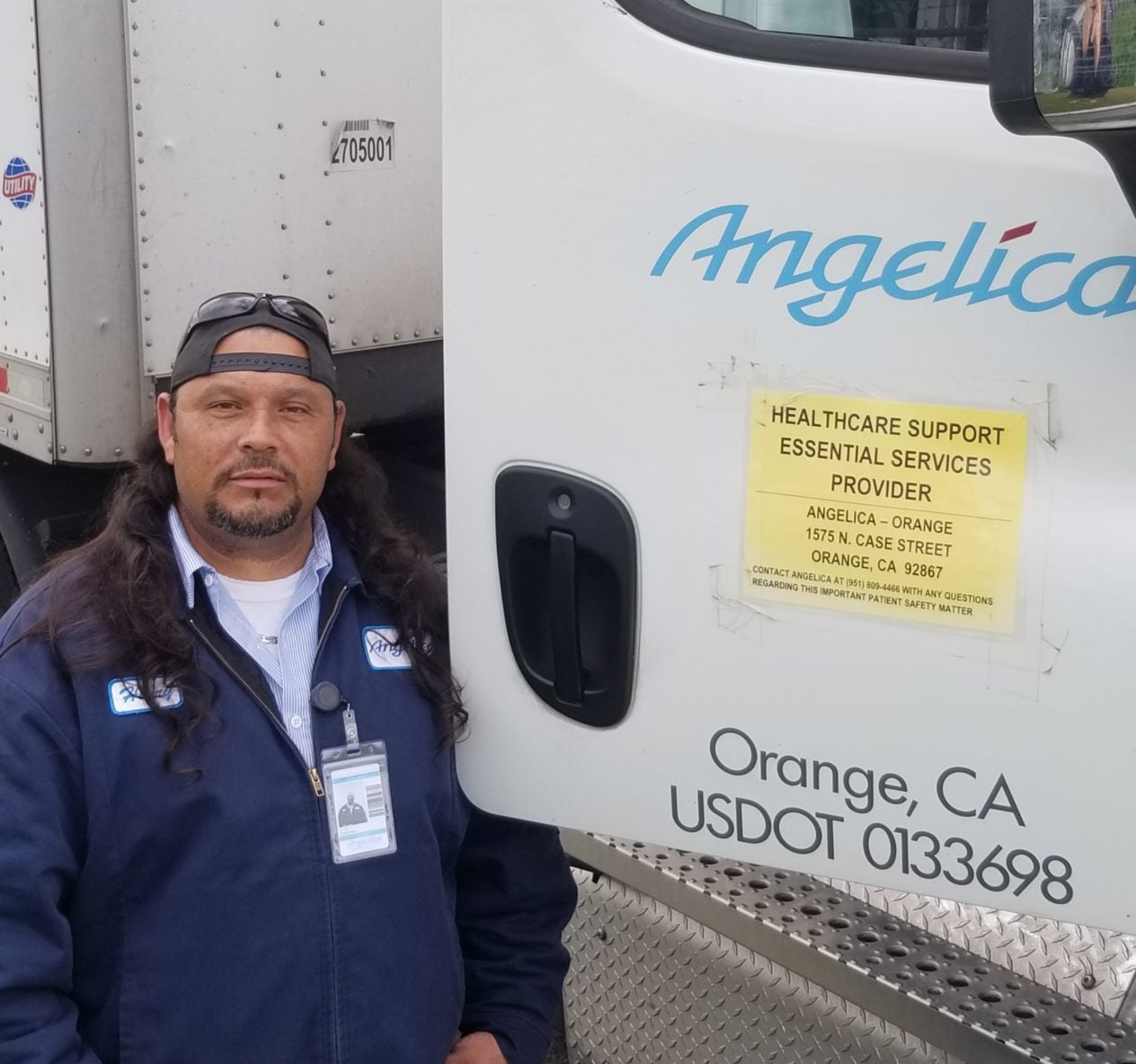 Union Membership is the Difference During Pandemic
Working in a foundry is hot, difficult work. Wearing a face mask at a foundry, where they melt aluminum at 1,200 degrees Fahrenheit, is even hotter and more difficult. But that's what George Lewicki and his Teamster co-workers are doing every day.
Lewicki is a Teamster steward at Cast Specialties, Inc. in Cleveland, which manufactures die-cast aluminum and die-cast zinc products.
"It would be pretty hectic here without a union. They could hire and fire whoever they wanted, and people like me, who have been there a long time…they'd rather hire someone new and pay them less," Lewicki said.
Lewicki has been there 21 years and is no stranger to the heat. But like most jobs, things changed after the pandemic hit. He and his Teamster co-workers have adjusted.
"It's a little tough wearing a mask in a foundry while working, because of the heat. But other than that, it's not too bad right now," he said. "It has been a little difficult keeping your distance from people. We all just have to be careful."
Lewicki said he's thankful his job is essential right now—and thankful that they are members of Local 416 in Cleveland.
"Teamsters are working tirelessly through crazy times. Whether they're making parts for ventilators, picking up garbage, boxing sanitizer or any number of other jobs, Local 416 members are doing their part and they are proud to be working union," said Sonny Nardi, President of Local 416.
Teamster Heroes
While countless people are still under stay-at-home orders, and a historic number of Americans have been laid off, more than a million Teamsters are still working hard.
"Essential Teamsters are heroes. They are keeping our country running," said Jim Hoffa, Teamsters General President. "Every American can now clearly see the contributions that these frontline workers make, whether there is a pandemic or not."
Across North America, Teamsters deemed essential are working in health care, public services, transportation, grocery, food processing, package delivery and other industries. While Americans have rightly saluted many of the essential workers they see or hear about, there are countless essential jobs being worked with little to no recognition.
Being an essential worker right now can be both rewarding and difficult. But it is made safer, more lucrative and more secure if the worker is in a labor union.
Working Safe
Greg Vaughn is a Teamster steward and CDL driver for C&K Industrial Services. C&K is a company that offers industrial cleaning solutions in the municipal and commercial sectors.
"We are essential workers and we have been keeping busy. All of us here are doing what's necessary for our customers and we're doing it safely," Vaughn said. "This would be a difficult job to do without a union backing us up."
Because of the coronavirus pandemic, sanitizing and disinfecting has been getting a lot of attention. Vaughn and his Teamster co-workers all have plenty on their plate.
"We clean power plants, steel mills, that sort of thing. We do water blasting and street sweeping. Also, the cleaning and camerawork of sewers. We do sanitizing and disinfecting of companies," said Vaughn, who has worked for C&K for 24 years. "We're fairly busy and everyone is still working."
The nature of their job requires everyone to know proper PPE procedures and Vaughn said they get a 40-hour safety training every year.
Teamster Pride
Health care facilities and those who work in them are in the news a lot lately. While doctors and nurses certainly deserve our thanks, there are many workers that keep health care facilities running that are currently unsung.
Every day, hospitals produce thousands of pieces of dirty laundry. Angelica Linen, a Teamster employer, specializes in laundry from hospitals, long-term care centers, surgery centers, clinics and other health care facilities. Right now, those workers are considered essential, as are Teamster laundry employers like Aramark, AmeriPride, Alsco and Emerald Textiles.
"The Teamsters always give us the support and backing we need," said Harry Gutierrez, a driver with Angelica Linen and member of Local 952 in Orange, Calif. He is also steward for his bargaining unit. "My co-workers are very hardworking, reliable and proud Teamsters."
The job Gutierrez and his co-workers do is difficult and dangerous.
"We deliver linen, scrubs, medical lab coats, patient gowns, and pretty much everything that's made out of fabric that a hospital or medical center could possibly need. We also pick up all the dirty linen, which includes the contaminated COVID-19 linen, and return it to the plant to be cleaned," he said.
Gutierrez, who has worked at Angelica Linen for 13 years and has been a Teamster for 20 years, said wearing personal protective equipment (PPE) has always been part of his job.
"We've worked through SARS and H1N1. We have always been careful about how we pick up linens and scrubs and we're careful now," he said. "Work has been steady for us. Obviously the disinfecting methods have improved and gotten more detailed, but we're still out there grinding it out."
Disinfecting and sanitizing has become an even bigger part of work for Gutierrez and his co-workers. Vehicles get sanitized, as well as any part a driver might have touched. Drivers have more stringent protocols for safety than they did before the pandemic.
"Teamsters in the linen industry are some of the hardest working members we have," said Dave Dudas, Director of the Teamsters Bakery and Laundry Conference. "The union is working to make sure all our members are working safe, and I salute these essential employees for their continued work in such difficult times."
"We work in a gray area. We're in the medical industry but we're not a medical profession. Still, my co-workers and I take great pride in the quality of our linens, how they're delivered, how we communicate with customers," Gutierrez said. "This job is important. It's essential. It can be rewarding. I lost my mom recently. In the hospital, she saw she was on Angelica sheets and felt like her son was there with her."
His Angelica Linens location has been members of Local 952 since long before he started there.
"These Angelica workers are showing what the Teamsters Union is all about," said Eric Jimenez, Secretary-Treasurer of Local 952. "Teamsters have always been essential. During this time of uncertainty, Teamsters across the country are proving it and we are going to keep doing what we do best to get our country back on track."
'Doing My Part'
Back in Cleveland, Tavens Packaging and Display Solutions designs and manufactures packaging products, retail displays, does digital printing and more. One of the accounts of this Teamster employer entails packaging hand sanitizer.
Carl Morris, a Local 416 Teamster who has worked at Tavens for seven years, is a machine operator and steward. With his folder gluer machine, he services four or five different customers each day. He has been an essential worker since the beginning of the pandemic.
"I'm just doing my part to keep things going. I know the other Teamsters I work with are doing the same. We're all doing what we're supposed to be doing, doing it safely, and nobody is complaining," he said. "I'm glad I have a job and glad the Teamsters have got our back"
Morris is the steward for the Teamster bargaining unit at Tavens and they recently approved a new contract. Morris said times like this show why workers need a union.
Job Protection
"It feels good to be essential. It feels like I'm helping the economy move forward during this pandemic," said Antonio McPherson, a lead mechanic in Landover, Md. He has been a Teamster for 17 years at the Washington Metropolitan Area Transit Authority (WMATA).

"If I didn't have the Teamsters Union, I'd probably be out of a job at this time," McPherson said, adding that he has seen a lot of job loss in the private sector. "In a lot of jobs, there's no protection. The Teamsters always protect their people."
Roderick Hodge also works as a WMATA Teamster. He has been a member for 23 years and works in the body shop maintaining buses.
"I'm glad I'm a Teamster because they represent me. They are trying to make sure we all know how to keep safe and go home to our family at the end of the day," he said. "If you're out there working and not represented by a union, you should know that the Teamsters can help protect your job, fight for higher wages and make sure you can take care of your family."
"Being Teamsters, we have a sick policy. That's important right now," said Dania Price, another WMATA bus operator and Teamster for 25 years. "Everyone should have a union backing them up at work."
"I'm proud and I'm scared right now," said Marlin Fontenette, a WMATA bus driver who has been a Teamster for 28 years. "I'm not only on the front lines, I'm also taking people to and from the front lines. I'm essential, and I'm taking other essential people to fight the virus at hospitals. It's an important but dangerous job. We're also picking people up at the hospitals…it's a health scare for us and the public."
Fontenette said he's thankful his job is considered essential, and thankful for having a union.
"If I didn't have a union, I guess I'd be beholden to management. They alone would decide whether to keep me or not. There's a lot of people right now without a union who lost jobs and they're not certain if they're ever going to be picked back up. But the Teamsters make sure they take care of their members," he said.
The Bigger Picture
For many essential Teamsters, not much has changed, and for others things have changed a great deal. The one constant is how hard Teamsters work.
Dana Logston is a Teamster steward at a company that makes parts for ventilators—machines that help lungs work. These machines have been in high demand during the coronavirus pandemic, but Logston said not much has changed at work.
"We're still there. Lately, not much has changed," he said. "We're still social distancing and using masks, but we're going about our business as usual, working hard."
Logston is glad he's still able to work during difficult times for so many.
"I like the idea of being part of the bigger picture," he said. "Being essential, it's great that we still get to work. I'm proud that we're working on ventilators and I know we have a lot of other proud Teamsters here, too."
"Whether someone is operating a ventilator for a patient or making parts for ventilators, they are both essential," Hoffa said. "And they both deserve safe working conditions and dignity and respect on the job. As Teamsters, that's what they get."
« Previous
Next »