Teamsters Mourn Death of Local 14 Secretary-Treasurer Larry Griffith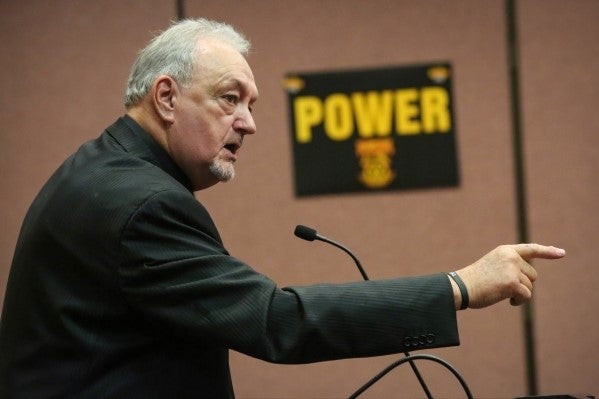 The Teamsters Union is mourning the death of Larry Griffith, Secretary-Treasurer and Principal Officer of Teamsters Local 14 and Western Region International Representative for the Construction Division, who died Sunday, September 27 after a brief illness.
Griffith, a Teamster for 55 years, leaves behind his wife, Lynn.
"I am shocked and saddened to hear about Brother Larry's death," said Jim Hoffa, Teamsters General President. "I worked with Larry many times and I saw firsthand how dedicated he was to finding ways to better serve his members. A perfect example of that dedication is the wellness center Local 14 opened for its members."
In 2019, Local 14, under Griffith's leadership, opened a wellness center for members and their dependents to get primary care, and many other health and wellness benefits, at no cost. It was so popular that the local opened up another one just a few months later. There are now locations of the Teamsters Local 14 Family and Wellness Center in Las Vegas and in Henderson, Nev.
"Larry was also committed to seeing our great union grow through his hard work and dedication to organizing, including the hard-fought Clark County School District campaign," Hoffa said. "Larry leaves a powerful legacy in southern Nevada, and something for future leaders to emulate."
Brother Griffith also was instrumental in the passage of a pro-worker law in Nevada in 2019 that granted its 20,000 state employees the right to collectively bargain. SB 135 marked the most significant expansion of collective bargaining rights for state workers anywhere nationally in the last 16 years.
"It is great for the state of Nevada. It is good for all of us," Griffith said at the time. "We've been working on this a long time."
Griffit​h, after serving in the military, star​ted out in the Teamsters Union hauling Cadillacs. He will be remembered as a tenacious organizer and a friend to all who visited Las Vegas.
Manny Valenzuela, the Teamsters' western region organizing coordinator and a friend of Griffith's for nearly 40 years, said Griffith has left his mark in Las Vegas.
"He was a strong Teamster, and he really cared about the members," Valenzuela said. "He thought outside the box. An example is the Clark County schools campaign. He was a great organizer. He really helped organize Las Vegas in many ways. He really was a pioneer."
Griffith also knew the power of politics.
"Politically, he was connected," Valenzuela said. "The governor, the mayor, they called him. He was an icon among labor leaders in Las Vegas."
Funeral arrangements are pending.
« Previous
Next »