Iowa's Greenfield Will Stand with Workers in Senate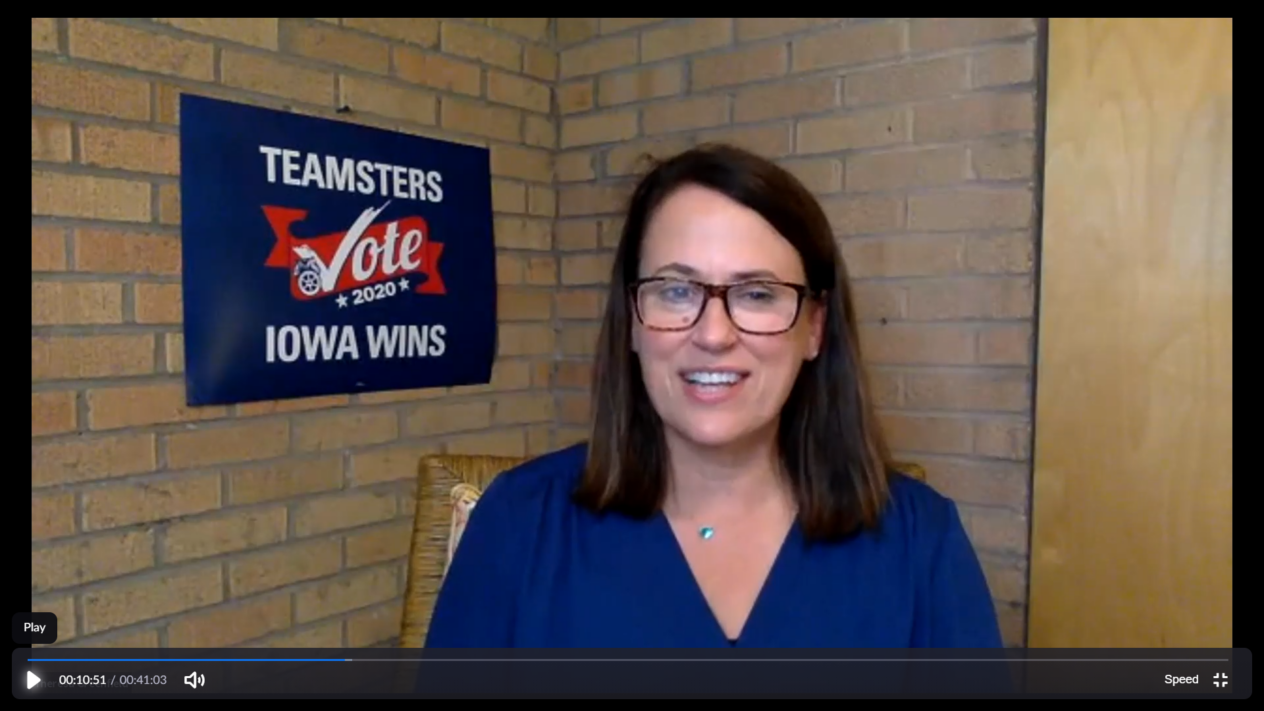 The battle for control of the U.S. Senate is a contentious one. And at the center of it is Iowa's Theresa Greenfield, who is pitted in a tight contest with anti-worker Sen. Joni Ernst (R) and could become the deciding lawmaker on legislation important to hardworking Americans.
Introduced by Teamsters General President James Hoffa, Greenfield spoke to Iowa Teamsters and labor allies during a virtual town hall event Friday night, telling them her union story and how she intends to stand with workers if voters elect her next month to serve on Capitol Hill. It is one of tragedy turned into resilience that she will take with her to Washington, D.C.
As a young mother of two, Greenfield was widowed when her first husband, a lineman and International Brotherhood of Electrical Workers member, died on the job. She recounted how she was supported both financially and emotionally by her husband's IBEW brothers and sisters during that difficult time more than 30 years ago. That included members coming to plow her driveway and shovel her walkway during her first winter as a widow with a toddler and an infant at home.
"Union benefits are irreplaceable," she said. "But union families are a whole other thing that you cannot replace. And I will always, always remember that."
It is that shared spirit that earned her the endorsement of the Iowa Teamsters. Jesse Case, Local 238 Secretary-Treasurer, said it is essential that workers get behind Greenfield's candidacy if they want to protect pensions and beef up collective bargaining in this country.
"We are really here just to get Theresa over the finish line," he said. "She is one of us; we've got to get her elected.
"Phony Joni isn't one of us and we have to get her out," he added. "It's as simple as that."
Hoffa echoed that sentiment. "This is the most important election we've had," he said. "We need to take back the Senate. And Theresa Greenfield is the candidate we need."
For her part, Greenfield thanked the Teamsters for their support, including that of "Teamster Iowa rock stars," rank and file members from across the state that have connecting with Teamsters through calls and text messages to get out the vote for her. She said when she began her race in June 2019, only her current husband, her dog and her thought she could win. But now victory is in sight if union members and others cast their ballots.
"This race is no longer just about winning in Iowa," Greenfield stated. "Iowa has become a battleground state for the fight to take back the U.S. Senate majority, and when we take back the majority, we can take the workers' agenda, the agenda of hardworking families, back to the floor of the U.S. Senate."
That includes supporting legislation like the Butch Lewis Act that boosts pensions and the Protect the Right to Organize (PRO) Act that expands workers' rights to organize. It also means investing in infrastructure, fighting for greater workplace safety and standing up for affordable housing.
Greenfield said it is also essential to give greater support to community colleges, trade schools and apprenticeship programs to ensure people can get the skills they need to be employable in good-paying jobs that support families.
« Previous
Next »