Members are BMW Teamsters Again!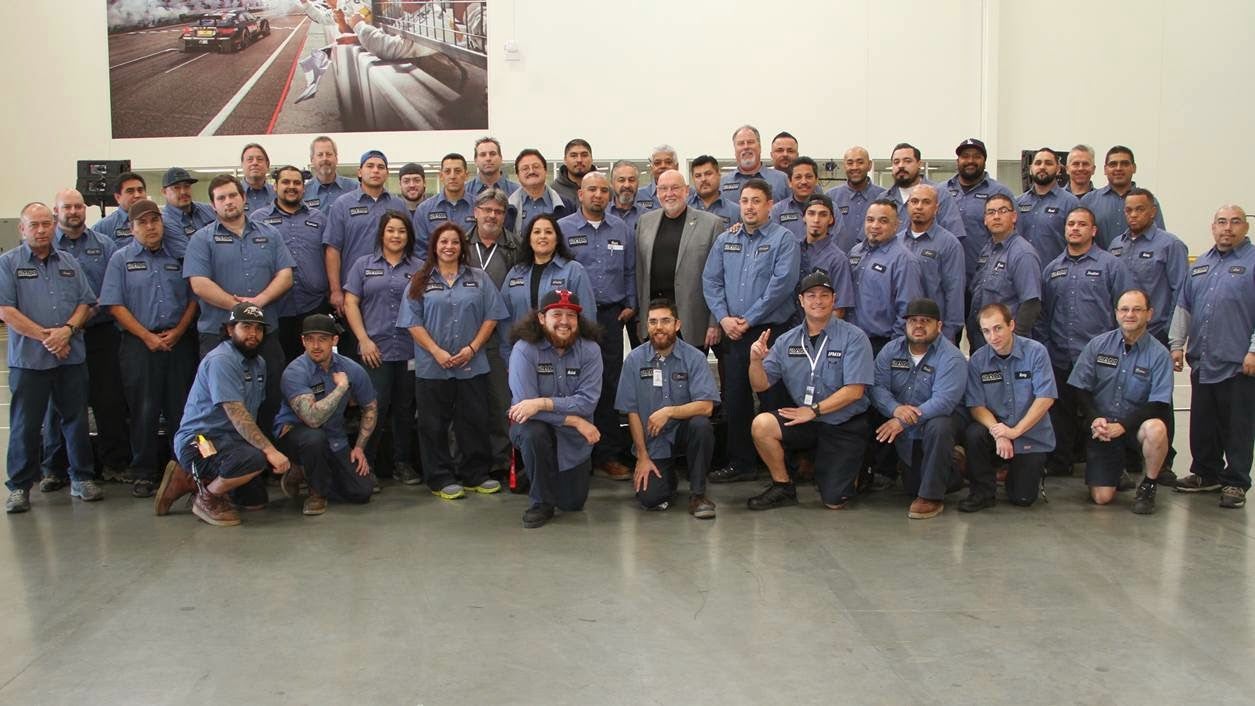 Ten Years Later, Hard Work Pays Off
Ten years ago, Local 495 in West Covina, Calif. saved Teamster jobs when BMW outsourced management of a facility to a third party. Originally, the members were all going to be fired.
After an international campaign against BMW by the Teamsters Union, Local 495 was able to hammer out a landmark agreement which protected the members. Under the agreement, Teamsters received job security for 10 years, regardless of whether a third party was hired to run the BMW facility.
Recently, Local 495 was preparing for negotiations with the third-party management company when BMW contacted the local. They wanted to discuss bringing the bargaining unit back in-house.
After several meetings, these workers are now BMW employees again. An agreement was reached last week where BMW will assume management of the plant again and members will get back benefits they lost.
"We have reached an historic agreement with BMW, and they are terminating the third-party agreement and reassuming the entire membership and our contract to once again make our members proud, full-on BMW Associates as well as Local 495 members," said Bob Lennox, Secretary-Treasurer of Local 495. "This contract will once again make these workers very proud BMW Associates as well as members of Teamsters Local 495."
The 74 hardworking Teamsters, once again BMW employees, are thrilled.
"I've got a great group of co-workers and we have been number one at BMW facilities for years. This group does outstanding work. To be able to go back and be employees again means a lot for everybody," said Rosendo Cardenas, assistant shop steward.
Cardenas has been there for 19 years and does all facets of warehouse work. He and about 35 of his co-workers have been there since the change a decade ago.
"Because of a lot of hard work, we're BMW Teamsters again," he said.
Ten Years Ago
When Local 495 members nearly lost their jobs at the BMW Distribution Center in Ontario, Calif. in 2011, the chain of events that followed was so spectacular that it created an international stir among union leadership and their members around the world.
In June 2011, BMW told 65 Teamsters that the day their contract expired, their jobs would be outsourced to a third party. Members and union representatives received this unexpected news with shock and disbelief. The plant, under Teamster contract for nearly 40 years, had never even seen a labor stoppage.
With only a few weeks before the contract expired, Local 495 and the International Union sprang into action to save the jobs. The union held rallies and demonstrated outside of BMW dealerships. Members of the U.S. Congress got involved, as did the international labor community. The union even flew banners from airplanes outside of major league sporting events.
"This was a groundbreaking campaign for Local 495 and the Teamsters, and really, in many ways for the labor movement in general. It was based on solidarity actions around the world and in dozens of cities across America," said Andy Banks, Deputy Director of the Teamsters Strategic Research and Campaigns. Banks was actively involved in the BMW campaign 10 years ago.
The massive campaign designed to counter-attack BMW was successful and Local 495 negotiated the 10-year agreement.
"It was a tremendous achievement not only for our members, but for union members around the world. Through this act of cooperation and unity among international leaders, we have shown the world the power of labor organizations when we unite for the benefit and well-being of workers in every nation," Lennox said at the time. 
"Local 495's leadership was creative, focused and persistent. Most of all, the members and their families were engaged and new leaders arose from their ranks. Not to mention we soundly defeated Jackson Lewis, America's premier union busting law firm," Banks said.
Shortly after the agreement was reached, a third party was hired to run the facility and manage the Teamsters working there.
"We kept up a solid relationship with BMW—even after what they did—hoping that perhaps one day make them BMW employees again," said Jim Lennox, a business agent for Local 495. "We kept telling them Teamsters could save them money if they got rid of the third party."
Now BMW is terminating the third party that was hired to run the facility and reassuming the entire membership.
"Hearing that we were going to be working for BMW again was, to me, the most exciting news. It's like a welcome home," Cardenas said. "I can't thank the Teamsters enough, especially Jim and Bob Lennox at Local 495. They stuck it out with us for 10 years, standing next to us the whole time. Even now, they never stop working on our behalf."
"We've come a long way since our departure from BMW. These last 10 years were a grind," said Albert Bautista, chief steward, who has also worked there for 19 years. "These guys kept on pumping, though, and our local is phenomenal. The Teamsters gave us a lot of support."
« Previous
Next »