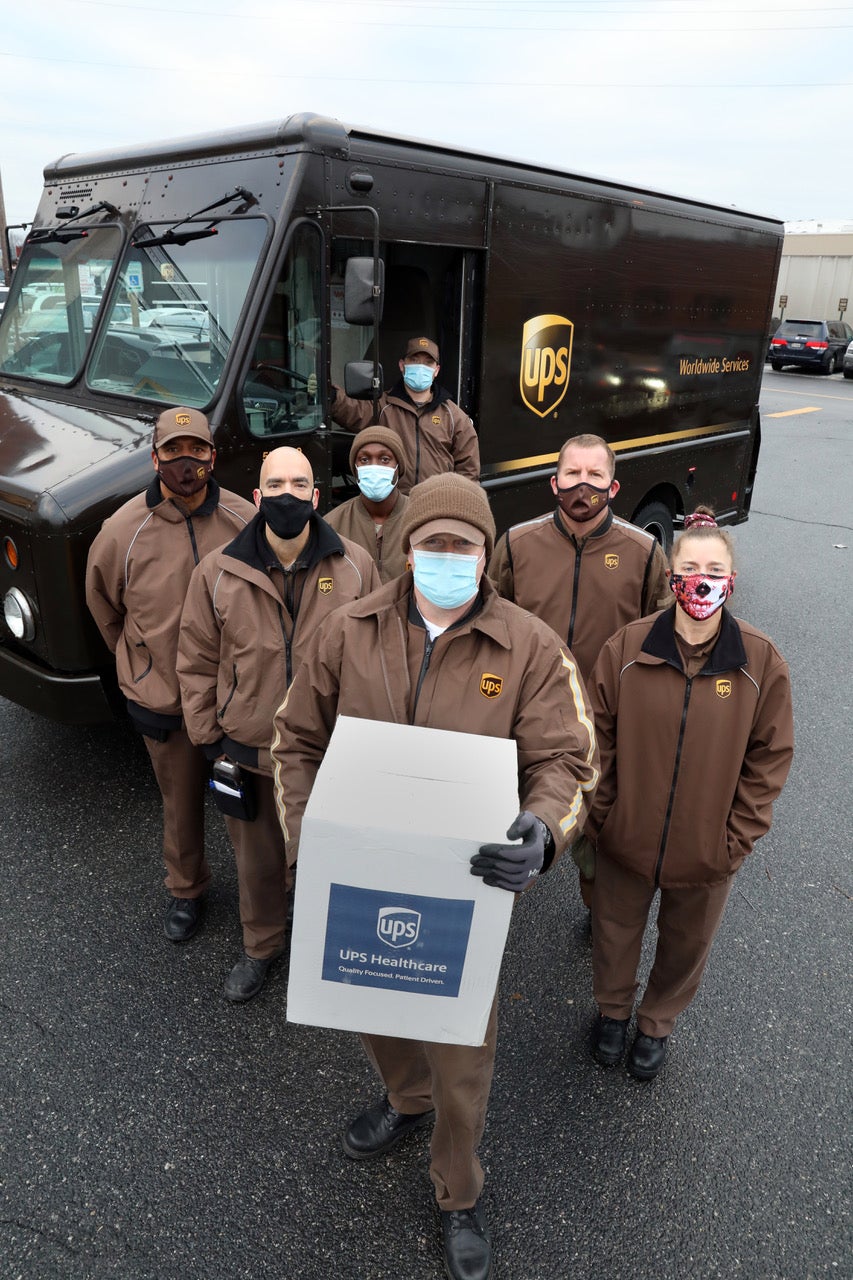 When a Local 391 member headed to work on Dec. 14, 2020, he had no idea he was about to make history.
The driver, Danny Parson, a Teamster for nearly four years, delivered the first batch of the COVID-19 vaccine at about 7:20 a.m. to the Wake Forest Baptist Medical Center in Winston-Salem, N.C. NBC's Today show reported that it was UPS' first vaccine delivery in the nation.
"I'm proud to be a Teamster and I'm proud that the Teamsters are delivering the vaccine," said Parson, an air driver. "It's good to know we're helping to get the vaccine to where it needs to go."
Pfizer-BioNTech's vaccine was the first to be deployed in a months-long global race to develop safe vaccines to combat the spread of the COVID-19 virus. The dedicated Teamsters at UPS have been trained to store, handle, transport and deliver these necessary vaccines.
Immediately after approval of the vaccine, UPS Teamsters started to move it based on orders received by Operation Warp Speed and CDC officials.
The vaccines originated from storage sites in Michigan and Wisconsin then were transported to UPS Worldport facilities in Louisville, where they were expedited to select destinations, including hospitals, clinics and other medical facilities, to inoculate health care workers.
"This is a historic moment in world history and I'm proud that Teamsters were there, as always, making a difference," said Jim Hoffa, Teamsters General President. "Whether our members are delivering the vaccine or administering it—or even making the dry ice it's packed in—Teamsters can be counted on. As the economic fallout of the pandemic continues, it has also been gratifying to see so many locals and members volunteering to help their communities."
Moving the Essentials
At the UPS center in Baltimore on a cold morning in mid-December, Local 355 member John Guilta prepared to start his work day with a box of the vaccine on board, headed to a warehouse belonging to The Johns Hopkins Hospital. The vaccine had arrived that morning at Baltimore/Washington International Thurgood Marshall Airport.
"This is my 35th Christmas," Guilta said of his tenure as a UPS Teamster.
Guilta, who said he has been delivering vaccine kits in recent weeks, said he feels good delivering the vaccine itself to those who need it.
"It just feels good to be doing my part," Guilta said. "I'm just proud being a UPS Teamster, helping this get to those who need it and helping people's lives and the economy back on track."
Don Hamre, a driver who delivers to the same hospital, said he expects to be delivering the vaccine soon. Hamre said he has been picking up COVID-19 testing samples for the past few months, helping them to get to the labs.
"Whether it's delivering medical supplies to the hospitals or picking up the COVID test samples, it feels good delivering the essentials that people need," he said.
On Ice
Other members of Local 355 are doing their part to help get the vaccine to people who need to receive it.
Because the Pfizer vaccine requires extremely low temperatures, it is packed in dry ice. One of the companies that makes that dry ice is Capitol Carbonic in Baltimore, where 10 members of Local 355 create, package and ship the product.
"These are unprecedented times," said Malik Gordon, a seven-year employee. "It makes me feel good helping out other people."
Gordon was picking up the dry ice, with a temperature of minus-109 degrees Fahrenheit, with his gloved hands, a necessity for handling the ultra-cold substance.
"I'm just happy that we are part of the Teamsters, and we are part of working to get the vaccine distributed," Gordon said.
The demand for dry ice is way up, as more people get items delivered to their homes during the pandemic. And the recent orders associated with the vaccine mean even more business for the Baltimore company.
"I'm working my tail off," said Joe Schwabline Sr., who drives the product to many areas, including locations in New Jersey, Pennsylvania and Virginia, and throughout Maryland. "It feels good because this is helping people and I'm just doing my part," he said.
A Time of Need
Teamsters around the country have been volunteering their time to help locals collect and distribute food to those suffering from the economic fallout of the coronavirus.
In October, volunteers from Teamsters Local 385 and UNITE HERE! Local 737 helped distribute food to families in need as part of a charitable effort run by the Society of Saint Andrew. The food was distributed to hundreds of families at the Seasons Florida Resort in Kissimmee, Fla.
Local 639 in Washington, D.C. also help distribute food to families in need as part of a charitable effort run by the Society of St. Andrew. The food bank ran every Saturday in November and December.
At the Florida event, most volunteers were comprised of workers from Teamsters Local 385 and UNITE HERE! Local 737 that were laid off due to the ongoing pandemic.
Two Teamsters from Freeman Decorating, which handles event and convention work at the Disney properties and the convention center, were among those who volunteered for the food bank. Richard Cella and Sam Harris have both been laid off since March, but felt it was their duty to help others in need during this difficult time.
Cella, a 17-year member of Local 385 and steward for the drivers at Freeman, has volunteered for months at this food bank. When he heard about the food bank from some of his co-workers, he immediately signed up to help.
"I wasn't prepared for being laid off, and I know that many of my co-workers weren't prepared," Cella said. "So anything I can do for those in need, like this food bank, is a great thing to bring the community together during these challenging times."
Harris is a 20-year Teamster and steward for the convention workers that work inside the facilities. He has also volunteered for the food bank for months. For Harris, it's a reminder that life is unpredictable and a strong community that comes together during difficult times can be the key to turning the corner.
"You never know how quickly things can change," Harris said. "You never know when you could end up in the same situation as those we are trying to help now. This is one of the small things we can do to help people get by for a week or two, because we are all in this together, going through the same thing."
Mike McElmury, Trustee of Local 385, was not surprised by the overwhelming turnout each week at the food bank by members that have lost their jobs during the pandemic.
"The members of Local 385 are a tight-knit community. They support each other and stand strong against adversity," McElmury said. "Union members know the importance of coming together to help each other when the times are tough."
Volunteer Response
Jeanette Barnes, a 22-year Local 639 member who works for the Teamsters Department of Political and Legislative Action, first heard about the program partnership with the Society of St. Andrew from Roy Gillespie, the Human Rights Coordinator for Joint Council 13 in Missouri.
"I thought it sounded like a great program and talked to Local 639 about it," Barnes said, adding that John Gibson, President of the local, jumped at the opportunity.
"We heard about the program and knew it would be a good fit," Gibson said. "We've had a tremendous response from volunteers, and in interest in the program. We've been doing this for a few weeks now and it has gotten a little better each time."
Gibson said the pandemic has affected some of his workers more than others. Hundreds of Local 639 Teamsters with Gate Gourmet—hit especially hard by COVID-19— have been laid off. Gibson has been personally bringing boxes of donated food to those members, and others who have been especially affected.
"This is a great time to give back and help out those in need. What better way to do it than jump in and lend a hand?" Gibson said.
Rudy Gardner, Secretary-Treasurer of Local 922 in D.C., and Tyrone Richardson, Secretary-Treasurer of Local 730 in D.C., both volunteered at the Local 639 event. Ritchie Brooks, President of Local 730, dropped off donations from another Teamster employer, Eight O'Clock Coffee.
The need was there and appreciated on a recent December morning in D.C. Cars started lining up at the food bank at 7:30 a.m., hours before it opened. Luckily, there were enough Teamster volunteers on hand to open early so people wouldn't have to wait for hours.
Show of Appreciation
Residents Line the Street to Thank Their UPS Teamster Driver
UPS drivers are appreciated by their customers in cities and towns across the country, but a community in Virginia wanted to express that appreciation in a big, unique way.
One day in mid-December, the residents in Midlothian, Va. lined the streets waiting for driver Anthony Gaskin to thank him for the great service he provides every day, always with a wave and a smile.
"Through COVID, Anthony has continued working, delivering packages at our doors, record numbers of them, over 180 times to date," resident Patty Friedman told a local news station. "I wanted to thank him personally for how much he helped me feel welcome when I moved in during a pandemic. It was terribly lonely and he was always the highlight of my day. Mentioning this to a few people and the response I got was all I needed to know I was not alone."
That prompted Friedman and her neighbors to come up with a way to show their appreciation for Gaskin. It all came together on Tuesday, December 15.
"Arriving on bikes, on foot, and in more than 75 cars, hundreds of Hallsley [neighborhood] residents lined the road and waited for Anthony to turn the corner," Friedman said. "A humble man, he needed to be coaxed, but eventually, slowly drove his truck down the road while children and adults held up signs, screamed his name, honked their horns and rang bells."
"We just love Anthony so much," resident Lexi Hanrahan said. "He doesn't even realize how much we appreciate the small gestures like an extra smile or a wave because that's just who he is!"
"Anthony represents the best of what the Teamsters Union stands for," said Brian Peyton, President of Local 322 in Richmond, Va. "It's nice to see the general public appreciate the hard work of a UPS Teamster, not only during the pandemic, but during the busy holiday shipping season."
"Anthony is a genuine person, dedicated to his job and very unassuming," said steward Anthony "Moe" Mosby, who has known Gaskin for 16 years. "He is a great person. He doesn't look at UPS as a job, he looks at it as a career."
"I was in shock, I was in total shock," Gaskin said of his customer's show of appreciation. "I knew my customers thought a lot about me, but I didn't know it was to that extent."
The customers presented a basket of cards to Gaskin as a show of thanks.
A History of Service
In times of crisis, Teamsters are always willing to step up.
UPS Teamsters have been chosen to help deliver the COVID-19 vaccine, but this isn't the first time the country has relied on members in times of crisis.
On April 13, 1955, Dr. Jonas Salk announced that a successful formula had been found for a polio vaccine. The number-one problem facing authorities after the "victory announcement" was getting the vaccine to medical centers throughout the nation.
Members of the Teamsters Union found themselves with important roles. Teamster drivers signed up to work around the clock and in relay teams to hasten the quick delivery of the vaccine.
With Teamster help, the vaccine was in the hands of doctors and health authorities in record time.
During the Spanish Flu epidemic in 1918, Teamster hospital workers and ambulance drivers worked hard, and Teamster women were an important part of a program to deliver medicine and doctors to rural areas all around the country. The drivers also helped out with chores on farms as they delivered if the families were too sick to do them.
Teamsters also washed streets and public areas with sprinkler trucks all over country to help during flu epidemic.
« Previous
Next »