Teamsters Help Power Biden-Harris Ticket to Victory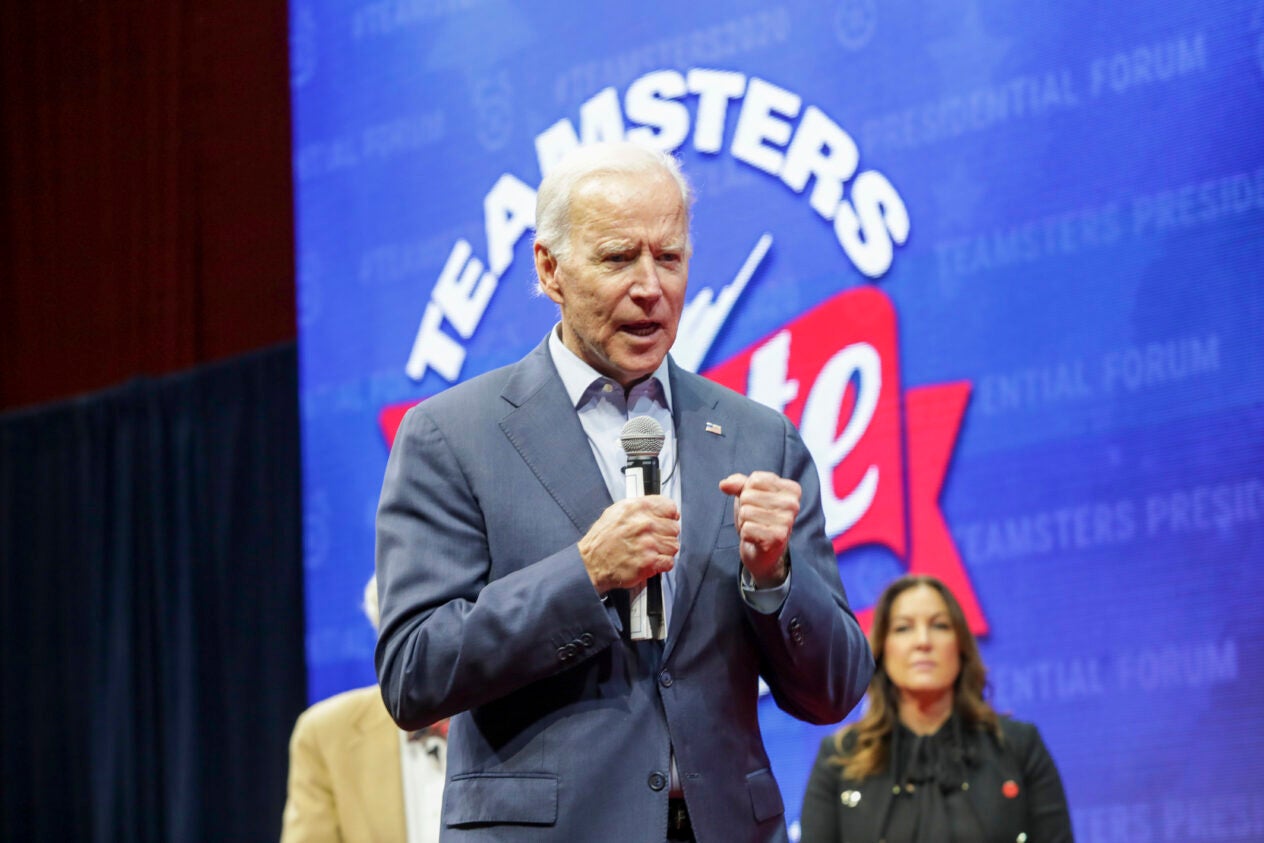 Down-Ballot Victories and Other Political News
The election of Joe Biden as president and Kamala Harris as vice president in November represented the culmination of more than 18 months of work by the Teamsters to help get a pro-worker presidential ticket elected to represent the best interests of hardworking Americans in the White House.
"This union backed the Biden-Harris ticket because it put forward a bold pro-worker agenda that will enhance the ability of workers to join together and collectively bargain for better pay and working conditions," said Teamsters General President Jim Hoffa. "It will also prioritize pension reform to boost workers and retirees and will do more to protect the more than a million essential Teamsters on the job during this coronavirus pandemic."
Back in the spring of 2019, the Teamsters began holding meetings about the 2020 election and how the union would get involved. It started by soliciting the views of the membership on both their top issues and their presidential candidate preferences.
From there, it moved into training political field organizers (PFOs) on how to best reach out to both members and candidates on the campaign trail. And the union asked presidential contenders interested in earning its endorsement to sign an issues pledge, sit for a video interview and offer their support for Teamsters in person on the picket line.
The Teamsters even hosted a presidential candidate forum along the way.
'Up to Us'
The Teamsters were active participants early on in the primary season. But then the coronavirus pandemic hit, and everything changed.

The union needed to find new ways to reach out to its membership—many of whom were working in essential jobs, but whose worksites barred outsiders.
That meant empowering shop stewards to talk to their colleagues about the issues and ramping up efforts like phone banking, texting and digital advertising to reach the membership.

"We did a lot of work during the primary to try and influence narratives and try to make sure any candidate running for president or any elected office were addressing issues important to our members," said Katie Finn, the Teamsters' National Field Director. "So coming into the general election, it was actually pretty simple for our union to endorse who would have our backs. Then, really, it was up to us."
Teamster Power
Teamster power came to the fore. Some 150 PFOs nationwide, as well as other Teamster volunteers and staff, made 340,000 phone calls and sent 1.2 million text messages in the lead up to the November 3 election. The union also sent out 1.3 million pieces of mail and reached more than 350,000 members via digital advertising.
PFOs also helped get key lawmakers elected down ballot as well.

The result of all that work is the election of Joe Biden as president, a man who was the voice of unions in the Obama administration, spoke at the Teamsters 2011 Convention, and created and led the Middle Class Task Force during his time as vice president.
Vice President Kamala Harris has also been a strong ally for the union before her recent election as second in command.
She was a well-known champion of California Teamster members during her time as that state's attorney general, and she aggressively prosecuted wage theft by companies who misclassified workers as independent contractors in the Golden State.
Moving Forward
Now, they are committed to moving forward on an agenda that prioritizes working Americans, both on the job and in their golden years after work is done.
The Democratic ticket has a bold plan to protect the interests of hardworking Americans going forward, one that prioritizes collective bargaining, worker organizing and unions. It calls for workers to be treated with dignity and receive the pay, benefits and workplace protections they deserve.
On pensions, some 1.5 million Americans, both working and retired, also need assistance to make sure their multi-employer pensions—which they paid into during their working years—remain afloat.
The Teamsters have worked over the past several years to craft pension reform legislation that would stabilize funds like the union's Central States Plan, and the Biden administration is on board.
Union Issues
In the final days of the campaign, Biden made it clear in a video addressing the membership that he would have the Teamsters Union's back on these issues.
"It's long past time the government went to work for you as hard as you have been working for us," he said. "It is not enough to praise you. We need to protect you, pay you, make sure your pensions are square. Wall Street didn't build this country, the middle class built this country. And unions built the middle class."
The Teamsters are glad to be partnering with the Biden-Harris administration to build a better America that works for workers.
Down-Ballot Victories
Teamsters Help Make Congress More Worker Friendly
Much of the 2020 election focus was on the presidential race. But numerous down-ballot results were seen as important results that Teamsters worked hard to make happen. The union was active in promoting the candidacies of both Sens. Gary Peters (D-Mich.) and Mark Kelly (D-Ariz.), both of whom narrowly won their races in their home swing states. Having such pro-worker candidates win in the Senate gives pro-worker legislation a better chance of winning passage during the new congressional session that just started in January.
During a virtual town hall session in October with Joint Council 43 members, Sen. Peters told Michigan Teamsters about his record as a labor champion and a leader on pension reform during his first term in office. And he promised that work will continue when he is sent back to Capitol Hill.
"When we have a strong and vibrant labor movement in this country, that helps everybody," Sen. Peters said, adding, "This is a tough time. But I know how hard you fight to get the benefits you deserve."
Meanwhile, during his own session with Arizona Teamsters that same month, Kelly pointed out that the country was dependent on the work done by some 1 million essential Teamster workers, including those working each day for UPS as well as those delivering groceries and other goods, and in construction, so millions of other Americans could stay safe during these times.
"I want to thank your membership for putting yourself out there in harm's way because it effects your families, and I think the nation owes a debt of gratitude to your members," he told attendees.
Having elected lawmakers who understand the wants, needs and sacrifices of hardworking Americans is essential to having a government that meets the needs of the people. And that's why there were several key members of the House of Representatives that the Teamsters also fought hard to get elected:
• Rep. Peter DeFazio (D-Ore.), the chairman of the House Transportation and Infrastructure Committee, is a longtime friend of the Teamsters who has stood up for workers on transportation and infrastructure as well as trade issues.
• Rep. Conor Lamb (D-Pa.),representing suburban Pittsburgh, has shown himself to be a fierce advocate for multiemployer pension reform during his time in office.
• Rep. Haley Stevens (D-Mich.), from suburban Detroit, is a strong voice for workers not only on pensions, but also when it comes to allowing workers to come together and collectively bargain on the job.
• Rep. Cindy Axne (D-Iowa), representing Des Moines and the surrounding area, has stood up for workers' rights and advocated for increased apprenticeship programs.
Q&A with Rep. Brian Fitzpatrick
Teamsters Work Across Party Lines on Behalf of Members
Working to get Teamster priorities enacted in Congress means working with lawmakers on both sides of the aisle. One of the union's greatest Republican advocates is Rep. Brian Fitzpatrick (R-Pa.), who represents the northern Philadelphia suburbs.
Rep. Fitzpatrick, elected to his third term in November, has stood with workers time and again on issues from collective bargaining to retirement security. He recently answered a few questions for Teamster magazine about what to expect in the new legislative session.
Does a change in the administration improve the chances of pro-worker legislation becoming law during the next session of Congress?
Rep. Fitzpatrick: While I do support a majority of the provisions of the PRO Act, assuming Republicans retain control of the Senate, it will be a difficult path to get the PRO Act through the Senate. However, I think the change in administration improves the possibility of certain parts of the PRO Act moving forward in the form of a bipartisan package or appropriations riders that would strengthen protections for workers' right to organize and collectively bargain.
You have been a supporter of multiemployer pension reform legislation like the Butch Lewis Act in the past. Do you see a path forward for such a measure in 2021?
Rep. Fitzpatrick: Retirement security is important because our workers have the right to retire with dignity after a lifetime of hard work. And we must keep our promises to people who have worked their entire lives. The concept is simple: In exchange for a lifetime of hard work and personal financial contributions, a worker and his or her family can count on a secure and respectable retirement. As you know, I voted for the Butch Lewis Act, which would provide low-cost loans to eligible multiemployer pension plans to enable them to continue to pay earned pensions to retirees and fund their long-term pension commitments. I think there is a path forward on the multiemployer pension reform issue if the House, Senate and labor movement comes together to negotiate a package that gets the job done. I will continue to fight for you, and make sure that retiree benefits are protected and that our workers can retire with the benefits that they have earned.
What can be done to beef up workers' rights on the job, especially collective bargaining and worksite safety in the age of COVID-19?
Rep. Fitzpatrick: We need to make sure every worker is safe on the job, especially during a public health emergency. That is why I co-sponsored and support the COVID-19 Every Worker Protection Act, which would require the Occupational Safety and Health Administration (OSHA) to promulgate an emergency temporary standard (ETS) to protect workers from exposure to the coronavirus. To protect collective bargaining in the age of COVID-19, I also have introduced the bipartisan Secure and Fair Elections for Workers Act.
This bill undoes the harmful prohibition of electronic voting in union elections and requires the National Labor Relations Board (NLRB) to conduct elections remotely due to the public health risks of in-person voting during the coronavirus pandemic. COVID-19 has drastically changed the daily lives of hardworking Americans. It is more important than ever to make sure that workers' rights are protected, and that we can ensure their health and safety. The NLRB must guarantee that workers across the country can exercise their right to organize during the COVID-19 pandemic and that fair elections are held.
Both parties often speak of the need to invest in infrastructure. Do you feel there is real chance that such a bill could make it through Congress now?
Rep. Fitzpatrick: A bipartisan infrastructure bill that invests in major public infrastructure and transportation projects is possible. I am hopeful that divided government will bring all sides to the table. There has never been a better time to invest in infrastructure, since a big package would be a major boost to the economy and immediately create much-needed, quality jobs. For every dollar we invest in infrastructure, our economy sees an exponential return. We need to enact a major infrastructure package with defined and new, stable sources of revenue. The time for Congress to act is now.
The NLRB and Workers
Presidential Administrations Make a Huge Difference in Workers' Lives
One of the Teamsters Union's goals in endorsing Joe Biden for president was to reverse damage done to workers' rights by the Trump administration. In the last four years, some of the worst changes have been the least visible. The National Labor Relations Board (NLRB), the government agency responsible for enforcing labor law, has systematically rolled back workers' rights under the Trump administration.
Some of the changes under the Trump NLRB included rolling back the right to form unions and to engage in collective bargaining. The NLRB under Trump has also issued a number of decisions weakening worker protections under the National Labor Relations Act (NLRA).
All of this is in stark contrast to the Obama-Biden administration's NLRB, where workers' voices were heard loud and clear. Here's a small sampling of worker victories at the Obama-Biden NLRB:
• A ruling that increased the likelihood that companies could be held responsible for labor violations committed by contractors and franchisees;
• A ruling that made it easier for smaller groups of workers to form a union within a company;
• A ruling that granted graduate students at private universities a federally protected right to unionize; and
• Rules allowing union elections to proceed on a faster timetable.
According to the Economic Policy Institute (EPI), the board has engaged in an unprecedented number of rulemakings aimed at overturning existing worker protections in the last four years.
The NLRB under Trump "have elevated corporate interests above those of working men and women and have routinely betrayed the statute they are responsible for administering and enforcing," according to EPI.
The Trump board has repeatedly reversed longstanding board precedent, weakening workers' rights and giving more power to employers. All of these decisions overturning precedent favor employers. None favor workers or unions. In none of these cases did the Trump board follow the NLRB's longstanding practice of seeking public input through amicus briefs before reversing precedent.
The Trump board has weakened workers' rights in following areas: the scope of workers covered under the law; the definition of what activity is protected under the law; workers' ability to communicate with their co-workers about workplace issues; workers' ability to decide which group of co-workers to organize and bargain with; and in workers' ability to strike to achieve their goals.
While chiseling away at the rights of workers, the NLRB under Trump gave employers new tools to restrict communications by workers and unions, and to undermine collective bargaining relationships by making unilateral changes and refusing to recognize incumbent unions.
According to EPI, here are just a few of the actions taken by the Trump NLRB to reverse reforms made under the Obama-Biden administration:
Implemented provisions in a "representation case procedures rule" that will make union elections take longer and be more likely to involve unnecessary litigation;
Issued a decision making it easier for employers to manipulate and change the bargaining unit sought by employees, and by this gerrymandering, create a unit of eligible voters less likely to vote for a union; and
Issued a rule requiring employers who voluntarily recognize a union selected by a majority of their employees to post a notice that the union has been recognized but that employees have a 45-day period to ask for an election.
Also, early in the pandemic, the agency suspended union elections, affecting 195 election petitions with nearly 17,000 workers seeking to unionize.
"Changes like this rarely make the news, but the Teamsters Union pays close attention," said Jim Hoffa, Teamsters General President. "The difference between a pro-worker administration and one that only listens to corporate interests can make a huge difference at the NLRB—and that matters to all working families."
A September 2020 report by The Nation magazine and Type Investigations—based on interviews with more than 25 labor advocates, attorneys, and current and former NLRB staff members—revealed that the federal agency that's supposed to protect union rights is instead championing the interests of management.
"In recent months, the board has also used its rule making process to roll back pro-worker regulations, especially in regard to union elections; make it easier for employers to interfere with voting; weaken rules that protect unionizing construction workers; and shorten the time that employers must wait before petitioning to oust a union," the report stated.
"It's breathtaking how many areas of the law, how many precedents they've managed to overturn," said Wilma Liebman, a chair of the NLRB under the Obama-Biden administration. "And they just kind of snap their fingers and do it, in my view, with little regard for the quality of the legal thinking or reasoning, reaching out to decide issues that aren't before it," Liebman said in an interview with The Nation.
"Teamsters everywhere are looking forward to once again having an NLRB that listens to workers," Hoffa said.
Local 856 Political Power
Teamsters have made it their practice to play an active role not only in their union, but in their communities as well. And in this last election cycle, no local union had more winners than Local 856 in San Bruno, Calif.
Four members of Local 856 won their races: Malia Vella, elected to the Alameda City Council; Alena Maunder, elected to the Sausalito City Council; Jovanka Beckles, elected to the Alameda County Transit Board; and Christian Otheree, elected to the West Contra Costa County United School Board District.
Getting involved in local politics has been a goal of Local 856 for the last decade, said Secretary-Treasurer Peter Finn, ever since it made the decision to hire a political director. And its success is due to the work of that director, Tricia Suzuki Blinstrub.
"Under Trish's leadership, when we've had a person run, we've gone all in to support those candidates financially," Finn said. "We really try to highlight them and back them."
Suzuki Blinstrub said those members who have been elected have helped create a more pro-worker environment on the bodies in which they serve.
"A majority of the members who are elected have impact on Teamster jobs, whether it be directly voting on their contracts and working conditions, approving PLAs, approving contracts with garbage companies, bus companies, etc.," she said.
Finn said Local 856 hopes to build on its political victories in the years to come.
"Once you have success, people see that and it builds on itself," he said.
« Previous
Next »