Teamsters Partner with DOL, DOD on Employment Opportunities for Veterans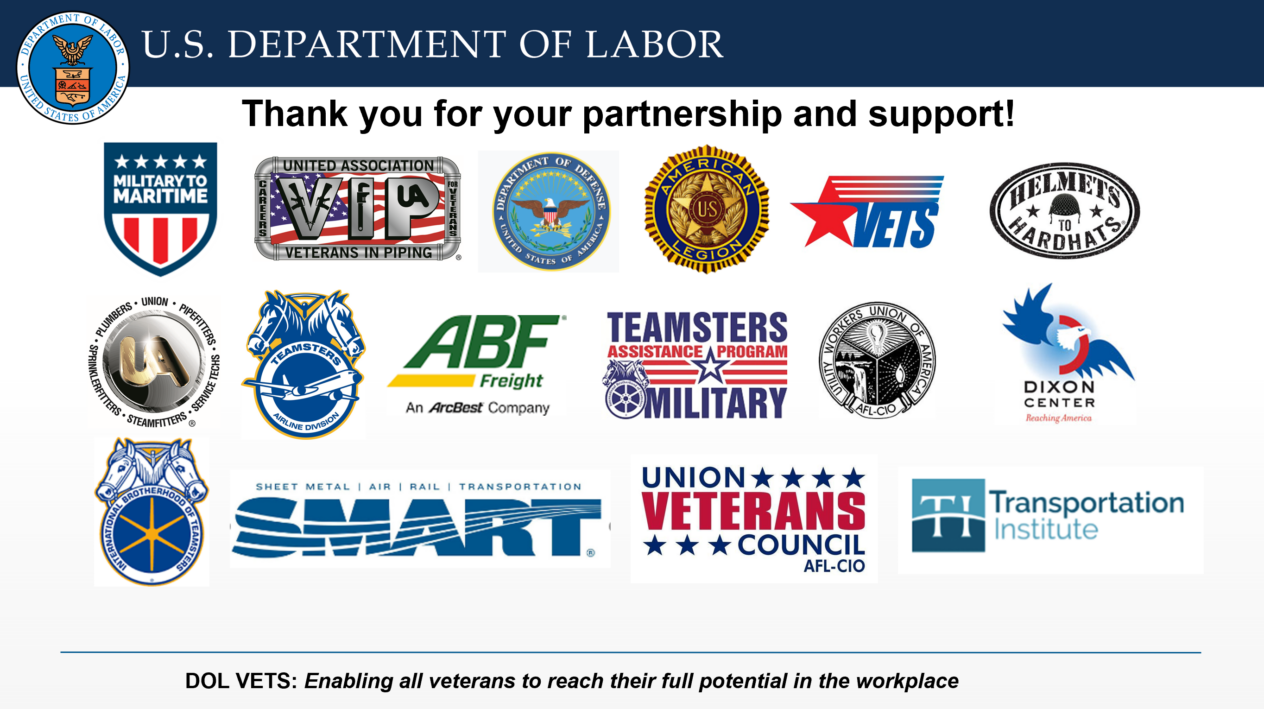 On February 9, the Teamsters Military Assistance Program (TMAP), the Teamsters Airline Division and the Teamsters Aviation Mechanics Coalition (TAMC) participated in a roundtable with a variety of stakeholders who are all working towards creating more career opportunities for veterans who have recently completed their military service.
"The Teamsters are proud to work with our employers, our government and other labor unions to do everything we can to help veterans move on to the next chapter of their lives after they leave the service," said David Bourne, Director of the Teamsters Airline Division. "These brave men and women have sacrificed a lot for us and we have a responsibility to take care of them."
The purpose of the roundtable was to introduce Acting Assistant Secretary of Labor James Rodriguez and Acting Assistant Secretary of Defense Thomas Constable to union veteran leadership, programs, and partnerships that facilitate meaningful careers for transitioning service members, veterans, and military spouses. Rodriguez oversees the Veterans' Employment & Training Service (VETS) program at the Dept. of Labor, which focuses on enabling all veterans and their spouses to reach their full career potential. VETS does this by focusing on the transition from military to civilian life and by leveraging strategic partnerships to exponentially increase the impact of their work. Constable oversees the Office of the Under Secretary for Personnel and Readiness at the Dept. of Defense. Among other responsibilities, Constable manages the $15 billion Defense Health Program, Defense Commissaries and Exchanges with $14.5 billion in annual sales; the Defense Education Activity, which supports over 100,000 students and the Defense Equal Opportunity Management Institute, the nation's largest equal opportunity training program.
"Through TMAP, the TAMC and the Teamsters Airline Division we are succeeding in our mission to place veterans at companies like ABF Freight, First Transit, First Student, and our aviation partners,," said Chris Moore, TAMC Chairman. "This meeting was a great opportunity to talk about the work we do, learn from others about the work that they do and find ways to combine our talent and resources so the transition from the military to civilian life is as smooth and easy as possible."
In addition to TAMC Chairman Chris Moore, the following people and organizations participated in the meeting to discuss their work with VETS: Richard Berkowitz, Vice President of Pacific Coast Operations at the Transportation Institute; William Attig, Executive Director of the AFL-CIO Union Veterans Council; David Porter, Executive Director of Helmets to Hardhats at North America's Building Trades Unions (NABTU); Michael Hazard, Training Specialist, Veterans in Piping, UA Education and Training, International Training Fund; on Veterans in Piping (VIP); Richard Passarelli, National Director Veterans Affairs, Utility Workers Union of America; Tim Thorne, President, ABF Freight; Sam Whitehurst, Vice President, Dixon Center for Military and Veterans Services; John Kamin, Credentialing and Education Policy Associate, American Legion; Darrell Roberts, Director of Organizing, International Association of Sheet Metal, Air, Rail, and Transportation Workers (SMART) and Labor representative on VETS' Advisory Committee.
« Previous
Next »