Essential Port Truck Drivers File Public Health Complaint Alleging Systemic COVID-19 Safety Failures by Container Connection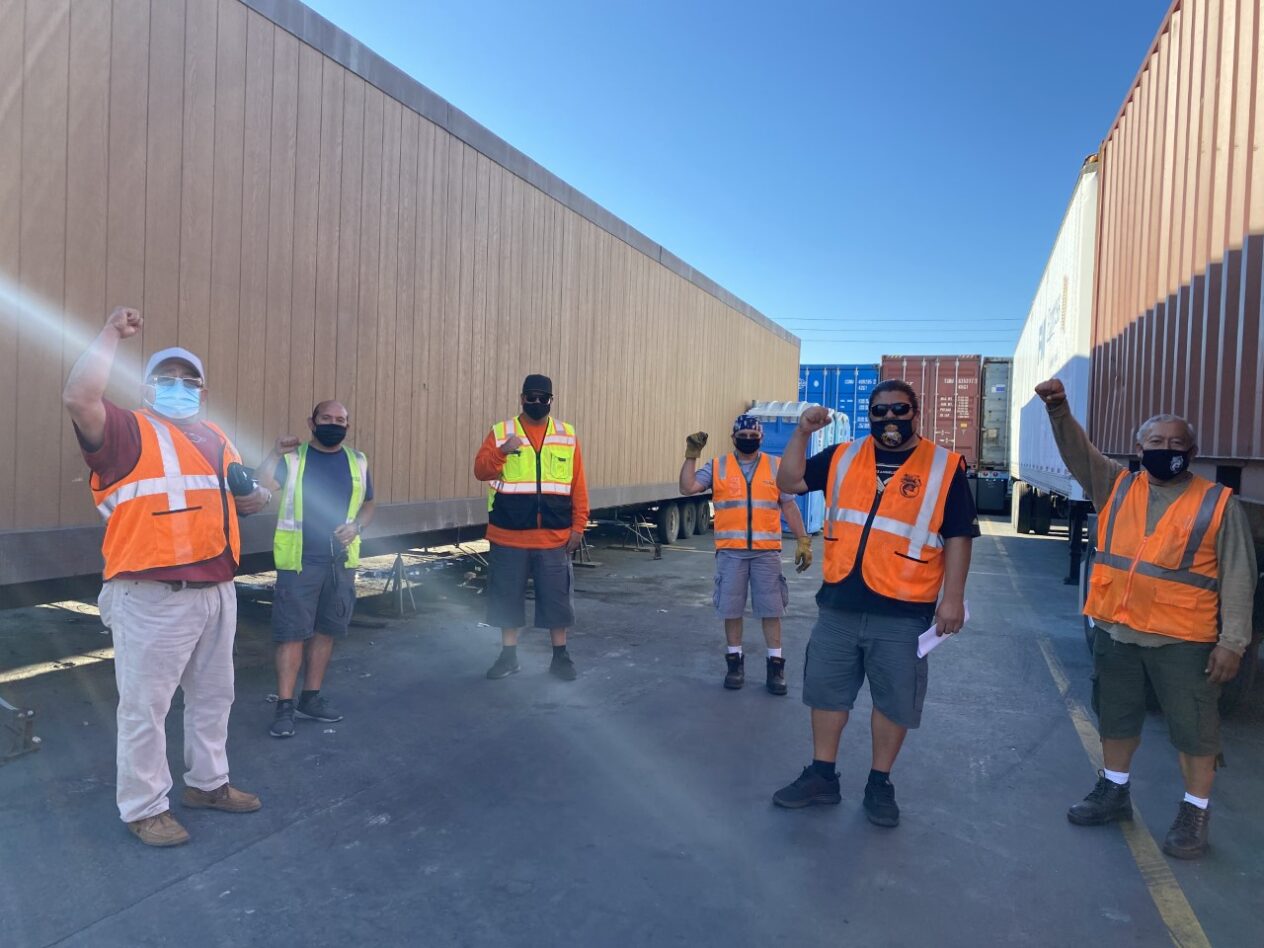 Complaint Alleges Lack of PPE, Social Distancing, Sanitization of Shared Equipment; Some Drivers Forced to Purchase Their Own PPE
(LOS ANGELES) — One year into the devastating COVID-19 pandemic, essential truck drivers working at the Ports of Los Angeles and Long Beach filed a Cal/OSHA complaint Monday alleging a systemic failure to protect drivers employed by Container Connection, one of the region's leading short-haul trucking companies. The complaint, filed by Container Connection drivers David Averruz and Juan Carlos Giraldo, demands that Cal/OSHA conduct an immediate on-site investigation of their workplace and investigate Container Connection's lack of a COVID-19 Prevention Program.
Since 2018, Container Connection has been a subsidiary of Universal Logistics Holdings (ULH), a Michigan-based multinational transportation company that owns numerous other trucking companies that operate in the Los Angeles region. Container Connection is the DBA, or 'doing business as' name, of Deco Logistics, Inc.
The complaint is the first of its kind addressing the conditions faced during the pandemic by drivers transporting goods from the ports to retailer warehouses. The complaint details a long list of COVID-19 hazards present throughout the course of the drivers' day-to-day work, during which they pick up shipping containers at the Port and transport them to the warehouses of such companies as Whirlpool and Ross. At virtually every point along the way, the complaint alleges, ULH/Container Connection fails to implement procedures to keep drivers safe from COVID-19.
"Container Connection is in the sole position to identify and report hazards to customers to protect drivers' safety and health," the complaint alleges. "Container Connection drivers are hesitant to report COVID-19 hazards to customers' warehouses because of the fear of reprisal — having their load rejected or being banned from the site. This fear is based on past experiences from drivers raising concerns on other issues."
COVID-19 safety hazards and violations observed by ULH/Container Connection drivers and detailed in the complaint include:
Lack of masks: Across the supply chain, drivers are forced to interact with individuals who are not wearing masks. The complaint alleges that security guards at Container Connection's truck yards do not wear masks and further alleges that warehouse staff and security do not wear masks. The complaint also contains photo and video evidence of numerous instances of these individuals' failure to wear masks.

Lack of social distancing: At warehouses where drivers make their deliveries, there are often no markings, signs or procedures to enforce six feet of social distancing or solid partitions installed as a preventative measure.
Failure to sanitize shared equipment: Drivers are required to utilize a broad range of shared public equipment — including microphone, chassis, document drop boxes and door handles — but have not witnessed anyone cleaning these frequently-touched surfaces.
Failure to notify drivers of potential COVID-19 exposure: Some Container Connection drivers have reported that some of their coworkers, or they themselves, have contracted the coronavirus. However, the company has never informed other drivers if a coworker has contracted the coronavirus.
Last month, ULH/Container Connection began providing drivers with a new employment contract that includes a requirement that drivers themselves provide PPE, not the company. ULH/Container Connection requires drivers to regularly sign such unilateral contracts to continue working there.
The International Brotherhood of Teamsters, which the drivers filing the complaint have designated as a representative, backed the drivers' call for an investigation of the worksites and accountability for Container Connection.
"The Teamsters will always stand with the essential drivers who deliver the goods our communities need to stay healthy and keep running," said Ron Herrera, director of the International Brotherhood of Teamsters Ports Division. "For far too long, companies like Container Connection have misclassified and exploited these hard-working drivers in willful violation of the law. Cal/OSHA must hold this lawbreaking company accountable — we won't rest in our fight until we win justice for all port truck drivers."
LONG HISTORY OF MISCLASSIFICATION
Container Connection has long misclassified its workers as independent contractors, which deprives them of basic rights and protections such as paid sick leave, workers' compensation and minimum wage. Courts and government agencies have repeatedly found misclassification-related violations and issued rulings that Container Connection owed drivers millions in unpaid wages and benefits.
ULH/Container Connection's continued misclassification of its drivers has had a direct and dangerous impact on drivers' safety on the job, as company management has cited it as an excuse to refuse to take action to provide drivers with basic protections. Upon requesting PPE from management at the onset of the pandemic, ULH/Container Connection driver David Averruz reports being told "that I was an independent contractor and I had to provide it myself."
The US Department of Labor's Wage and Hour Division investigated Container Connection from 2009 to 2011 for Fair Labor Standards Act (FLSA) violations, and found that Container Connection had violated the FLSA by misclassifying 103 port drivers and failing to pay the minimum wage. Subsequently, 11 Container Connection drivers won a 2016 final court judgment ordering Container Connection to pay them over $2.2 million for wage theft damages. The company has faced at least six additional misclassification lawsuits in California Superior Court, most of which have been settled.
Another 12 wage and hour misclassification claims at the California Division of Labor Standards Enforcement (DLSE) resulted in at least eight final judgments and stop work orders ordering the company to stop conducting business in California until it paid workers. Most recently, the California Employment Development Department found three ULH/Container Connection drivers to be employees who had been misclassified as independent contractors just last year.
« Previous
Next »