Teamsters Remember Mick Yauger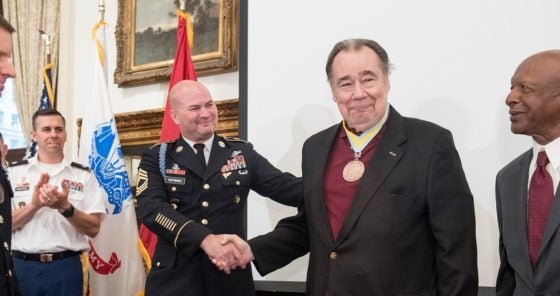 Mick Yauger, former President of Local 786 in Chicago, passed away on March 21 at home. He is survived by his wife Lynn, stepson Noel and granddaughter Jessica.
Yauger founded the Teamsters Military Assistance Program (TMAP), which assists military personnel find employment at Teamster-represented freight and school bus companies. Over the years, Yauger was a steadfast supporter of all things military, even donating the POW flag hanging outside of Teamster headquarters in Washington, D.C.
Yauger was a war hero who served in the Vietnam War with the 173rd Airborne Brigade. His commitment to his fellow veterans was admired by all who worked with him.
He worked for CTS Driver Training before becoming a Teamster organizer in 1991. He was elected and served in the following offices of Local 786: Trustee, Recording Secretary, Secretary-Treasurer and President.
"Brother Yauger's experience serving his country informed so much of what he did. He was an effective advocate for veterans and for his members at Local 786," said Jim Hoffa, Teamsters General President. "He will be greatly missed."
Yauger was also active in his community, winning several awards and honors for his volunteer work. In 2018, he received the Infantry St. Maurice Award, which is bestowed on those who have served and contributed to the infantry community with distinction and those who possess integrity, moral character, professional competence and dedication to duty.
Geoffrey Hoffa worked closely with Yauger on TMAP and partnering with the military community. "He did everything possible to ensure that veterans had the opportunity to get good union jobs once they left the service. He will be deeply missed," he said.
« Previous
Next »