New Cross-Border Trucking Rule Will Protect Teamster Drivers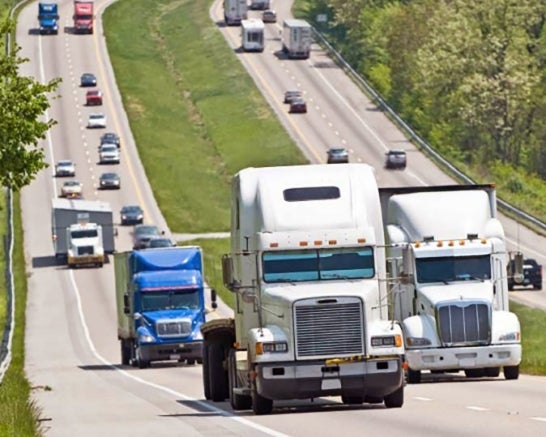 The Teamsters are hailing the U.S. International Trade Commission's (ITC's) issuance of a final rule implementing the U.S.-Mexico-Canada (USMCA) trade agreement's cross-border trucking provisions that mirror recommendations made by the union in key areas.
The decision, which was handed down last week, is a welcome development as the Teamsters and allies in long-haul trucking and highway safety anticipate enforcement under USMCA. In particular, the union appreciates that the ITC adopted its recommendation over the objections of the Mexican government that the calculation of material harm allow for an analysis of "relevant sub-markets."
"From the get-go, securing an overdue fix to the cross-border trucking provision that threatened the competitiveness and safety of the American trucking industry was essential for this union," Teamsters General President Jim Hoffa said. "This rule got adopted due to the hard work of the Teamsters and allies who joined together and worked to get it done."
Under the Teamster-backed language, the term "sub-market" can be defined in a variety of ways considering the diverse nature of the trucking industry. Trucking operations can be grouped geographically and also by carrier size (the number of actual trucks), the types of freight they haul, the types of trucks they operate, and the regions where they deliver goods, just to name a few.
The new rule will allow the Teamsters and others to petition the ITC to address the actual material harm to members that was a legacy of the original NAFTA, which the union fought ever since that terrible trade deal was signed a generation ago. It will make it easier to protect Teamster truckers from unfair competition from cut-rate Mexican carriers and unsafe Mexican-domiciled trucks.
Application of safeguard analysis and remedies in a service sector is rare and was a principal reason the Teamsters supported ratification of the agreement.
The Owner-Operator Independent Drivers Association (OOIDA), which also lobbied in favor of the rule, lauded its adoption. "As originally established by USMCA, these rules formally outline an investigation process that will prevent unsafe Mexican carriers and drivers from limiting wages and economic opportunities for American workers," said its President Todd Spencer. "These rules will also help stop Mexican truckers who are not held to same safety, security and environmental standards from operating on American highways."
Separately, the U.S. Department of Transportation is required under the USMCA implementing legislation to prepare a survey of all existing and pending applications for operating authority from Mexican-domiciled carriers. That survey, which DOT will share with the ITC and the Congress, will contain all the data that the Teamsters and OOIDA need in order to bring petitions to protect American long-haul truckers from the material harm which the USMCA trucks fix was designed to eliminate. The Teamsters urge Secretary Buttigieg and his team to publish the mandated survey without delay.
« Previous
Next »