Stabenow Honored by Michigan Teamsters for Pension Work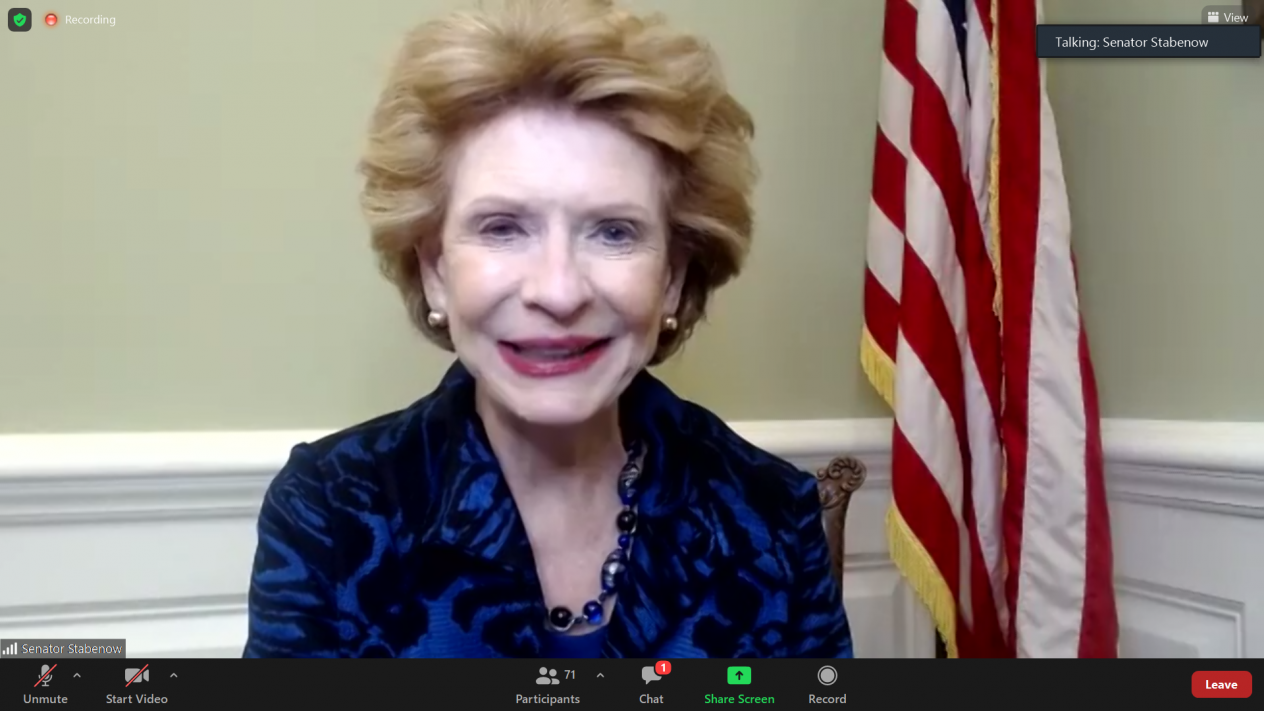 Michigan Teamsters came together Tuesday night to thank Sen. Debbie Stabenow for her hard work in ensuring multiemployer pension reform was included in the American Rescue Plan (ARP) signed into law last month so members and retirees can be secure in knowing their retirement nest eggs are protected.
In a virtual meeting, top Teamsters applauded Sen. Stabenow for her years-long effort of taking up the mantle for hardworking Americans who just wanted to receive the pensions they had bargained for and needed the federal government to intervene. They said she made sure that the work of Teamsters who walked the halls of Congress for years lobbying lawmakers was not in vain.
"Nobody worked harder than Debbie Stabenow," Teamsters General President Jim Hoffa said. "When we got knocked down, she stood us up again. Whenever a bill came up, she would say, 'What about pensions?'"
Teamsters Vice President At-Large John Murphy, who for years played a lead role for the union in shepherding pension legislation through Congress, also trumpeted Stabenow's efforts. When Central States Pension Fund members saw their retirements threatened with up to 60 percent cuts in 2015, she stepped forward because "these are the people Debbie Stabenow knew, and she fought for them."
For her part, Stabenow – whose brother is a 30-year Teamster – said the vigilance of the union's members, retirees and leadership let those in power know that the Teamsters meant business and weren't going to back down.
"It's an honor for me to be your partner," she said. "A promise made, it ought to be kept. This was our moment, and we couldn't lose it. We had to do it."
Stabenow added that she intends to fight just as hard to make sure the newly-released American Jobs Plan expands opportunities for U.S. workers while protecting unions and increasing their membership.
Getting pension reform language in the ARP, however, didn't just come down to the work of lawmakers. As mentioned by Stabenow herself, it was rank-and-file Teamsters and union retirees themselves who got this done.
"The credit goes to every single person who made the calls and wrote the letters," said John Wilkinson, a leader within the Michigan Teamster retirees. "This goes to show you that through strength in numbers, you can get this done."
Fellow retiree leader Dennis Germain said they got quality direction from the union's leadership. "I want to thank Vice President John Murphy for his tenacity," adding that he "showed us the way."
Greg Nowak, President of Teamsters Joint Council 43, agreed. "It was an uphill battle, no doubt. If we hadn't stayed united, we wouldn't have got this," he told Michigan Teamsters. "This happened because of you, your families and your hard work."
« Previous
Next »