New Administration Shows It's Pro-Worker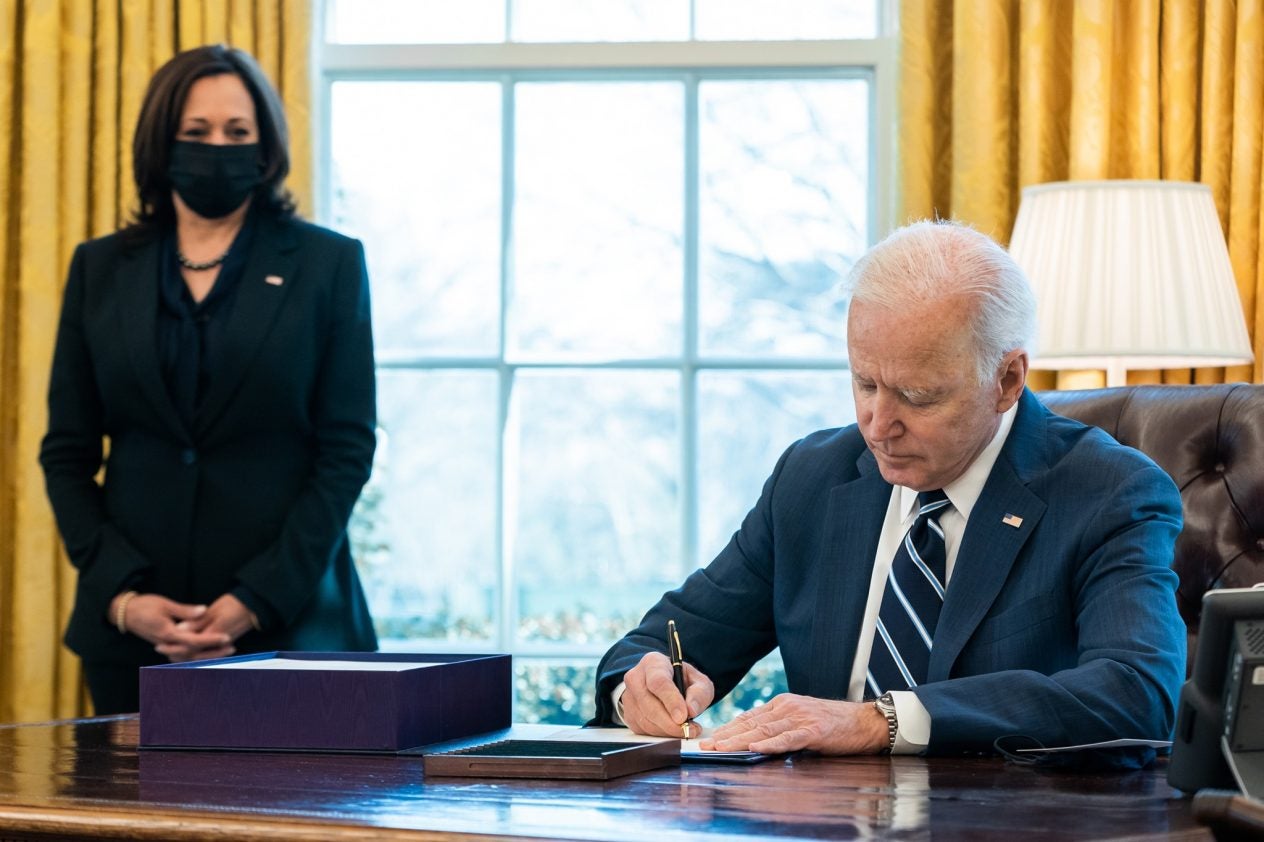 Elections have consequences.

It was a lesson learned from the 2016 election and one workers felt keenly as the Trump administration put in place policies that placed corporate interests first and everyone else second.

That fueled the Teamsters Union's agenda heading into the 2020 cycle, when members chose to prioritize pension reform, collective bargaining rights and later, as the coronavirus pandemic took hold, workplace safety issues. And it wasn't forgotten as members and retirees made hundreds of thousands of calls and texts to get their fellow Teamsters to get out and vote for a pro-worker agenda.

But what has come of all that work?

A lot, even in these early days of new leadership.
Right for the Job
President Biden wasted no time in nominating officials to top cabinet posts and issuing several key executive orders to ensure hardworking Americans are looked after and their interests are protected under his administration.
Even before he officially took office, Biden made several significant nominations that will have a positive effect on Teamster members for years to come. For example, he selected Boston Mayor Marty Walsh and former South Bend, Ind. Mayor and presidential candidate Pete Buttigieg to head up the U.S. Labor and Transportation departments, respectively, two choices lauded by the Teamsters Union. 
Walsh, a 25-year union man himself, grew up in the movement and understands the struggles of regular people just trying to earn a living and support their families. He is the former head of the Boston Building Trades and longtime president of Laborers' Union 223 who also co-chaired the Massachusetts Democratic Party Labor Caucus while he was a state lawmaker.
"Marty Walsh knows that unions and workers have come under assault in recent years," said Jim Hoffa, Teamsters General President. "At a time when millions are out of work and struggling, working Americans deserve someone who will be in their corner while leading the charge for a fairer nation."
Meanwhile, in Buttigieg the country is getting the problem-solver that it requires at a time when elected officials in the nation's capital have talked a big game about upgrading the nation's infrastructure but gotten little done.
"We need a strong voice to lead the effort to improve the nation's transportation networks so they can handle the needs of a 21st century economy. Pete Buttigieg is solid choice to do so," Hoffa said. "As the largest transportation union in North America, we look forward to working with him to improve the lives of workers."
Policy Changes
But beyond personnel, there have also been substantive policy changes.
The biggest, of course, is the enactment of pension reform in March thanks to language inserted in the American Rescue Plan (ARP). The new law boosts the retirements of more than 1 million U.S. workers and retirees in faltering multiemployer pension plans to ensure they receive their full benefits.
As part of the ARP, more than 50Teamster pension plans—including its largest, the Central States Pension Fund—are eligible for assistance at the outset of the bill's enactment, with more of the union's plans becoming eligible in 2022. Under the measure, money to assist eligible plans will come directly from the U.S. Treasury Department in the form of grants which would not need to be repaid. Plan participants will receive 100 percent of their earned pension benefits.
The new law goes further to help. It sets aside $10 billion to use the Defense Production Act to purchase, produce and distribute equipment including tests, PPE and vaccines. It also provides funding to support the Occupational Safety and Health Administration's (OSHA) enforcement in high-risk sectors and expands incentives for employers to offer paid leave.
That, however, is far from the entire story when it comes to the issues. Right off the bat, the Biden administration made sure to move quickly using executive orders to make changes that would expand the U.S. economy and make workplaces safer.
As part of the president's Buy American order, he set in motion a series of reforms to current federal procurement policies designed to eliminate the excessive and unnecessary use of foreign suppliers through trade-pact waivers. It also directed federal agencies to increase the threshold of domestic content—the percentage of a product that must be manufactured in the U.S. to qualify under Buy American law to be purchased.
Another executive order issued by Biden rescinded Trump administration directives which curtailed the collective bargaining, due process and workplace representation rights for federal workers, while also putting forward a plan to raise the minimum wage for federal government workers and contractors to $15 an hour.
And a third presidential executive order called for OSHA to reassess COVID-19 workplace safety guidelines, including emergency temporary standards. It also directed OSHA to establish a national enforcement program to ensure any employers that violate the guidelines or emergency temporary standards are held accountable for putting workers at risk.
That said, efforts to improve the lives of hardworking Americans must not stop there. Rest assured, the Teamsters won't allow it.
Teamster Power Comes to Political Campaigns
The Teamsters were committed to being a player in the 2020 election. But that didn't stop with making sure the union's top issues were heard by candidates seeking higher office. It also meant organizing those working on political campaigns.
Members of the Iowa Democratic Party were the first to sign up as members of Local 238 in the spring of 2019. But that quickly spread to include the campaign staffs of several presidential campaigns, highlighted by those of now-President Joe Biden as well as that of Vice President Kamala Harris during her own presidential run.
Other candidates whose staffs organized with the Iowa local included Sens. Cory Booker (D-N.J.) and Amy Klobuchar (D-Minn.) as well as Rep. Eric Swalwell (D-Calif.).
"The Teamsters set the standard for future campaign workers, including overtime language and a defined work week for the first time in history," said Jesse Case, Local 238 Secretary-Treasurer.
Iowa wasn't the only state, however, where Teamsters organized for political power.
The staff of Sen. Ed Markey (D-Mass.) voted to become members of Local 122 in Boston. And more than 100 staffers for the 2020 Coordinated Campaign and Legislative Victory Fund of the Georgia Democratic Party— including workers on the pivotal presidential and senatorial efforts in the state—joined Local 728 in Atlanta during the fall of 2020.
Most importantly, campaigns fueled by Teamsters won in November.
Victories by President Biden, Sen. Markey as well as new freshmen Sens. Jon Ossoff (D-Ga.) and Raphael Warnock (D-Ga.) were powered by the Teamsters.
The influence of those members who worked on these winning campaigns will only grow from here.
"Teamster campaign workers from this past cycle will go on to work not only in future presidential administrations, but coordinate state and congressional races across the country, as well as gubernatorial races," Case said. "We're already seeing it happen."
Teamsters Help Power Georgia Victory
Two pro-worker candidates running for U.S. Senate in Georgia emerged victorious in their run-off elections after the Teamsters put their muscle into turning out Teamster members to vote. The outcome makes sure President Biden will have a Congress that will stand up for hardworking families.
Sens. Raphael Warnock and Jon Ossoff defeated the incumbents in tight contests. Their wins ensure Democrats have control of the legislative agenda in the Senate, which has passed pension relief legislation. Democratic control of the Senate also makes it easier to enact policy changes dealing with collective bargaining rights, workplace safety, infrastructure investment and more.
The Teamsters played a sizable role in getting Warnock and Ossoff elected, as the union had a team of 17 political field organizers (PFOs) to reach out to thousands of its members in the state.
Local unions from both Georgia and Florida in Joint Council 75 empowered members to work on the field program. The union's Brotherhood of Maintenance of Way Employes Division (BMWED) also built on the work done during the general election to participate in the effort.
Jewel Prevo, Local 528 Recording Secretary and a shop steward at ACTS Security, participated as a PFO for the first time. She said while the state was deluged by outside forces wanting to influence voters, members were glad to hear from their union.
"A lot of members were open to this because the union was calling," she said. "The back-and-forth because we were union brothers and sisters was well received."
Matt Weaver, an internal organizer with BMWED, agreed. He added that the access to voter resources provided to members were especially helpful.
"They liked that we had the links to share and the information they needed," he said, adding that members "were pleasantly surprised and I was even thanked several times."
Pensions a Factor
Together, PFOs contacted more than 6,000 Teamsters in Georgia by phone and text message. The team made more than 31,000 calls and sent more than 50,000 text messages between Dec. 1 and Jan. 5. More than 3,527 calls were made on Election Day alone.
Additionally, Warnock joined a tele-forum with Teamster retirees in Georgia to talk about protecting pensions. Teamsters consistently connected the 2020 elections to key Teamster issues.
"I had some retirees who told me they had never voted for a Democrat on the national level," said Local 728 Vice President Chuck Stiles. "But they put it aside for pensions."
Teamster members were also involved in campaign efforts from the inside as well. More than 100 workers for the Democratic Party of Georgia's 2020 Coordinated Campaign and Legislative Victory Fund organized with Local 728 in September.
« Previous
Next »