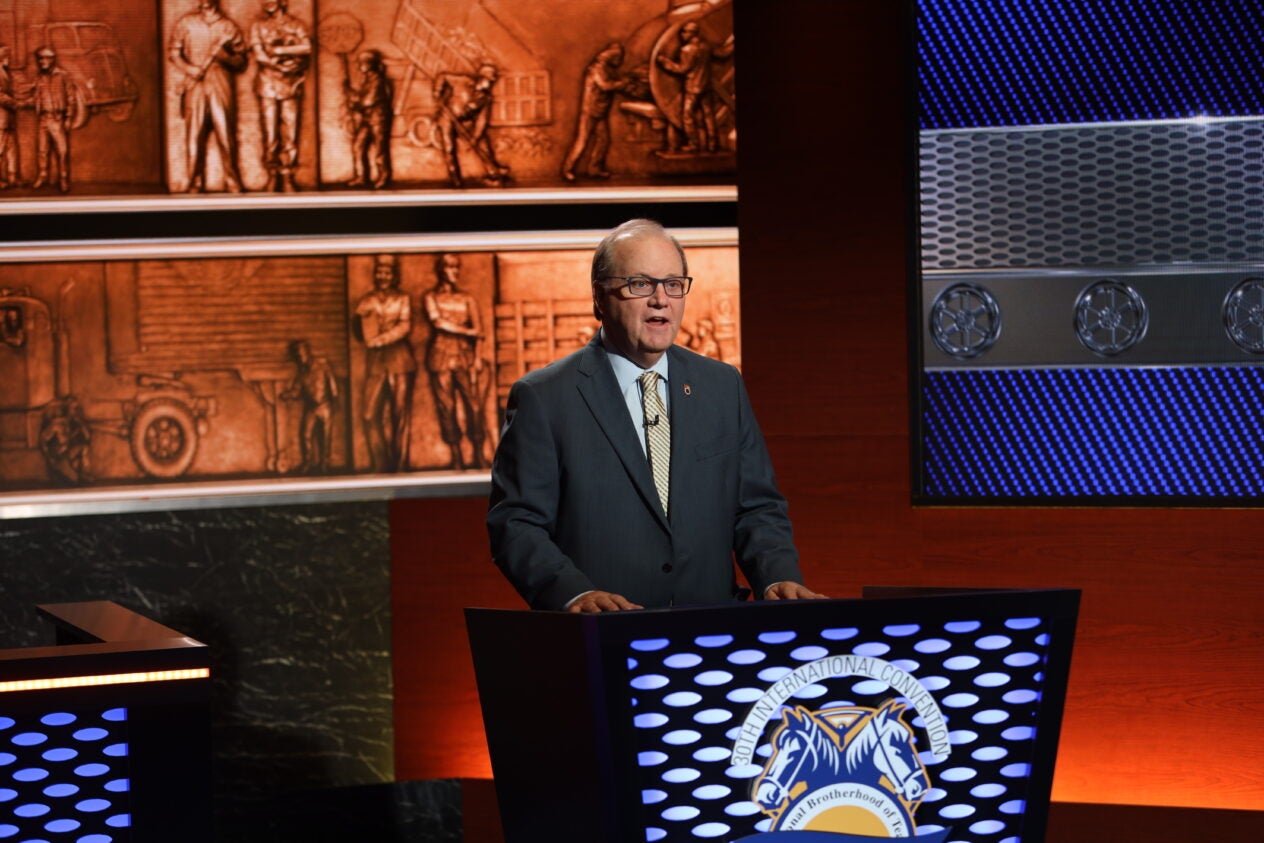 Whether Teamsters are defending contracts, organizing new members or going on strike, the union's finances have never been more important. On the second day of the 30th International Convention, General Secretary-Treasurer Ken Hall detailed the union's strong position.
When Hall became General Secretary-Treasurer, his top priority was building a secure Strike and Defense Fund, and he told delegates how the fund now stands at almost $300 million.
"And our General Fund has more than $165 million. That's a combined $465 million dollars," he said.
"When Tom Keegel came into office as the General Secretary-Treasurer, our finances were in shambles. He worked hard to put us back on the right path and we all owe him a debt of gratitude. When I took over as the General Secretary-Treasurer, I was proud to follow in his footsteps and continue to build up our finances," Hall said.
As General Secretary-Treasurer, Hall is responsible for managing the union's budget, its investments and other funds.
"As I come to the end of my career here at the International, what I'm most proud of are the concrete steps that we have taken to improve lives," Hall said. "Whether it's rebuilding our finances and strike fund or fighting drug companies getting rich off of addiction and death."
At the last International Convention, Teamsters learned how deeply the opioid epidemic had hurt Teamster families across the union and a decision was made to take on the biggest wholesale drug distributors for their role in flooding communities with an oversupply of prescription pain pills.
With the union's campaign for accountability, Teamsters managed to secure the resignations of the chairmen and CEOs of two of the biggest three companies, and separated the roles of chairman and CEO at all three biggest distributors.
"We forced these companies to adopt reforms to strengthen internal controls and compliance," he said. "We are a long way from solving the opioid crisis but the momentum we built around the issue has led to concrete reforms and launched the formation of Investors for Opioid Accountability—a coalition of investors representing more than $4.2 trillion in invested assets."
Hall also talked about his history with the Teamsters, starting with his membership in West Virginia's Local 175, where he served as steward, business agent, Vice President and eventually President of the local. He has been reelected 10 times as President and will continue serving in that position. He was also joined by his family from the Convention dais.
"Although I am not running for national office, I will still be President of Local 175. You will still see me on picket lines and at the state capitol rallying against right to work and other anti-union legislation," Hall said. "No matter what happens in the world around us, the Teamsters Union is always there to fight for working people."
« Previous
Next »