Teamsters Stewards at the Core of Efforts to Mobilize on PRO Act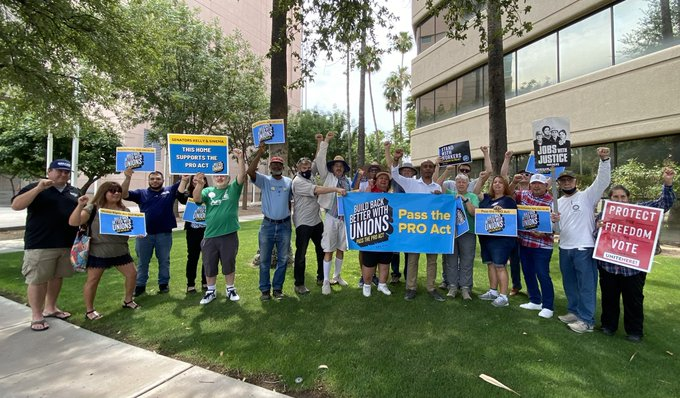 Members of Congress may be taking a break from Washington, DC over the August recess, but that doesn't mean the Teamsters are taking a break from our fight to urge Congress to pass the Protect the Right to Organizing (PRO) Act.
In fact, the union held a national call with shop stewards from around the country Thursday night to kick off a month of action on the PRO Act. Teamster stewards are key to getting the word out on the PRO Act to fellow members, family and friends asking them to reach out to their elected officials before they return to the nation's capital next month and consider the pro-worker legislation.
Teamsters General President Jim Hoffa hosted the call, delivering an important message: the PRO Act "will level the playing field when it comes to organizing." But it's not going to get through unless Teamsters and other hardworking Americans demand it happens. "We've got a lot of work to do," he said.
Deputy Labor Secretary Julie Su told those on the call that Biden pledged during his campaign to be the most pro-union president in history, and he is delivering on that promise. Workers deserve to have safety and security on the job. When they do, everyone benefits.
"We are doing everything we can at the U.S. Department of Labor … to empower American workers morning, noon and night," she said. "We look forward to working with you on the ground to make sure these policy improvements help American workers' lives."
Rep. Donald Norcross (D-N.J.), an electrician by trade and a longtime IBEW member and co-Chair of the Congressional Labor Caucus, said after all the hard work done by Teamsters and other essential workers, it is only fair that those we relied on the most during the coronavirus pandemic are treated with respect. But those in Congress need to hear from their constituents if the PRO Act is going to be enacted. The bill was passed by the U.S. House in March, so now it is up to the Senate to do their part.
"Keep doing what you are doing," Rep. Norcross said. "It's going to take you to help get this done."
The PRO Act will strengthen the 86-year-old National Labor Relations Act so that workers seeking to organize a union and negotiate higher wages and better benefits will be protected. Workers deserve a safe workplace, the ability to stand together and negotiate better working conditions, and to live a middle-class lifestyle.
Surveys show that workers want unions. However, there is a huge gap between the share of workers with union representation and the share of workers that would like to have a union and a voice on the job. So-called right to work is a big reason for that, but the PRO Act would override such state laws that have kept the wages of working Americans down.
There is reason for optimism that this measure might succeed on Capitol Hill. Unlike in recent years, the Teamsters have friends in pivotal positions like President Joe Biden, House Speaker Nancy Pelosi and Senate Majority Leader Chuck Schumer on their side. And with members in all 50 states, the Teamsters have the power, reach and persistence to put pressure on every senator and deliver the votes needed to pass the PRO Act.
Interested in getting involved in the fight to pass the PRO Act? Here's three things you can do:
Submit a selfie video sharing your story and message on why we must pass the PRO Act.
Sign the Teamsters Build Back Stronger pledge to join the team and receive real-time updates and opportunities to get involved.
Contact your Local Union to get involved in activity locally.
« Previous
Next »