Teamster Women Inspired by Annual Conference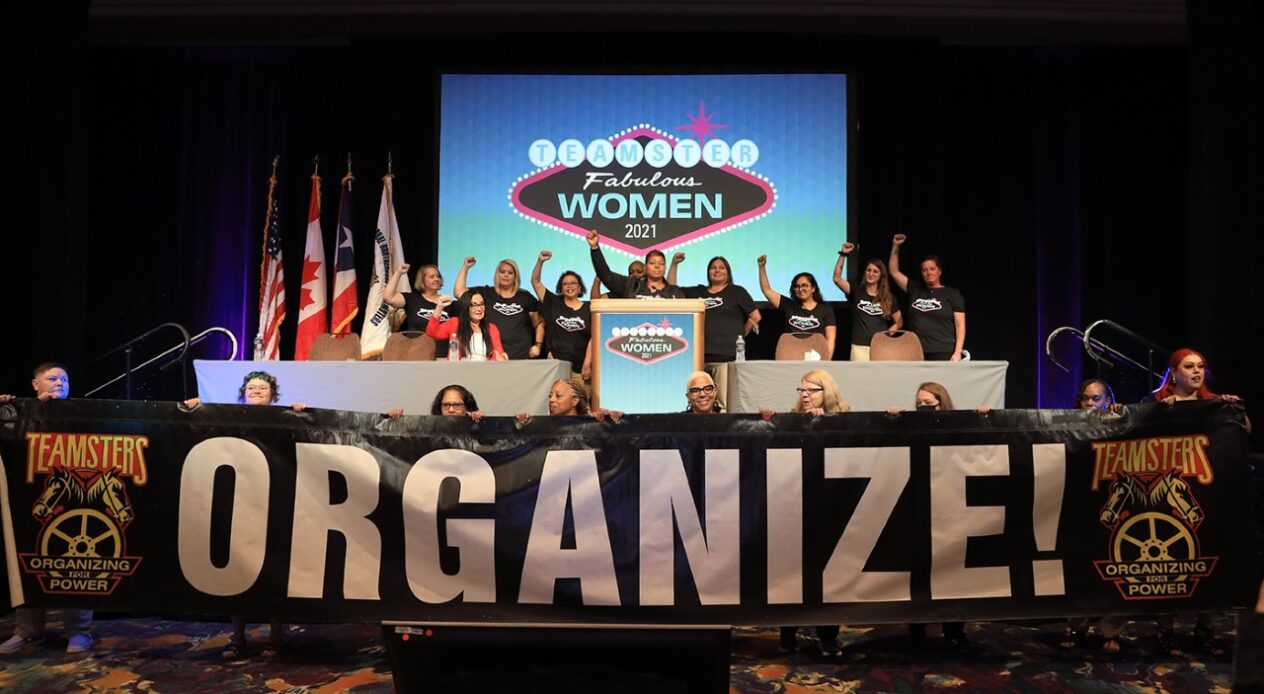 The 2021 Teamsters Women's Conference concluded on its third day with inspirational speakers and workshops for the more than 1,000 Teamsters gathered in Las Vegas for this annual event.
"There is so much energy in this room. I've been to the workshops and it's incredibly useful information. Please use all the energy you have and help organize—it's the lifeblood of this union," said Ken Hall, Teamsters General Secretary-Treasurer.
"Las Vegas is a strong union town," said Rep. Dina Titus (D-Nev.) "Women have come a long way, but we have a long way to go. That's why unions are so very important to have equal opportunity for everybody and to increase diversity in our ranks as we help working families."
"It's been my life's work and deepest honor to champion workers' rights. I've worked closely with Teamster leaders against wage theft and misclassification, up and down my home state of California," said Julie Su, the Deputy U.S. Secretary of Labor, in a video greeting. She urged Teamsters to keep up the fight for workers' rights.
Christy Bailey, Director of the Teamsters Department of Political and Legislative Action, talked about the difference Teamsters have made and can make when raising their voices and voting. She pointed to Royceann Porter as an example of the impact Teamster women can have in their communities.
Porter, a member of Local 238 and IBT organizer, talked about becoming the first Black woman to win a seat on the Johnson County Board of Supervisors in Iowa, which oversees a budget of over $150 million.
"Sisters, it's time to put yourself out there as a leader in your community, to start saying, 'yes, I can' because when Teamster women run, all Teamsters win," Porter said.
Conference participants also got an update on Teamster organizing by a group of female Teamster organizers who are helping workers win at AAA in Northern California; in sanitation at companies like Waste Management; in the cannabis industry; and more. These women reflect the diversity of the industries and occupations in which workers are organizing.
The audience also heard about the threat that Amazon poses to the high standards Teamsters have set in the transportation and logistics industries for more than 100 years. They heard from fellow Teamsters about the importance of standing in solidarity with the brave workers at Amazon as they seek to improve their lives on and off the job. Teamsters are coming together in their communities and having an impact.
Dr. Robin Cooper, President of Local 502 spoke to the audience about the Human Rights and Diversity Commission, which supports inclusivity for all Teamsters.
The International Teamsters Women's Caucus conducted its annual drive and announced it had collected $12,070 this year. Along with a $5,000 donation from Local 14 in Las Vegas, a total of $17,070 was donated to a local elementary school to support children, teachers and staff.
« Previous
Next »