Teamsters Women's Conference Kicks Off in Las Vegas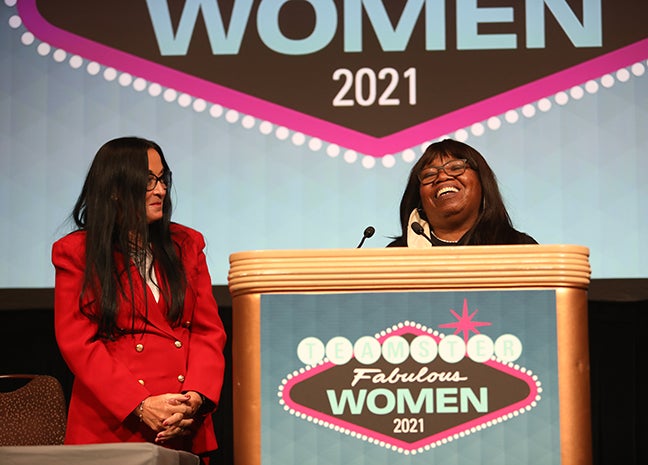 The 2021 Teamsters Women's Conference kicked off on Monday, Sept. 13, in Las Vegas. More than 1,000 Teamsters gathered in solidarity and sisterhood for the annual event featuring three days of inspirational speakers, educational workshops and networking opportunities.
"I'm so excited for us all to be together again," said Nina Bugbee, Director of the Women's Conference. "Nothing stops Teamster women! We're all Teamster sisters and brothers in this room and we all know that if you bet on a Teamster woman to get the job done and lead us through the toughest of times, including a global pandemic, it's the smartest bet you'll make in your life. It's not even a bet, it's a given. There is nothing more powerful than a room full of Teamsters!"
Bugbee took time on stage to recognize Randy Cammack, President of Joint Council 42, the host of this year's conference, as well as International Vice Presidents in attendance.
"I'm so glad we are back together again and proud of everyone here because you are the Teamsters Union," said Jim Hoffa, Teamsters General President. "Whether you're from California or New York or anywhere in between, we share the same dreams and ideas, we do that together, and that's what this conference is about."
This is the 20th year of the conference and safety and health measures were adhered to by participants to ensure a safe and successful event.
The resilience and strength of Teamsters was reflected in the theme of this year's conference, "Teamster Women: High Stakes and High Standards."
Cammack welcomed Teamsters to Las Vegas and Joint Council 42. Joint Council 42 is the largest Joint Council in the union, made up of 24 local unions, with 250,000 working Teamsters and retirees.
Tommy Blitsch, Secretary-Treasurer of Local 631 in Las Vegas, presented the Barbara Liddy Teamster Activist Award to Laura Sims, a 25-year Teamster who is active in her union and community. Sims is Recording Secretary and a business agent representing members of Local 631.
"I'm humbled and honored to receive this award," Sims said, showing appreciation for the membership, her family and her Teamster family.
Also recognized were Susie Martinez, a Local 986 shop steward and legislator who is the newly elected Executive Secretary-Treasurer of the Nevada AFL-CIO, and Erin Foley, Secretary-Treasurer of Local 2 in Butte, Montana, who was recently elected President of the Montana AFL-CIO.
The crowd cheered when Teamster labor historian Karin Jones introduced Mazie Lanham and Jessie Giegerich Boyle, the first two female drivers at UPS during World War II. The two friends were honored on stage by Hoffa and Bugbee.
Jones also introduced the "Million Mile Driver," Delores Wright. Wright, a seven-year member of Local 728 in Atlanta, achieved the tremendous milestone at USF Holland this year of becoming the company's first female driver at the Atlanta terminal to have driven one million miles.
Conference attendees also watched video greetings from Nancy Pelosi, Speaker of the United States House of Representatives, and Kamala Lopez, a leading voice in the women's movement, recognized for her work to amend the U.S. Constitution and ratify the Equal Rights Amendment.
Gretchen Grindle, a licensed professional counselor, spoke on the increased importance of focusing on mental and physical health during the past 18 months, providing practical strategies and tips to improve wellbeing.
The first day of the conference featured stories of trailblazers, tenacity, leadership and solidarity. There is more to come. The 2021 Teamsters Women's Conference continues through Wednesday. Follow coverage of the conference on Teamster.org, "Teamsters" on Facebook and @Teamsters on Twitter.
« Previous
Next »