Amazon, PRO Act Top Talk at Political Coordinators Meeting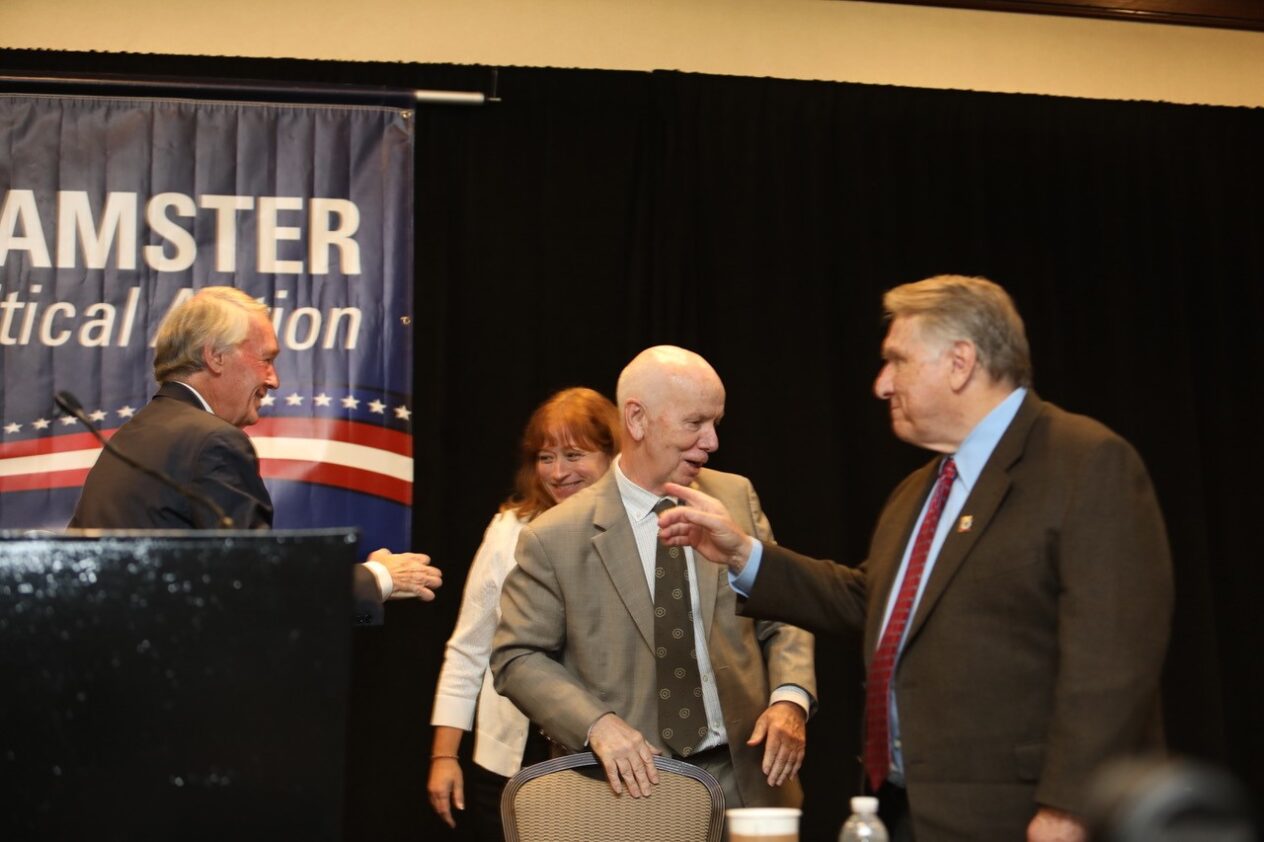 Teamster political coordinators from across the country gathered in Washington, D.C. recently to help craft a path forward that will raise the political and policy goals of the union up to boost organizing efforts and improve the lives of hardworking Americans.
Those in attendance or viewing virtually heard from U.S. Labor Secretary Marty Walsh as well as several Capitol Hill lawmakers who stressed their desire to bolster union rights through the passage of the Protect the Right to Organizing (PRO) Act as well as the budget reconciliation bill currently before Congress. And they also lauded the accomplishment of enacting multiemployer pension relief.
Teamsters General President Jim Hoffa said while the pension fix is a defining achievement for the Teamsters, the effort to enact important policy cannot end there.
"This is a big accomplishment. But it is one to build on," he said. Noting a recent Gallup poll that placed the popularity of unions at its highest point since 1965, Hoffa said the movement must press forward. "We are the one's leading the fight. We are the champions. We want to rebuild America."
At its 30th International Convention in June, the Teamsters overwhelming passed a resolution that prioritized the organizing of Amazon as a top priority. And lawmakers and leaders were on-hand to discuss how they can rein in the online shopping giant that keeps wages low and endangers its employees and contractors on the job.
Rep. Pramila Jayapal (D-Wash.), vice chair of the House's Subcommittee on Antitrust, Commercial and Administrative Law, said the panel is currently targeting Amazon and other tech companies for their corporate domination. The want to curb consolidation and make these giant behemoths more accountable so that can't control the labor market.
"For workers, greater competition means greater choices for wages," she said. "It means higher wages and better benefits."
Randy Korgan, Director of the Teamsters Amazon Project, said there is much a stake not only for the union, but for American workers across the economy. To win, the Teamsters need member engagement, worker engagement, public and community engagement, changes to anti-trust and anti-monopoly laws, global solidary and industry pressure.
"Corporations over the past 245 years of our country have a horrible track record," he said. "They have to have policies to keep them in line."
But that alone won't get the job done. "Yes, laws need to change," Korgan added. "But the labor movement needs to change as well. We have to mobilize."
Attendees learned more about the efforts to build worker power at Amazon during a workshop at the meeting. There Korgan and other panelists stressed that the campaign is about getting workers involved and talking to family, neighbors and friends about what is going on, not using the existing broken National Labor Relations Board process that hampers organizing.
Amazon is "affecting every single industry in America right now," Korgan told audience members. It up to the Teamsters to talk about the union difference – the wages and benefits earned by those working in a union warehouse versus a non-union warehouse. Union members must also educate the public about the Teamsters' historic role in the industry.
Once the public is engaged, the union can join with them to put pressure on wages and employment, as well as create community benefit agreements that would dictate what new Amazon jobs would look like. But that will require members to canvass their communities by knocking on doors. That's how unions have historically build power, Korgan said.
Back on the policy front, Secretary Walsh stressed the importance of unions, saying they would raise the standard of living for all workers.
"President Biden says unions built the middle class, and he means it," he said. "If we are going to rebuild a middle class, we need strong unions." Secretary Walsh added that the administration is committed to growing the union movement. "We have a new opportunity," he added.
Meanwhile, elected officials had plenty more to say about legislation currently being considered on Capitol Hill. Sen. Ed Markey (D-Mass.), for instance, stressed the importance of passing the budget reconciliation bill, saying it would provide the educational training workers need.
"We have to make sure a young man or woman can go to community college and get the skill sets for the modern world," he said. "We have to move into the era we are living in."
The PRO Act was also touted by many. House Education and Labor Chairman Bobby Scott (D-Va.) said he is committed to getting it passed. "We know the value of organized labor. We know they have supplied workers with higher wages, better benefits and a secure retirement," he stated, adding "We look forward to a day when President Biden signs it into the law."
For too long, said Sen. Bob Casey (D-Pa.), the wants of big business have taken precedent over those of working Americans. It has to stop, and the PRO Act is the legislative vehicle to get it done.
"There is no mystery why wages have been flattening for 40 years. It is because we have had fewer people unionized," he said. "Corporate power has rigged the tax code for big corporations. And it is obscene. … Unions help not only union members, but our economy."
Rep. Brian Fitzpatrick (R-Pa.), a co-sponsor of the PRO Act, said both parties need to come together and stand up for workers. "Sometimes it's hard. But it's the right thing to do," he said. "Our country needs bridge builders right now."
To keep labor issues on the mind of Congress, Rep. Mark Pocan (D-Wisc.) helped cofound the Labor Caucus. Consisting of 120 members, it will continue to make sure lawmakers are aware of top labor legislative issues.
"When there is labor legislation or a labor letter, we use it to share information," Pocan said. "To have a caucus that can really focus just on these issues … we are letting members know about those topics."
Other officials were also on hand to talk up the important role unions can play in crafting policy. Oregon Labor Commissioner Val Hoyle spoke about the importance of keeping workers safe as COVID-19 continues to be an issue in workplaces, while Angela Rogensues, a City Council member from Warren, Mich., recommended Teamsters run for state and local office throughout the country.
But the union also reminded political coordinators that it takes support from the grass-roots membership to succeed at the ballot box. Teamsters staff stressed the importance of increasing financial support for the union's Democrat, Republican, Independent Voter Education (DRIVE) Fund to give pro-worker candidates a leg up against their corporate-backed competition. Members can join by texting "DRIVE" to 86466.
« Previous
Next »