Teamsters Women's Conference Concludes in Seattle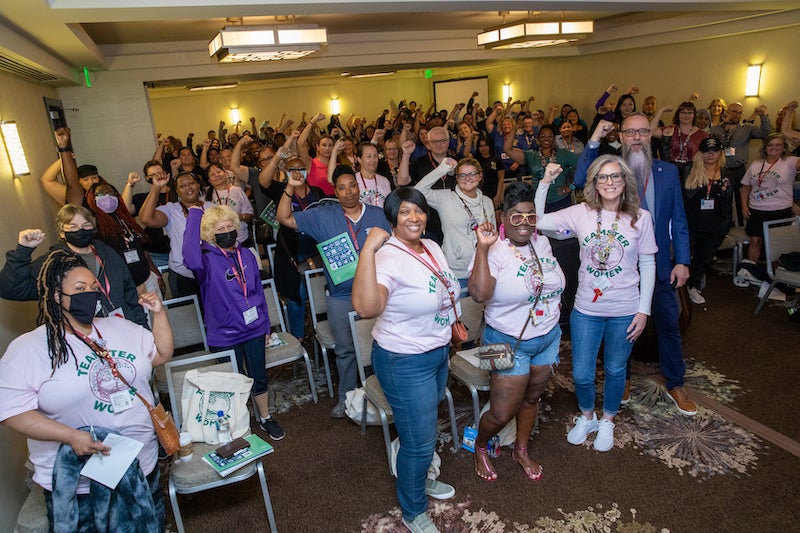 More than 1,200 Teamsters are taking part in the annual Women's Conference in Seattle, Sept. 18-21. After a busy week of speakers, educational workshops, and a huge rally at Amazon's corporate headquarters, the event will conclude on Wednesday with an address from Women's Conference Director Ashley Alvarado, Teamsters General Secretary-Treasurer Fred Zuckerman, and the many Teamster women who are leading in their local unions, workplaces, and communities.
Featured speakers will include:
Laphonza Butler, President of Emily's List.
Sam Kantak, Secretary-Treasurer of Local 38 in Everett, Wash.
Deb Calkins, Secretary-Treasurer of Local 533 in Reno, Nev.
Patty Warren, Director of Negotiations at Local 174/Director of Collective Bargaining at Joint Council 28.
An organizing segment will feature workers who are leading campaigns at Amazon and in the public services, cannabis, health care, and school bus industries.
A segment on domestic violence will highlight the impact of violence at home and in the workplace. One out of three women has personally experienced some form of violence by an intimate partner. The conference will feature and support two local organizations that assist women and families struggling with domestic violence.
Prior to the afternoon closing session, conference attendees will be participating in workshops on organizing, bargaining, political and grassroots mobilization, communication, and more.
Follow the conference on Facebook at facebook.com/teamsters, on Twitter and Instagram @Teamsters, #teamsterwomen22.
« Previous
Next »